Eric Krasno & Stanton Moore Release Debut Joint Album, Krasno/Moore Project: Book of Queens On Concord Jazz
Stream Book of Queens here: https://found.ee/KM_BookOfQueens
"Krasno and Moore are musicians who can find a groove in almost any melody, and here they've assembled a collection of tunes that will hit all of your senses.." - Goldmine Magazine
March 17, 2023 – Today Grammy Award-winning guitarist Eric Krasno and Grammy Award-winning drummer Stanton Moore celebrate women musicians worldwide through their debut joint album Krasno/Moore Project: Book of Queens. The Concord Jazz release is the first official studio collaboration between the longtime friends, who have known each other since the mid-90s. After sharing a stage during last year's Jazz Fest, Krasno and Moore set off to create a new body of work that would make their wives proud. They teamed up with organist Eric Finland to recreate some of their favorite songs by musical queens. The result is a stunning collection of covers that sound vaguely familiar, yet quite unlike anything you've ever heard before.
Pre-Order vinyl and CDs packages here: https://found.ee/KM_BookOfQueens
Recorded at the Levon Helm Studios in Woodstock, New York, and mixed by Jim Scott (Tedeschi Trucks Band, Wilco), Krasno/Moore Project: Book of Queens is a moving tribute to women in music. Krasno's laid-back guitar licks and Moore's in-the-pocket grooves, transport listeners to the rich musical history of Levon's upstate barn. Across nine songs, the longtime friends serve up a steady fusion of jazz, soul, and blues, putting a refined instrumental spin on the work of Billie Eilish, Aretha Franklin, H.E.R., Brittany Howard, Sharon Jones, Peggy Lee, Kacey Musgraves, Nina Simone, and Amy Winehouse. The album features special guest appearances by Cory Henry, Branford Marsalis, and Robert Randolph.
Arriving alongside the album, Krasno/Moore Project share a swingin' version of Amy Winehouse's iconic "You Know I'm No Good." Listen here: https://found.ee/KM_NoGoodYT
The single follows their previously released covers of Brittany Howard's "Stay High (feat. Cory Henry)" and Billie Eilish's "Lost Cause."
"This song in particular has a very haunting quality to it. When Kraz suggested doing this song, I instantly heard that this swampy groove that we put on it would work. I made a loop of this beat and sent it to Kraz and Finland. They overdubbed their parts to what I sent so we could get an idea of what it would sound like. With the three of us playing on this demo together with each of our sounds, especially Kraz's airy reverb, I knew we were headed toward a concept that could be very cool and unique and we were off to the races!" – Stanton Moore
Eric Krasno and Stanton Moore first met in the mid-90s, when Eric was attending college in Northampton, MA. Stanton frequently passed through the area on tour and Eric became a fan of his drumming. Eager to make an impression on Stanton, Eric would always give Stanton demos of his latest guitar work. Stanton listened to these recordings and soon realized that kid Krasno was on to something with his eccentric guitar work. Krasno went on to found Lettuce and Soulive, while Moore founded Galactic and Garage-a-Trois. Through their various projects, the pair have crossed paths and shared stages countless times over the past 25 years, forging a friendship along the way. After a joint gig during Jazz Fest 2022, Krasno and Moore had an honest sit down about putting their musical ideas on paper. Reflecting on the role their families have played in their lives and how they wanted to create something that would make their wives proud, they decided to form the Krasno/Moore Project, an organ trio featuring Berklee college grad and Hammond B3 organist/keyboardist Eric Finland.
Krasno/Moore Project is currently on a North American headline tour, performing a mix of Book of Queens tracks and songs from the band member's respective back catalogs. The upcoming run of shows includes four nights at New York City's Blue Note, gigs at LA's Knitting Factory, City Winery in Chicago, Denver's Ophelia's Electric Soapbox, and a special Jazz Fest reunion at Blue Nile. Tickets are on sale now at https://linktr.ee/krasno.moore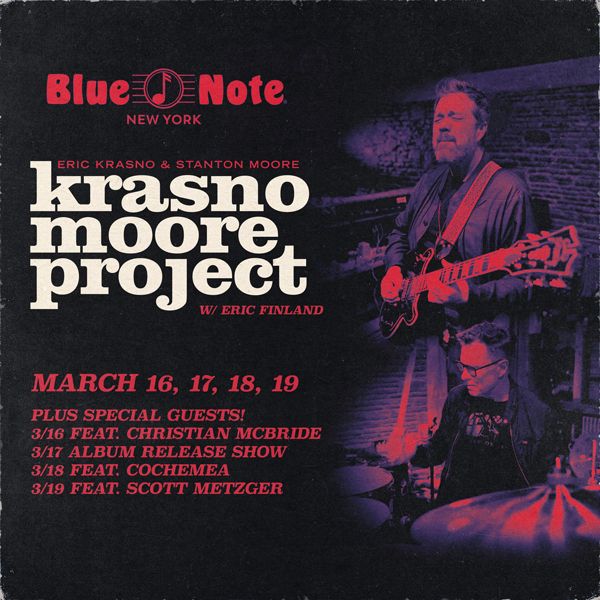 Krasno Moore Project: Book of Queens – Track Listing
1. You Know I'm No Good
2. Nobody's Baby
3. Slow Burn
4. Lost Cause
5. Stay High feat. Cory Henry
6. Fever feat. Branford Marsalis
7. A Natural Woman
8. Carried Away
9. I Wish I Knew How It Would Feel To Be Free feat. Robert Randolph
KRASNO MOORE PROJECT – 2023 NORTH AMERICAN TOUR DATES
Date

3/16-19

3/21-22

3/23

3/24

3/25

4/4-5

4/6

4/7

4/8

5/6

City/State/Province

New York, NY

Portsmouth, NH

Minneapolis, MN

Chicago, IL

Denver, CO

Seattle, WA

Portland, OR

San Francisco, CA

Los Angeles, CA

New Orleans, LA

Venue

Blue Note

Jimmy's Jazz & Blues Club

Dakota

City Winery

Ophelia's Electric Soapbox

Dimitriou's Jazz Alley

Star Theatre

The Chapel

Knitting Factory

Blue Nile
About Eric Krasno
Krasno has released twelve Soulive albums, four Lettuce albums, three solo albums, and has production and/or songwriting credit with Norah Jones, Robert Randolph, Pretty Lights, Talib Kweli, 50 Cent, Aaron Neville, Allen Stone, and Ledisi. As a dynamic performer, he's shared stages with The Rolling Stones, The Dave Matthews Band, John Mayer, and The Roots. Out of seven nominations, he picked up two GRAMMY® Awards for his role as a songwriter and guitarist on The Tedeschi Trucks Band's Revelator and guitarist on The Derek Trucks Band's Already Free. Krasno also recently accepted the Grammy for Best American Roots Performance on behalf of Aaron Neville who was not in attendance. Eric produced, wrote, and played on "Stomping Ground," Aaron's recent song from the soundtrack to Take Me to the River New Orleans.
About Stanton Moore
Throughout his 30-year career, Moore has released eight records under his own name, eleven records with Galactic, and four records with Garage-a-Trois. He has performed or recorded with a diverse group of artists including Maceo Parker, Joss Stone, Macy Gray, Corey Glover (Living Colour), Cyril Neville, Irma Thomas, Leo Nocentelli, and George Porter (of the Meters), Tom Morello (Rage Against the Machine), Corrosion of Conformity, Donald Harrison Jr., Nicholas Payton, Trombone Shorty, Skerik, Charlie Hunter, Robert Walter, Will Bernard, Anders Osborne, Ivan Neville, and the Preservation Hall Jazz Band.
For more information please contact:
Rebecca Shapiro (rshapiro@shorefire.com)
Mike Jones (mjones@shorefire.com)
Victoire Selce (vselce@shorefire.com)