Erick The Architect Shares Video For "Let It Go" Featuring Loyle Carner + Farr 
From Debut Solo Project Future Proof Out January 22
WATCH HERE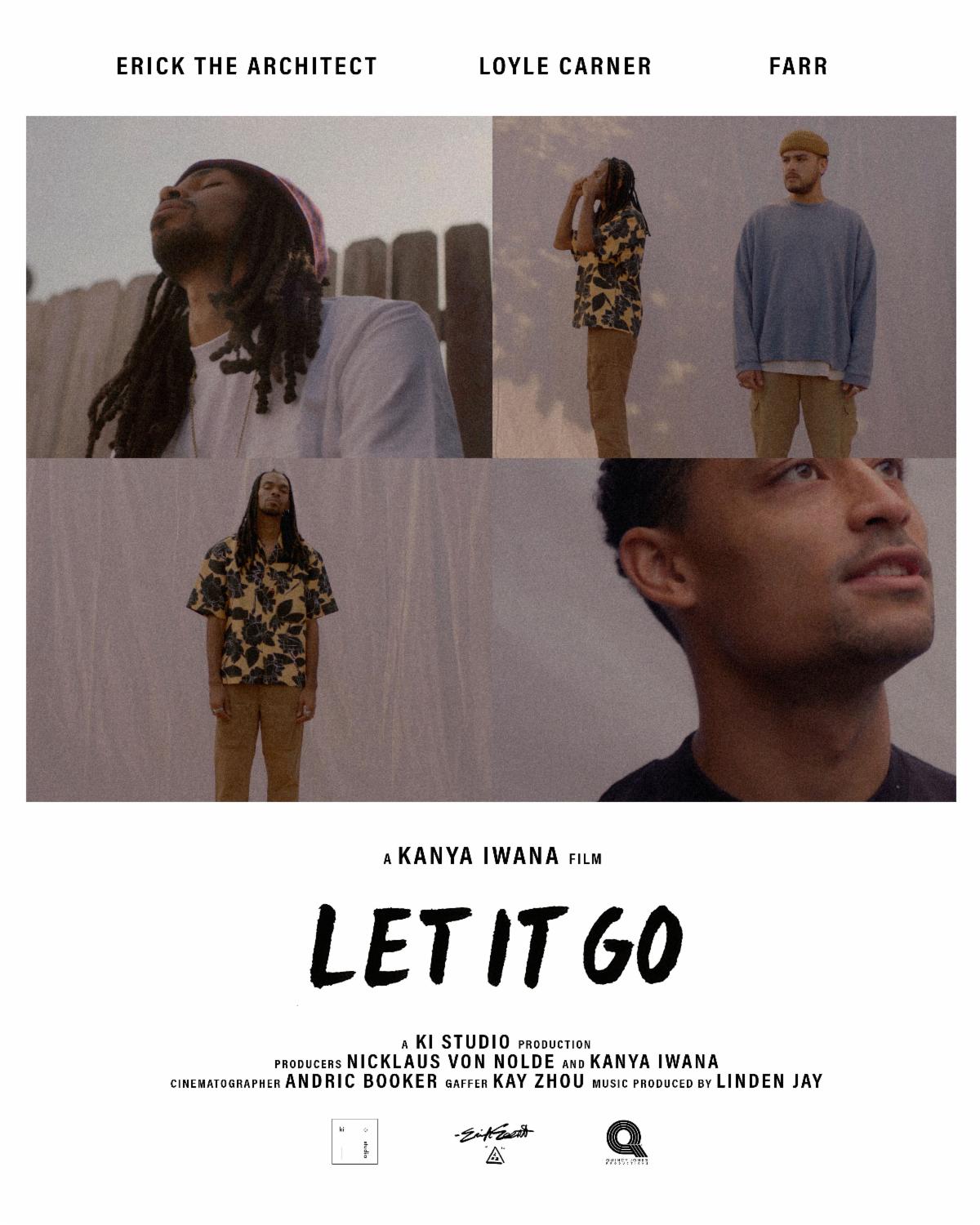 Erick the Architect - the prolific musical polymath and founding member/primary producer of Flatbush Zombies - has unveiled the music video for his song "Let It Go," featuring UK rapper and Mercury Prize nominee Loyle Carner, and FARR (Linden Jay, Roméo). Erick just announced his official debut project as a solo artist - Future Proof will be released on January 22.
Watch the video for "Let It Go" featuring Loyle Carner and FARR here: https://www.youtube.com/watch?v=CWnm-a4UyUA
The video was directed by Kanya Iwana, a music and fashion photographer, and director that has worked with Chloe x Halle, Labrinth, and Amber Mark.
"There's so much alignment from beginning to end when it comes to creating the project. When I listened to his lyrics I immediately knew I wanted to feature a series of family portraits, a few in-between moments, just highlighting real life. It felt like it was time for him to really showcase his life, too — so it was an easy collaboration because at its core we just wanted to show this other side, a more personal, vulnerable Erick the Architect," Kanya says.
"Forever grateful for Kanya's wonderful mind and contagious energy. She was able to assemble a perfect crew in line with her vision. The video for "Let It Go" shows different family types through the lens of a photographer (me)," says Erick.
In October, Erick teased the 5-song Future Proof EP with "WTF" featuring Col3trane. The project also features contributions from Pip Millett and Sophie Faith, and was produced by Linden Jay. The EP finds Erick searching and processing, a meditation on how we can "future proof" ourselves from what we are experiencing in today's times and the inevitable challenges that lie ahead. The songs balance a soulful energy with the catastrophic events of 2020 that inspired Erick to make the trenchant album, and suggests a powerful elixir: empowerment, empathy and self-improvement.
Erick is also featured alongside KOTA The Friend on a new song from Nyck Caution (Pro Era, Beast Coast) out today - watch "Product Of My Environment" here: https://www.youtube.com/watch?v=mpeQBVKYeqI
Erick the Architect's ability to observe and condense human interaction and emotion has positioned him as a celebrated artist and a sought-after collaborator. As his name implies, he's a builder, and has worked with over 50 different artists including RZA, Denzel Curry and Portugal. The Man. He is working on forthcoming projects with both longtime and new collaborative partners - Joey Bada$$ and James Blake respectively. Erick also produced on the just-released James Blake Before EP. As a self-starter and producer, the Covid-19 shutdown birthed a new era of self-reflection and creation: the "Architect's Corner" livestreams. The freewheeling late night studio sessions offer an unadorned look into Erick's mind, and quickly led to an exclusive Twitch partnership and now streams Mondays, Wednesdays and Fridays each week.
As a founding member and primary producer of Flatbush Zombies, Erick has accomplished some incredible feats including 871 million streams across all platforms. Flatbush Zombies' 1st and 2nd LPs debuted at #10 and 11 on the Billboard 200, respectively, and they have played some of the world's most prestigious festivals including Coachella and Lollapalooza. With supergroup Beast Coast, Erick has performed on Jimmy Kimmel Live and The Tonight Show with Jimmy Fallon. Flatbush Zombies released their Now, More Than Ever EP in fall 2020 and their video for "Afterlife" won two awards at this year's UK Music Video Awards.
Future Proof Tracklist
1. I Can't Lose
2. WTF ft. Col3trane
3. Let It Go ft. Loyle Carner & FARR
4. Die 4 U ft. Sophie Faith
5. Selfish ft. Pip Millett