Evanescence, Incendium And Heavy Metal Entertainment Debut 'Echoes From The Void' Graphic Anthology Series Under Opus Imprint
Fantasy series expands on themes from upcoming Evanescence album The Bitter Truth (3/26, BMG) and explores the band's classic catalogue, including contributions from Amy Lee and Carrie Lee South.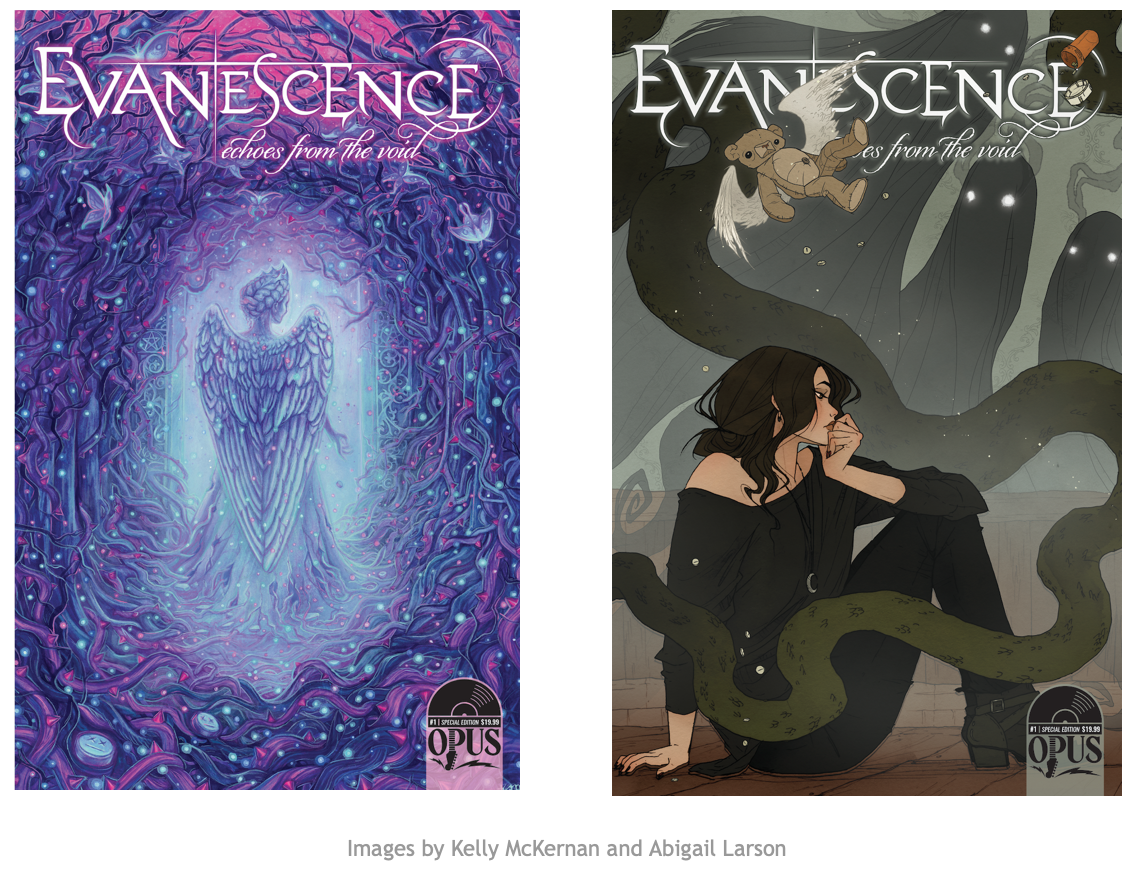 LOS ANGELES, CA – Evanescence, Incendium, and Heavy Metal Entertainmentannounce the launch of Echoes from the Void, an Evanescence Graphic Anthology Series, under Incendium's all-new music-focused OPUS imprint.
Pre-order Echoes from the Void HERE and pre-order The Bitter Truth HERE
Echoes from the Void is a fantasy Graphic Anthology Series, comprised of 48-page deluxe comic books, each featuring two or more story adaptations from the Evanescence catalogue. Beginning with story themes based on songs from their upcoming March 26th release The Bitter Truth (BMG), and culminating in revisiting iconic material from throughout the band's career, the project is comprised of a series of short stories created by an all-star cast of graphic artists, animators, illustrators, fine artists, screenwriters, novelists, and more.
Combining bandleader Amy Lee's love of visual arts, fantasy-inspired graphics, and graphic novels with the narrative power of Evanescence's music, the series is being developed in close collaboration with Amy as she oversees the creative direction of the art and stories. Echoes from the Void begins as a 5-issue series, with each issue containing stories based on two or more of Evanescence's songs, presented in a variety of visual styles and mediums. Issue #1, available in limited-edition, includes two stories inspired by the songs "Better Without You" and "Wasted On You," from the forthcoming Evanescence album, The Bitter Truth, with tales written by Carrie Lee South and Blake Northcott (Arena Mode saga, DC's Catwoman). The issue will feature illustrations from Hugo Award-winning artist Abigail Larson and highly-esteemed painter Kelly McKernan.
"I am so excited about this project series. The possibilities are endless. Collaborating across art forms like this is so unique, and it's been fascinating to see how many different lives a song can have, like alternate realities. I look forward to working on this throughout the year and am so honored to break open this new world for our music" said Amy Lee.
Llexi Leon, CEO of Incendium, said: "Reflecting Evanescence's distinctive output, Echoes from the Void is equal parts haunting and whimsical; the pages are filled with beauty, loss, struggle, and triumph. It's a fantastical journey that debuts a host of original characters and imaginative worlds that have been a joy to realize, and thanks to Amy pushing the envelope with every conversation, we've been able to curate a unique body of work that defies expectations of the medium."
The first print edition of each issue will be released as a prestige format limited-edition collectible comic book, with cardstock covers, specialty foil treatments, glossy pages, and individual numbering. Each first printing will be limited to 3,000 copies priced at $18.95, and available to order from https://incendium.online/collections/eva. The first issue is available to order now and ships in June 2021.
The art of Echoes from the Void will also be made available to purchase through a series of archival fine art prints, the first of which is illustrated by Kelly McKernan. Incorporating symbols and themes from across the band's discography into an intricate traditionally painted work that also debuts a mysterious original character, the print features a blue tint glow in the dark base with a luminous pink UV active overlay, as part of an individually numbered 500-piece collection. Kelly's print is available now from https://incendium.online/collections/eva.
Pre-order Echoes from the Void HERE and pre-order The Bitter Truth HERE
About Evanescence:
Two-time GRAMMY® Award-winning Evanescence has made an impact on people around the world. The group's 2003 landmark debut album Fallen laid the foundation spending 43 weeks on the Billboard Top 10 and selling more than 17 million copies worldwide. Debut single and global hit "Bring Me to Life" reached #5 on the Billboard Hot 100 and marked their first U.K. #1 hit single. The equally popular "My Immortal" peaked at #7 in the U.S. and U.K. Following multiple worldwide tours, The Open Door came next, which went on to sell more than five million copies followed by the self-titled Evanescence which debuted at No. 1 on the Billboard Charts. Evanescence lead singer-songwriter and pianist Amy Lee, bassist Tim McCord, drummer Will Hunt, lead guitarist Troy McLawhorn, and guitarist and backing vocalist Jen Majura went down both very new and familiar paths for their fourth and most ambitious release to date, Synthesis, in 2017 via BMG. The symphonic effort scored four Billboard #1s, debuting atop the Independent, Alternative, Rock, and Classical Album Charts. Evanescence launched their worldwide "Synthesis Live" tour in October 2017 combining their intense live performances and timeless songwriting with a powerful live orchestra. On March 26th, Evanescence will be releasing their fourth studio album, The Bitter Truth.
About Incendium:
Founded in 2006 Incendium is a multi-faceted production company known for an array of animation, comic books, toys, and video games. Driven by our team's passion for Myths, Monsters, and Metal the brand embraces 80s and 90s counterculture with a contemporary twist.
Find us at www.incendium.online
On Facebook: @IncendiumOnline
On Twitter: @IncendiumOnline
Instagram: https://www.instagram.com/IncendiumOnline/
About Heavy Metal:
First published in 1977, Heavy Metal, the world's foremost illustrated fantasy magazine, explores fantastic and surrealistic worlds, alternate realities, science fiction and thriller, in the past, present and future. Writers and illustrators from around the world take you to places you never dreamed existed. Heavy Metal was the first magazine to bring European legends Moebius, Tanino Libertore, Philippe Druillet, Enki Bilal, Pepe Moreno and Philippe Caza to the U.S. as well as showcasing American superstars Richard Corben, Jim Steranko and Bernie Wrightson. The magazine continues to showcase amazing new talent as well as allow established creators to have "carte blanche". Heavy Metal Magazine is now published 12 times per year. Most issues feature one or two serialized graphic novels, several short stories, and two artist galleries. Recent featured creators include Grant Morrison, Stephen King, and Bart Sears. With new CEO Matt Medney at the helm, Heavy Metal promises to boldly go where no magazine has gone before. Explore ancient secrets, forgotten worlds and savage futures...experience Heavy Metal. Join us at www.heavymetal.com.
Facebook:@MyHeavyMetal
Twitter: @HeavyMetalInk
Instagram: @heavymetal
ARTIST AND WRITER BIOS
Abigail Larson is a Hugo Award-winning dark fantasy illustrator. She's created artwork for Sideshow Collectibles, DC, Dark Horse, SYFY, and Netflix. For more information about Abigail visit www.abigaillarson.com
---
Carrie Lee South is a writer, editor, teacher, and MFA candidate at the University of Central Arkansas. She wrote the music video treatment for Evanescence's 2011 single "What You Want" and has published short stories and essays. As a lifelong graphic novel reader and Evanescence fan, she is excited to work on this game-changing project with her big sister. She lives in Little Rock with her husband and four parrots.
---
Blake Northcott is a Canadian author and screenwriter. She's best known for the international bestselling novel Arena Mode, which was a 2013 BSFA nominee, and is part of the high school curriculum in the state of Florida. She was a semi-finalist in the 2017 James Patterson Masterclass contest, and in 2018 her novel The North Valley Grimoire became Kickstarter's most-backed fiction novel ever in Canada. Some of her comic book credits include Vampirella, All New Fathom, Catwoman, and the cyberpunk series Synapse for Heavy Metal Magazine.
---
Kelly McKernan is an independent artist based in Nashville, Tennessee whose artwork is primarily created with watercolors and acryla gouache. Kelly's fantasy surrealist style explores the feminine journey through vivid color and ethereal, otherworldly settings. In addition to creating original works for numerous galleries, she also lends her unique style in illustrating comic, book, and album covers. Kelly has also garnered a large and supportive social media following by intimately sharing her journey as an artist, mother, and activist. Her artwork can be viewed at www.kellymckernan.com
---
Llexi Leon founded Incendium in 2006 as a creative agency with a focus on music and entertainment clients, leading to his role as the Interactive and Creative Director of Phantom Music Management; overseeing animation, comic books, video games, merchandising, and more for the mighty Iron Maiden. As creator of heavy metal fantasy series Eternal Descent, which debuted in 2010 under IDW publishing, he has always been at the intersection of music and comics, meanwhile as a games producer, session musician, and animation director, Llexi has helmed a diverse array of productions from music videos to mobile games, collaborated with many of the world's greatest rock and metal musicians, and worked on fan-favorite film and television properties from Star Trek to Evil Dead.