Everett Raymond Kinstler, The Portrait Artist Of Presidents, Celebrities And Friend Of The Art Students Leauge, Dies At 92
It is with great sadness that we share the news of artist Everett "Ray" Kinstler's passing on Sunday. Kinstler was a great friend and ally of The Art Students League of New York. He is remembered for being one of America's greatest portrait painters, rendering portraits of more than 2,000 individuals — leaders in almost every professional field, creating a veritable Who's Who gallery of some of the most iconic faces of American history and culture through the last seven decades.
Kinstler painted more than 50 cabinet officers, more than any artist in the country's history. Eight Presidents — Richard Nixon, Gerald R. Ford, Jimmy Carter, Ronald Reagan, George H. W. Bush, Bill Clinton, George W. Bush, and Donald J. Trump (before he was president) — have posed for him.
His portraits of Ford and Reagan are the official White House portraits.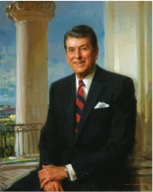 Everett Kinstler, President Ronald Reagan, Official White House Portrait.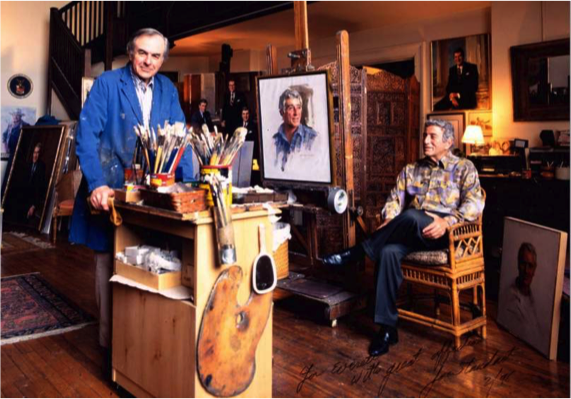 Kinstler in his studio with friend and fellow artist Tony Bennett.
Kinstler was known for his devotion to teaching. He taught painting at the League for several years (1970-74) and later continued his relationship for more than a decade leading numerous workshops (1999-2010.) "In his mastery of the skills, traditions, and aesthetics of paintings, Ray was the epitome of the League. He also cared for and inspired generations of students," noted Michael Rips, Executive Director of The Art Students League. Kinstler was also a student and member of The League and with Jon Corbino, Robert Brackman, Frank Vincent DuMond, Frank Reilly, Sidney Dickinson.
A native New Yorker, Kinstler began his career at age 16, participating in the "golden age" era of illustration and pulp magazines developing important works including The Shadow and Doc Savage. But it was at The League that he ultimately made the transition to portraitist, and soon established himself as one of the nation's foremost portrait painters.
In an interview with former Executive Director Ira Goldberg in LINEA Kinstler recalled the importance of The League and the mentorship it offered: "Frank DuMond's influence on me was profound. He encouraged me and took constant interest in my development. The most important thing he said to me was, "I am not trying to teach you to paint, but to observe…"
Kinstler, often called the "John Singer Sargent of our time" built a cult following with his skill for conveying the personality of his sitters – This sense of character developed out of intimate conversation. A typical portrait session with Kinstler did not necessarily begin with a mark – rather, with a charming invitation: "Tell me about yourself."