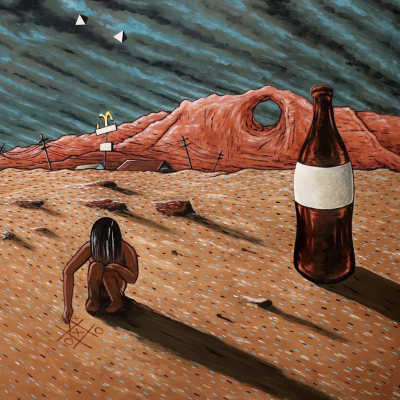 Hataałii's Singing Into Darkness Is A Visceral, Inquisitive Inversion Of Rock & Roll Mythologies
20-Year-Old Songwriter's Dangerbird Records Debut Out June 30
Shares Lead Track "Midnight Soldier" — Watch Its Striking, Black & White Video, Shot In A Near Vacant Downtown Albuquerque, HERE
Today, 20-year-old singer-songwriter — as well as poet, painter, and all-around artist — Hataałii announces the June 30 release of Singing Into Darkness, his debut album for Dangerbird Records. The album is a collection of gothic and jangly garage rock that Hataałii says reflects on "the shit that fucks with people in a bad way: an observer's take on the vices and foibles that obstruct people's lives."
He also shares the video for lead single "Midnight Soldier," a track hefty with a barren desert ambience. Hataalii snarls as he plays off the music's accelerating tensions and ribbons of fluttering guitar as he embarks on a doom spiral that's part Television, part Jonathan Richman.
Watch the striking "Midnight Soldier" video, filmed in black and white in downtown Alburquerque, here.
Raised in Window Rock, AZ, the capital of Navajo Nation — his nickname is, fittingly, a Navajo term that means "to sing" — Hataałii (pronounced: Hah-toth-lee) imbues topical songs about local politicians, unknowable gas station regulars, and John Wayne-worshiping tourists with a sly magical realism. These songs on Singing Into Darkness are conjured not with heavy-handedness but an evocative text and imaginative presentation, recalling idiosyncratic wordsmiths from Allen Ginsberg to David Berman.
These tales are delivered with a purposeful diction, Hataałii's words never merely sung but drawled, barked, spat, crooned, moaned, spilt, caterwauled, and vomited. He plays every instrument on the recording, providing the ideal loose-but-tight backing as he reacts to his own vocal performances with delicacy, warmth, and, when necessary, menace.
Singing Into Darkness is rich with coy subversion and dramatic pacing. The liquid guitar tones and shuffling rhythms of "Laugh Out Loud" suggest the effervescence of a long-awaited backyard kickback. However, its lyrics marvel at the peculiar ordeal of growing up, a process that Hataałii describes as "like dodging encampments of cannibal battalions and trudging through the dizzying swirls of fast paced up-bringing only to come out feeling like just another pawn in a larger and more terrifyingly theatric-seeming circus of horror."
Elsewhere, the Velvets-cribbing "For Liquor" ponders Navajo suffering and the unsatisfactory salve of historical context, while the snapping and seductive "Council Delegates Wife" finds Hataałii delving mischievously into local politics. Meanwhile, the album-closing epic "Double Doors" sets up a cinematic showdown worthy of the bleakest spaghetti Western, between Navajo locals and terrifying tourists, demanding a dream catcher and a photo opp.
It quickly becomes clear that Hataałii has a sophisticated understanding of the imagistic language and mythological underpinnings of the best rock and roll music. With Singing Into Darkness, Hataałii's intuition sharpens into a visceral and inquisitive, yet artfully obfuscated, sense of focus — a special rock songwriting talent challenging himself to excel within the form.
Hataałii began self-releasing his music as a teenager, beginning with 2019's Banana Boy, the fruit of a personal challenge to write a song every day. Word-of-mouth and online interest swelled, and he followed Banana Boy with 2020'sPainting Portraits — which added shoegaze and bossa nova to his sonic arsenal — and followed that with 2021's Hataałii.
Hataałii not only got notices from press outlets like Aquarium Drunkard (who praised it as "weirdly genreless and out-of-time, yet constantly reaching for some sort of cosmic agency" and called Hataałi "a master at conjuring a kind of Southwestern saudade") but also a podcast shout-out from Mac DeMarco, a personal musical hero. He followed that record with a pair of singles: "Land of Poor Chance," and "Presidents Got Me All Night," which FLOOD praised as a "euphoric-slacker ballad tapping into Bob Dylan's most unpredictable vocal zones." Earlier this spring, he shared COMPLETELY!!! personal, a lo-fi collection that serves as evidence of his restless creative streak.
Keep an ear out for Hataałii live dates to be announced soon.
Pre-order Singing Into Darkness here.
Singing Into Darkness Tracklist
Midnight Soldier
Laugh Out Loud
For Liquor
Story Of Francisco
Male Rain Days
Shouters Shame
Tsaile Southbound
Council Delegate's Wife
Pain In Popejoy's Hand
Once More
Standing Ovation
Double Doors
Connect With Hataałii