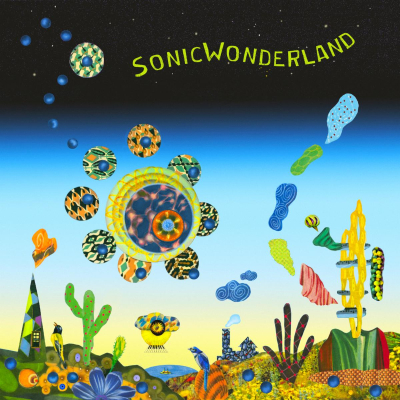 Hiromi Shares "Reminiscence" (Feat. Oli Rockberger) from Sonicwonderland out October 6 / Telarc
Watch/Listen Here: https://found.ee/Hiromi_ReminiscenceMV
Watch Hiromi's Just-Released NPR Tiny Desk: https://found.ee/Hiromi_TinyDeskYT
Electrifying New Band Hiromi's Sonicwonder Features Hadrien Feraud (Bass), Gene Coye (Drums) and Adam O'Farrill (Trumpet)
North American Tour October 7-20

September 15 2023 - - Internationally celebrated and GRAMMY-winning pianist and composer Hiromi has shared a new song. "Reminiscence," featuring UK singer/songwriter/keyboardist Oli Rockberger, is from her forthcoming album Sonicwonderland (October 6 / Telarc). Sonicwonderlandrepresents a new musical adventure for the constantly evolving pianist and composer, who is a star in her native Japan, and burst onto the music scene 20 years ago with her debut album. Recorded with a new quartet, called Hiromi's Sonicwonder, the album features 9 new works bursting with synthesizer and deep-in-the pocket grooves.
Watch the video for "Reminiscence" here: https://found.ee/Hiromi_ReminiscenceMV
Featured vocalist Oli Rockberger was a classmate from Hiromi's days at Berklee College of Music. Hiromi says, "We've been great friends for many years. So even though he didn't know at the time, he was there from the song's inception. I called Oli and said, 'I've written this song and I'm hearing your voice in my head. Would you like to co-write the lyrics?'" The finished composition was initially set aside but came to fruition once Hiromi realized how well Adam O'Farrill's trumpet could complement Rockberger's singing.
Hiromi also just made her NPR Tiny Desk debut, which has over 450,000 views in just 7 days. Together with the Sonicwonder band that made the new album, they performed two songs from it (the title track and "Wanted"). Says NPR Music, "[Hiromi's] whole body generates an observable power that's also playful and virtuosic. She plays with great command but yet she is also at ease, as her notes ripple from her fingertips like streams of water." Watch here: https://found.ee/Hiromi_TinyDeskYT
She has also announced a select run of shows performing this new album in North America in October. See below for the full itinerary.
Hiromi's Sonicwonder is a quartet featuring blossoming young talents Hadrien Feraud (bass), Gene Coye (drums), and Adam O'Farrill (trumpet) and began performing live together earlier this spring. Sonicwonderland was recorded May 25-28 at Skywalker Sound Stage in Nicasio, California, where Hiromi also recorded her 2019 solo piano album Spectrum. In addition to new works written for this project, the album includes songs that were released on her "One Minute Portrait" YouTube initiative during the pandemic and rearranged for this band. "The word 'wonder' has a lot of meaning. It fits the musical view that I have for this project…it is definitely a new adventure for me," says Hiromi.
Hiromi previously released the title track - "Sonicwonderland" - with a music video, inspired by classic videos games: https://found.ee/Hiromi_SonicMusicVideo. Watch the album trailer: https://found.ee/SonicwonderlandAlbumTrailer
Sonicwonderland is Hiromi's 12th studio album, a prolific artist who has explored a number of musical spheres over the course of her career. Earlier this year she recorded the soundtrack to Blue Giant, a motion picture film based on the manga series of the same name. 2021's Silver Lining Suitefeatures her with a string quartet and 2019's Spectrum a solo piano recording. Her work has been celebrated by the New York Times, NPR and NPR Music, the Washington Post and beyond, and she was a featured performer at the Tokyo Olympics opening ceremony in 2021. She has worked with Stanley Clark, Chick Corea, Ahmad Jamal (who produced her first album and was her mentor), and many other jazz luminaries throughout her career, is a perennial favorite on DownBeat's Annual Critics Poll, and has performed at the world's finest jazz festivals.
The Sonicwonderland cover was created by Lou Beach, famous for his Weather Report album covers, not to mention Blink 182's Dude Ranch and albums by Flying Burrito Brothers, Madonna and Weird Al.
Pre-order here: https://found.ee/Hiromi_Sonicwonderland
TRACK LIST:
Wanted

Sonicwonderland

Polaris

Go Go

Up

Reminiscence (feat. Oli Rockberger)

Trial and error

Utopia

Bonus stage
TOUR DATES:
October 7 - Chan Center for the Performing Arts (Hiromi's Sonicwonder) Vancouver, Canada
October 8 - Town Hall (Hiromi's Sonicwonder) Seattle, WA
October 10 - Kuumbwa Jazz Center (Hiromi's Sonicwonder) Santa Cruz, CA
October 11 - Bing Concert Hall (Hiromi's Sonicwonder) Stanford, CA
October 13 - Sony Hall (Hiromi's Sonicwonder) New York, NY
October 14 - Sony Hall (Hiromi's Sonicwonder) New York, NY
October 18 - Flato Markham Theater (Hiromi's Sonicwonder) Toronto, Canada
October 19 - Strathmore (Hiromi's Sonicwonder) Bethesda, MD
October 20 - Stewart Theater, NC State University (Hiromi's Sonicwonder) Raleigh, NC