How To Be The Best You: Erick The Architect's Future Proof Festival Monday February 22 Live Exclusively On Twitch 
4-hour Interactive Event With Live Music, Art, And Meditation Explores Themes On Just-Released Solo Project Debut
Watch/Share The Trailer
Guests include Col3trane, AK the Savior, Flatbush Zombies, Romeo/FARR and Chuck Strangers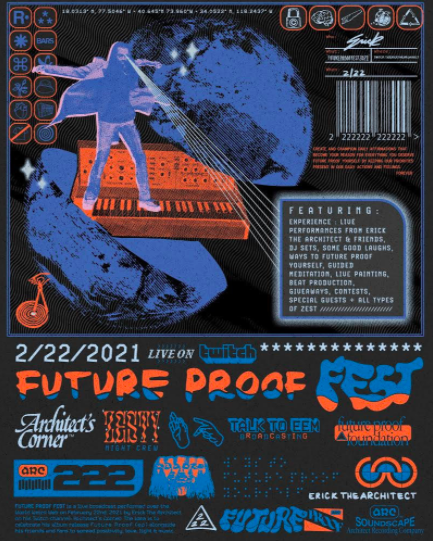 On February 22, Erick the Architect will host a first-of-its-kind virtual festival on his Twitch channel. Future Proof Fest will feature live performances and beat-making, meditation, live art, merch drops, exclusive remixes/covers and more; a 4-hour interactive event of positivity and creativity, all on the theme of how to "future proof" yourself to be the best you.
Watch the trailer here: https://www.youtube.com/watch?v=h7178okxDHg
Erick launched his solo project debut in January with Future Proof, a 5-song EP written as he processed the catastrophic events of last year. Out of his anger, fear and frustration came the realization that we must better ourselves to face the inevitable challenges that lie ahead. Part free-wheeling music fest, part self-improvement workshop, Erick envisioned this festival to explore these ideas in a novel, experiential way, inviting the world to be better alongside him. Future Proof has been covered by Complex, Hypebeast, High Snobiety, the Fader, XXL, NPR Music, Brooklyn Vegan and beyond, and features Loyle Carner, Col3trane, FARR, Sophie Faith, Linden Jay and Pip Millett.
Listen to "I Can't Lose": https://www.youtube.com/watch?v=hOGtguBwbkw
Future Proof Fest will take place live on Monday 2.22 and will start at 2:22PM ET. The event will include:
*Performance: Erick will perform Future Proof live from a soundstage
*Art: Live streamed art creation and timelapse videos from Erick's friends in the artist community and fans
*Meditation: A sound bath of ambient sounds and visuals
"Let It Go" Remixes: Erick will be playing remixes created by fans of Erick's song "Let It Go."
Future Proof Fest has evolved naturally out of Erick's Architect Corner late night livestream sessions on Twitch, which he hosts 3 times a week and has hundreds of fans tuning in each night to share in Erick's creative journey.
Erick the Architect is a celebrated artist and a sought-after collaborator, having worked with over 50 different artists including Tech N9ne, Denzel Curry and Portugal. The Man. He is working on forthcoming projects with both longtime and new collaborative partners - Joey Bada$$ and James Blake respectively. As a founding member and primary producer of Flatbush Zombies, Erick has accomplished some incredible feats including 871 million streams across all platforms, Billboard 200 debuts and having played some of the world's most prestigious festivals including Coachella and Lollapalooza. With supergroup Beast Coast, Erick has performed on Jimmy Kimmel Live and The Tonight Show with Jimmy Fallon.
Praise for Future Proof:
"Powerful songs that stand tall next to Flatbush Zombies' catalog...leaves you wanting more" -- Brooklyn Vegan
"Erick The Architect is the future" -- Rap Radar
"Pure hip-hop from one of the industry's most talented...meaningful and beautiful"
-- This Song is Sick
"The producer/rapper's ability to seek the truth and spread knowledge through smooth delivery makes Future Proof a relevant and forward-thinking project"
-- EARMILK
"Continues to perfect his craft of rapping over beats expertly created by himself and others" -- XXL