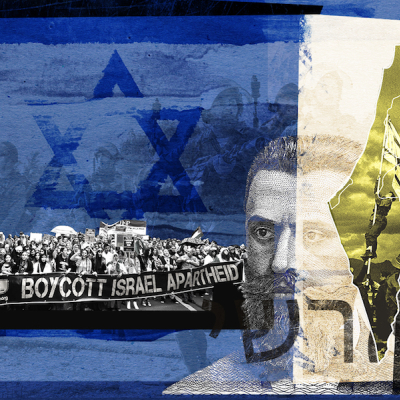 Intelligence Squared U.S. Debates "Anti-Zionism Is the New Anti-Semitism" in NYC, February 27
Zionism, or the belief in the Jewish right to self-determination in the land of Israel, has been the topic of contentious global debate for decades. And while the United States government is making moves it says will strengthen its special relationship with Israel, such as relocating the U.S. embassy from Tel Aviv to Jerusalem, scrutiny of Israel and its government looms large in American politics. Is it possible to distinguish anti-Zionism from anti-Semitism? On Thursday, February 27, nonpartisan debate series Intelligence Squared U.S. looks at these contentious issues with a live debate on the motion "Anti-Zionism Is the New Anti-Semitism."
Both sides pair a journalist who has worked in Israel with a political figure from the region. Arguing for the motion are New York Times columnist Bret Stephens and former Israeli Parliament member Einat Wilf. Arguing against the motion are The Atlantic contributor Peter Beinart and US Campaign for Palestinian Rights Executive Director Yousef Munayyer.
The "Anti-Zionism Is the New Anti-Semitism" debate will be held at NYC's Florence Gould Hall, then air soon after as part of the syndicated public radio show, podcast, and video series "Intelligence Squared U.S."
WHAT: Intelligence Squared U.S. Debates "Anti-Zionism Is the New Anti-Semitism"
WHEN: Thursday, February 27 / 7:00-8:45 PM EDT
WHERE: Florence Gould Hall, 55 East 59th Street, New York, NY
TICKETS: $40 ($34 for seniors, $12 for students w/ ID). To purchase, visit http://www.intelligencesquaredus.org/
FOR THE MOTION
* Bret Stephens: Op-Ed Columnist at the New York Times
Bret Stephens is a Pulitzer Prize-winning journalist, currently an op-ed columnist for the New York Times and a senior political contributor at NBC. He has addressed and denounced anti-Semitism in the U.S. and abroad, emerging as a leading voice on the international stage defining Zionism today. He previously worked at the Wall Street Journal, and before that was the editor-in-chief of The Jerusalem Post.
* Einat Wilf: Author and Former Member of the Israeli Parliament
A member of the Israeli Parliament from 2010-2013 on behalf of the Labor and Independence parties, Einat Wilf is a leading intellectual on matters of foreign policy, economics, education, and Israel and the Jewish people. Wilf is the co-author of the forthcoming book "The War of Return: How Western Indulgence of the Palestinian Dream Has Obstructed the Path to Peace."
Arguing Against the Motion
* Peter Beinart: Journalist & Author, "The Crisis of Zionism"
Peter Beinart is a columnist, professor of journalism and political science at City University of New York, and the author of three books, including "The Crisis of Zionism." A former editor of The New Republic, he has written for Time, The New York Times, The New York Review of Books among other periodicals. He is currently a contributor to the Atlantic, political commentator for CNN, and a senior fellow at the Foundation for Middle East Peace.
* Yousef Munayyer: Executive Director of US Campaign for Palestinian Rights
Yousef Munayyer is a political analyst and writer and executive director of the US Campaign for Palestinian Rights (USCPR). Prior to joining USCPR, he was the executive director of the Jerusalem Fund and Palestine Center and had also served as a Policy Analyst for the American-Arab Anti-Discrimination Committee.
ABOUT INTELLIGENCE SQUARED U.S. DEBATES (IQ2US)
A non-partisan, non-profit organization, Intelligence Squared U.S. was founded in 2006 to address a fundamental problem in America: the extreme polarization of our nation and our politics. Their mission is to restore critical thinking, facts, reason, and civility to American public discourse. The award-winning debate series reaches millions of viewers and listeners through through multi-platform distribution, including radio, live streaming, podcasts, interactive digital content, and on-demand apps on Roku and Apple TV. With over 170 debates and counting, Intelligence Squared U.S. has encouraged the public to "think twice" on a wide range of provocative topics. Author and ABC News correspondent John Donvan has moderated IQ2US since 2008.