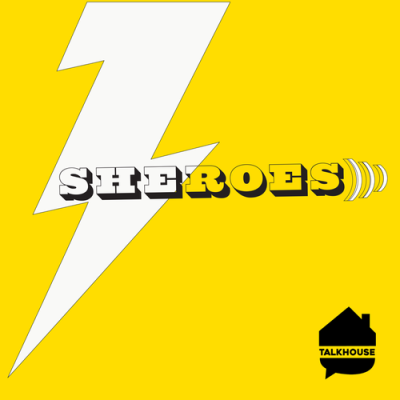 Introducing SHEROES: New Podcast Series From Talkhouse & Carmel Holt, Amplifying Womxn's Voices In Song & Conversation
Debut Episode Featuring Angel Olsen Out Now, Upcoming Guests Include Arooj Aftab, Joan Jett, Bonnie Raitt & More: LISTEN
First-Ever SHEROES Live Taping Set for Newport Folk Festival This Friday, July 22nd, With Special Guest Natalie Merchant
Today, Talkhouse announces the launch of its latest podcast, SHEROES. Created and hosted by longtime radio personality and trusted interviewer Carmel Holt, the series aims to amplify womxn's voices in song and conversation. Following Holt's nationally syndicated public radio program SHEROES Radio, and her SHEROES: Mixtape Memoir show on Sonos Radio, Talkhouse's SHEROES podcast serves as a creative lab, with episodes highlighting the intersectional feminist heart of all SHEROES endeavors. From in-depth interviews to live tapings, roundtables and more, Holt's approach will be guided by a fierce commitment to diversity and inclusivity, spotlighting guests' experiences through the first-person, creator-centric storytelling that is synonymous across all of Talkhouse's award-winning podcast network.
Out now, the premiere episode of the SHEROES podcast features Holt's recent conversation with Angel Olsen, discussing gender and equality, the different styles of patriarchy, coming out, navigating men's expectations when working with womxn, and what it's like to be an AFAB, queer musician today. The interview includes excerpts from Olsen's appearance on SHEROES Radio, marking the first of a forthcoming mini-series called "SHEROES Heart," which will continue to concentrate on the "heart of the matter" with upcoming guests such as Arooj Aftab, Joan Jett and Bonnie Raitt.
Listen to "SHEROES Heart Episode 1: Angel Olsen" and subscribe to SHEROES here:
Tomorrow, July 22nd at 1:30pm ET on Newport Folk Festival's Foundation Stage, Carmel Holt will conduct the first-ever SHEROES Live taping with special guest Natalie Merchant. SHEROES listeners can also expect to hear podcast versions of the full interviews that air each week on SHEROES Radio's syndicated broadcast, and - following in Talkhouse tradition - conversations that bring SHEROES together with their own SHEROES, amplifying new voices while recognizing the womxn, genres and generations who paved the way.
"'Women in Music' and 'Female Artists' are longstanding labels that categorize by gender, part of a long history of systemic inequality and discrimination in the music industry as a whole," says Carmel Holt. "Wherever you look, or listen, the statistics showing gender inequality across the board in music, from festival line-ups to journalism, to the GRAMMYs and beyond, are staggering. Each year, as we continue to answer the urgent call to issues of diversity and inclusion, SHEROES remains on a mission to make sure that equality for womxn is on the agenda."
Ian Wheeler, Founder of Talkhouse Creative Studio and Co-Founder of Partisan Records, adds, "By creating a space devoted to providing space for the most talented and successful womxn in music to share their stories, challenges, and triumphs, SHEROES unveils the truth of womxn's experiences, while building awareness and inspiration for a better, more inclusive world for musicians, fans, and those unsung SHEROES in the business."
Built on a foundation of authenticity, credibility and creativity, Talkhouse welcomes SHEROES to a slate of programming that includes the flagship Talkhouse Podcast, original series such as That's How I Remember It With Craig Finn and Feist's Pleasure Studies, plus the newly-added Jokermen, Emil Amos' Drifter's Sympathy, Sing For Science, 365 days with mxmtoon, Aquarium Drunkard's Transmissions, The New Republic's The Politics Of Everything, Open Mike Eagle's Stony Island Audio and more.
As the sole first-person media outlet for creatives of all fields, Talkhouse serves as an entrance into the minds of its audience's favorite artists, distributing its series to well over half a million monthly listeners. Explore the Talkhouse Network and Creative Studio here, and stay tuned for more news on additional, marquee series coming soon.
About Talkhouse
Talkhouse is a Webby-Award-winning first-person media company and outlet for musicians, actors, filmmakers, and others in their respective fields. Artists write essays and criticism from firsthand perspectives, speak one-on-one with their peers via the Talkhouse Podcast and Talkhouse Live events, and offer readers and listeners unique insight into creative work of all genres and generations. Talkhouse is writing and conversations about music and film, from the people who make them.
Our audience has come to understand and cherish the fact that we serve as a platform for getting them inside the minds of their favorite artists and filmmakers. As one of the only "first-person" media outlets, Talkhouse allows musicians, actors and filmmakers to reach fans directly, in their own words. By working directly with creators from the worlds of music and film, Talkhouse has built a media brand that is firmly rooted in authenticity, credibility, and creativity - and, through branded content initiatives and special projects, we aim to bring those values to life together with like-minded partners.
About Carmel Holt
Carmel Holt is a podcast host and radio personality with a proven ear for curation and presentation. Over the past two decades, she has become known for her warm delivery, passionate support of new and emerging talent, and her natural rapport with artists. She has hosted engaging, conversational interviews with everyone from Courtney Barnett to Cat Power, Death Cab For Cutie to Paul McCartney, Mitski to Maggie Rogers, Bob Weir to Yola, Leon Bridges to The National, Ex Hex to The xx. Her extensive knowledge of music, and affinity for connecting with artists has made her a trusted and beloved host.
Carmel spent the first decade and a half of her career at Radio Woodstock, WDST (Woodstock, NY) where she was Midday host, interviewer, and a three-time award winning Music Director. In 2013, she moved on to WFUV Public Radio in New York City as a full time radio host, interviewer and Assistant Music Director, and she also became a regular NPR Music contributor, freelance interviewer, and voiceover artist. In 2019, Carmel left WFUV to develop SHEROES, thanks to a podcast incubator funded by SONOS. SHEROES launched as a one-hour syndicated public radio show in November of 2020, and its sister production SHEROES: Mixtape Memoir on Sonos Radio followed in March of 2021. Guests have included Angelique Kidjo, Arlo Parks, Julien Baker, Little Simz, Brandi Carlile, Shirley Manson, Japanese Breakfast, Allison Russell, Liz Phair, Tori Amos, Lauren Mayberry, Lucinda Williams, Aimee Mann, Courtney Barnett, Wanda Jackson, Norah Jones, Joan Jett, Maren Morris, Santigold, Big Thief, Ibeyi and Bonnie Raitt.
A life-long student of music, Carmel grew up singing and playing the piano, acting, and performing in musical theater, and received a BA in music composition and vocal performance at Bard College. Her devotion to a life of music comes from her deepest held belief that music is the most powerful tool for expression and bringing people together.
Follow Talkhouse
For more information, contact Matt Hanks or Greg Jakubik at Shore Fire Media,
(718) 522-7171