Jacksepticeye Hosts Record-Breaking Single-Day Livestream, Raising More Than $10 Million for World Central Kitchen DuringFifth Annual Thankmas Livestream Event
Jack Black, Bella Poarch, Valkyrae, Chefs Nyesha Arrington and Antonia Lofaso and more participated in various events
Donations Made by YouTube, The Coca-Cola Company, Dwayne Johnson's Teramana and more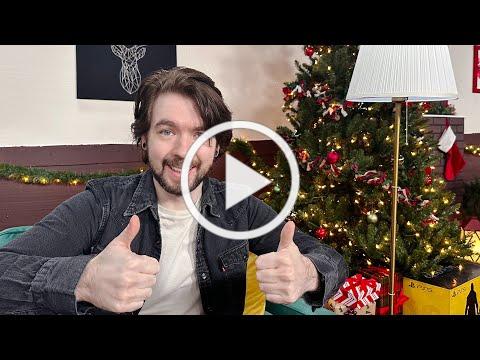 LOS ANGELES, December 14, 2022 — One of the world's most popular YouTube creators, gaming commentators and entrepreneurs, Sean "Jacksepticeye" McLoughlin just raised more than $10 Million for World Central Kitchen (WCK), a nonprofit organization founded by Chef José Andrés to provide fresh meals in response to crises around the world, during a day-long livestream on Saturday, December 10. This is the most raised in a single-day livestream to date and the most the Forbes Top Creator of 2022 has raised in any day-long Thankmas.
The festivities included friends, celebrities and a community of more than 28M subscribers. Some highlights included:
- Jack Black entering to a barbershop quartet before a massive game of Jenga
- Chefs Nyesha Arrington and Antonia Lofaso judging the culinary skill of Markiplier, Arin Hanson and McLoughlin
- Bella Poarch and Valkyrae showing off their skills at "Reindeer Ring Toss"
- The generosity of major donations to World Central Kitchen from the creator community, including CoryxKenshin, Markiplier, Leonhart, Pokimane and more as well as brands including The Coca-Cola Company, Teramana and YouTube
Throughout the remainder of the month, anyone who wants to participate on YouTube, Twitch, Facebook,TikTok or any platform can harness the collective power of their online communities to help continue to exceed this year's fundraising goal of $10M for WCK. By participating in Thankmas, donors will not only be providing nourishment to families who have been affected by hurricanes, floods and other disasters, but will also be providing comfort and hope during times of crises.
This year's Thankmas continues to build upon the relationship between Jacksepticeye, Tiltify and Real Good Touring, who have partnered for this annual charity stream event over the past three years. Last year's Thankmas raised more than $7.7 million during a single, record-breaking day to support New Story's efforts to end global homelessness by building affordable housing for families in need. Together, Jacksepticeye, Tiltify and RGT are looking to raise even more this year for WCK.
Responsible for powering today's most popular social media platforms and livestreaming services like TikTok, Twitch, YouTube and more, Tiltify is working with new and existing partners to create more interactive, live and personalized experiences for creators to leverage their social following for social good. With Thankmas, Tiltify continues its mission to go beyond traditional fundraising, serving today's tapped-in digital generation.
To be part of this year's Thankmas, go to Thankmas.tiltify.com.
To learn more about World Central Kitchen, visit wck.org.
About Tiltify:
Tiltify is the fundraising platform for the digital generation, providing live, interactive and telethon-style technology that engages donors to invest in the cause. Tiltify harnesses the power of both traditional fundraising and modern digital livestream engagement with platforms like Twitch, TikTok and YouTube, enabling any organization and fundraiser to dramatically expand audience reach. Organizations like United Way Worldwide, St. Jude Children's Research Hospital, Save the Children, No Kid Hungry, Make-A-Wish and hundreds more use Tiltify to engage the socially active Millennials and Gen Z communities for single signature events and large DIY campaigns that launch in minutes. To learn more visit tiltify.com.
About Jacksepticeye:
Sean McLoughlin aka Jacksepticeye is amongst the biggest digital creators of all-time. With 28.9M subscribers on YouTube alone, garnering over 150M monthly views totaling 15.7B lifetime views, McLoughlin keeps his loyal fans entertained and engaged with variety gameplay, eclectic humor and earnest, relatable compassion and honesty all while promoting positivity and mental health.
Sean's visibility also expands beyond YouTube and gaming and into pop-culture at large, having interviewed celebrities like Ryan Reynolds, Tom Holland, Dwayne Johnson, Brad Pitt, Margot Robbie, Chris Hemsworth and more; you can also find him with a cameo in the 2021 film FREE GUY.
Sean has taken his brand of comedy and heart across the globe with his How Did We Get Here? tour selling out 45 shows across 14 countries, amassing 60k tickets. Earlier this year, a documentary focusing on the tour and Sean's life before YouTube was released through Moment House and Shout! Factory, peaking at number one for documentaries worldwide. As an entrepreneur he has also launched his own lifestyle/gaming clothing line Cloak partnered with Markiplier and Pokimane and has launched his own coffee brand Top of the Mornin Coffee.
###
For more information, please contact:
Jaclyn D. Carter | jcarter@shorefire.com
Lexi Cothran | lcothran@shorefire.com