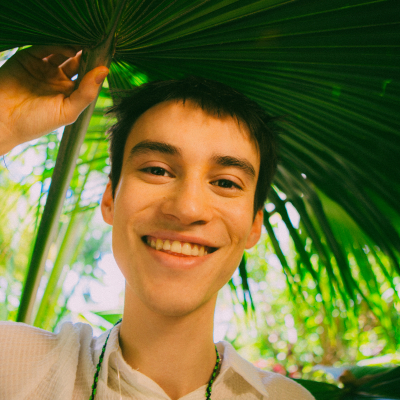 Jacob Collier Recreates "Moon River" With Help From Chris Martin, Tori Kelly, Ty Dolla $ign, 140+ Friends, and 5,000 of His Own Vocals
Djesse - Volume 2 Out July 19th (Decca/Geffen)
Watch "Moon River" HERE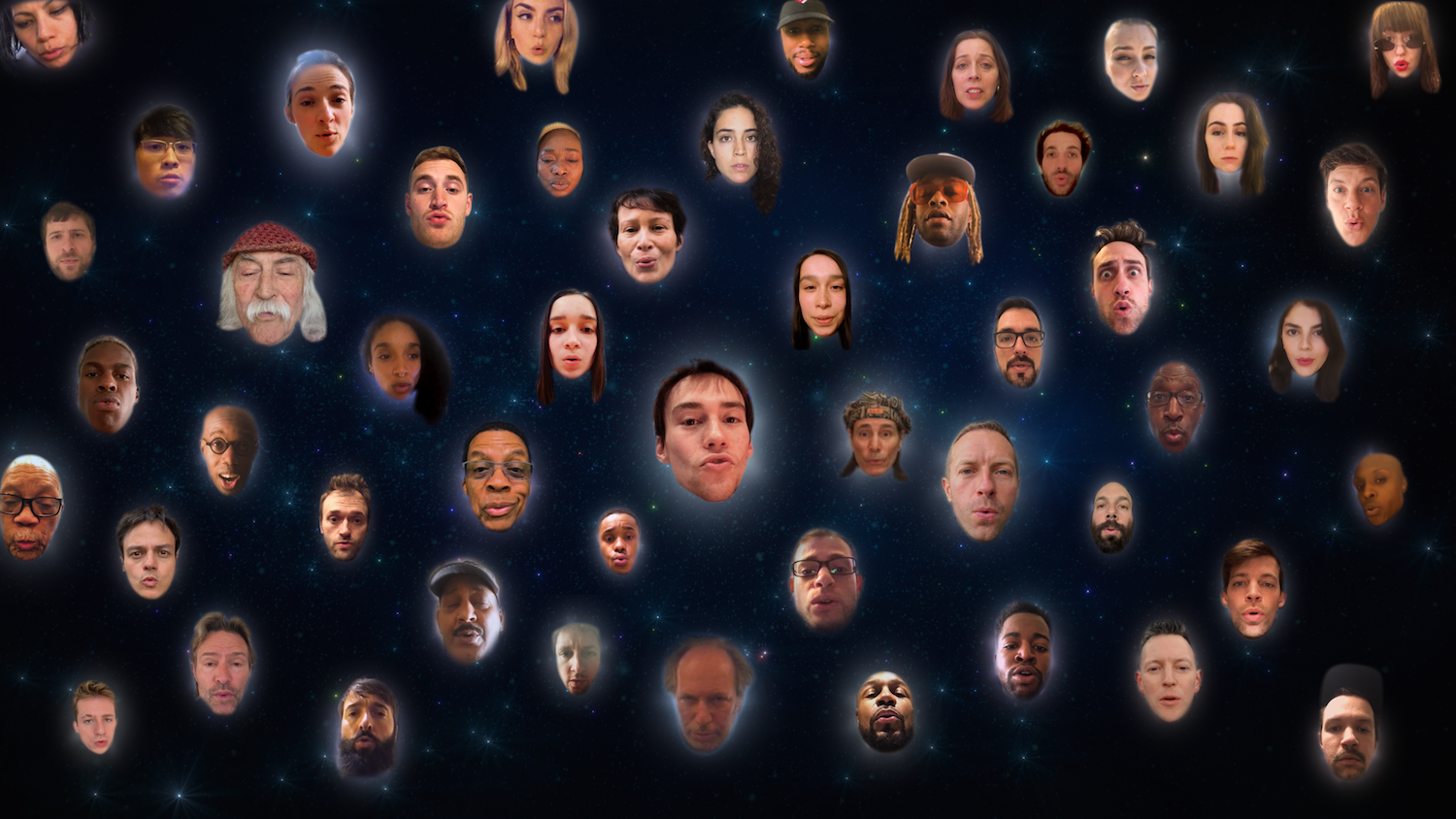 To produce his rendition of "Moon River," Jacob Collier recorded himself singing 5,000 times. Then he reached out to his musical friends and asked if they could send a video of themselves singing the word "moon" in the key of b-flat. You'll hear (and see in the video) 144 collaborating voices such as Chris Martin, Charlie Puth, Tori Kelly, David Crosby, Kimbra, Daniel Caesar, Merrill Garbus, JoJo, Darwin Deez, Herbie Hancock, Quincy Jones, Hans Zimmer, Steve Vai, Ty Dolla $ign, Lianne La Havas, Tom Misch and many others whom Collier now counts as key contributors to his ever-growing world – full credits below.
"Moon River" is the latest single from Djesse, Collier's breathtakingly expansive 4-volume project. Djesse - Volume 2 will be released July 19th on Decca/Geffen and explores the intimacy and closeness of acoustic music. It will feature a number of collaborators, including dodie, Lianne La Havas, Oumou Sangaré, MARO, Sam Amidon, Kathryn Tickell, and Becca Stevens, with more to be announced. Collier has made the majority of Volume 2 in his home studio/childhood bedroom in London – performing, producing, engineering, and composing everything himself.
As he's done for the majority of his music videos, Collier filmed "Moon River" himself, but this time enlisted Light Sail VR's Matt Celia to help edit and co-direct the 250 unique files and galactic array of faces seen onscreen.
Watch and share the video for "Moon River" here: https://youtu.be/VPLCk-FTVvw
Jacob has released two additional videos from Djesse – Volume 2 thus far:
"Here Comes The Sun" featuring dodie: https://youtu.be/dXf1nUVdVuM
"Make Me Cry," filmed and experienced in 360-degrees: https://youtu.be/6M1oopfKnLw
Jacob released Djesse – Volume 1 in December to raves, an NPR All Things Considered interview segment, a performance on the popular public radio show Live From Here, inclusion on the New York Times Playlist and more. He filmed a video series for Genius, performed at the Spotify Secret Genius Awards and scored a series of commercials for Volkswagen that continue to air on TV.
"Moon River" Contributors
Suzie Collier, Sophie Collier, Ella Collier, Ben Bloomberg, Herbie Hancock, Quincy Jones, Eric Whitacre, Hans Zimmer, Steve Vai, Ty Dolla $ign, Chris Martin, Charlie Puth, Lianne La Havas, Tori Kelly, David Crosby, Chris Thile, Daniel Caesar, Kimbra, Laura Mvula, MARO, Cory Henry, dodie, Becca Stevens, Jack Conte, Nataly Dawn, Oumou Sangare, Jules Buckley, Jamie Cullum, Tank, Beardyman, Genevieve Artadi, Sam Wilkes, Greg Phillinganes, Michael League, Hamid El Kasri, Avery Wilson, Jojo, Jonah Nilsson, Tom Misch, Darwin Deez, June Lee, Kathryn Tickell, Merrill Garbus, Nikki Yanofsky, Sam Amidon, Alvin Chea, Claude McKnight, Mark Kibble, Khristian Dentley, David Thomas, Joel Kibble, Andrea Haines, El Cockerham, Blake Morgan, Barney Smith, Chris Wardle, Jonathan Pacey, Rob Clark, Sam Dressel, Barak Schmool, Pedro Martins, Jake Sherman, Jonathan Dove, Brian Mayton, Fred Harris, Nicola Hadley, Steve Mulligan, Clyde Lawrence, Gracie Lawrence, Sumner Becker, Jordan Cohen, Thomas Gould, Gareth Lockrane, Gwilym Simcock, Jason Rebello, James Maddren, Nick Smart, Pete Churchill, Tom Cawley, Umar Hossain, Mischa Stevens, Jose Ortega, Claudio Somigli, Alessandro Melchior, Christian Euman, Rob Mullarkey, Adam Fell, Michael LaTorre, Michael Peha, James Wright, Noah Simon, Matthew Celia, Rocky Borders, Josh Helfferich, Robert Watts, Ewa Zbyszynska, Arend Liefkes, Jasper van Rosmalen, Murk Jiskoot, Ruben Margarita, Aleigha Durand, Allayna O'Quinn, André Smith, Asya Bookal, Briana Marshall, Catherina Lagredelle, Celine Sylvester, Chad Lupoe, Chesroleeysia B, Cleavon Davis, Cole Henry, Danielle Cornwall, Haley Flemons, Holland Sampson, Jason Max Ferdinand, Jourdan Bardo, JP Scavella, Kashaé Whyte, Keviez Wilson, Kobe Brown, Kristin Hall, Leonard Brown, Lincoln Liburd, Louis Cleare, Maia Foster, Malik George, Malik McHayle, Marissa Wright, Matthew Cordner, Mykel Inez, Naomi Parchment, Natrickie Louissaint, Patricia Williams, Roddley Point-du-Jour, Samella Carryl, Terell Francis-Clarke, Zaren Bennett
Jacob Collier Tour Dates
June 20 – Denver, CO – Summit Music Hall
June 21 – Aspen, CO – Jazz Aspen Snowmass
June 23 – Toronto, CA - Opera House
June 24 - Edmonton, CA - The Starlite Room
June 26 – Portland, OR - Wonder Ballroom
June 27 – Seattle, WA – Showbox
June 28 – Victoria, CA – Victoria JazzFest / Royal Theatre
June 30 – Vancouver, CA – Vancouver Jazz Festival
July 2 – Montreal, QC – Montreal Jazz Festival
July 5 – Kongsberg, Norway – Kongsberg Jazz Festival
July 7 – Sofia, Bulgaria – A to Jazz Festival
July 8 - Ruhr, Germany - Ruhr Piano Festival
July 9 – Montreux, Switzerland – Montreux Jazz Festival
July 13 – London, UK – OnBlackheath
July 14 – Rotterdam, Netherlands – North Sea Jazz Festival
July 16 – Cascais, Portugal – CoolJazz Festival
July 18 – Istanbul, Turkey – Istanbul Jazz Festival
July 20 - Taranto, Italy - Arena Villa Peripato
July 21- Pescara, Italy - PescaraJazz
July 22- Fano, Italy - Rocca Malatestiana
July 24 – Šibenik, Croatia – St. Michael's Fortress
Aug 30 – Southbank, Australia – Melbourne Recital Centre
Aug 31 - Southbank, Australia – Melbourne Recital Centre
Sept 2 – Auckland, New Zealand – Powerstation
Sept 4 – Wellington, New Zealand – The Opera House
Sept 6 – South Brisbane, Australia – Brisbane Festival
Sept 7 – Sydney, Australia – Sydney Opera House
Sept 10 - Singapore, Singapore - Capitol Theatre
Follow Jacob Collier