Jeff Staple And NTWRK Announce 2nd Annual Staple Day 
The In-Person Event In Los Angeles Will Feature Exclusive Collaborations To Celebrate 25 Years Of Staple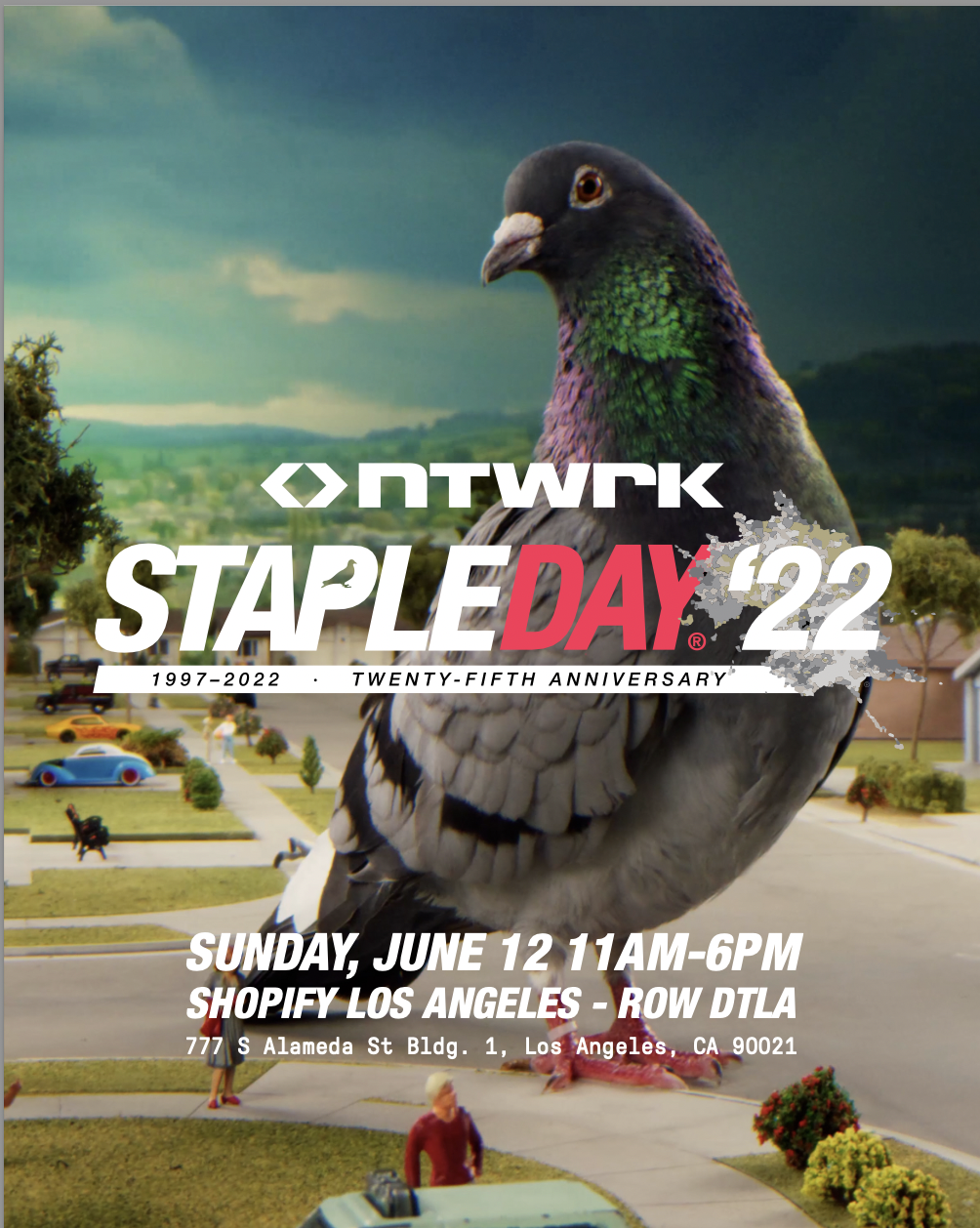 WHAT:
NTWRK has once again teamed up with creative visionary Jeff Staple for the second annual STAPLE DAY - a one-day-only in-app and in-person shopping event featuring exclusive drops, ultra-rare offerings, and never before seen collaborations. This year's STAPLE DAY will celebrate the 25th anniversary of STAPLE with a special in-person event at the Shopify LA space in Downtown Los Angeles during Smorgasburg, the largest weekly open-air food market in America.
The Shopify LA space will include a pop-up STAPLE retrospective highlighting key moments of Jeff's legacy from the past 25 years, full-page excerpts from his upcoming book with Rizzoli, a special giveaway of 25 pairs of shoes chosen by Jeff from 1997 - 2022, and more. Throughout the day, Jeff Staple will host NTWRK's live streamed festival, where he will release numerous exclusive brand collaborations. Fans can shop all of the drops via the NTWRK app or in-person at the Shopify LA space through NTWRK's QR codes and in-store kiosks.
STAPLE DAY BRAND PARTNERS
Allbirds // Astroboy x ToyQube // Cole Haan // Fossil // GAS // Oakley
Rizzoli // Topps // YEENJOY // ZeeDog
NTWRK will also host the "Make A Pigeon" contest where fans will select a winning designer that will be announced live during STAPLE DAY and be given the rare opportunity to collaborate with Jeff on a capsule project to be released later this year. Contest submission details can be found HERE & HERE.
WHEN: June 12, 2022 // 11am - 6pm PST
WHERE: Shopify LA @ The Row DTLA
777 South Alameda St, Building 1
Los Angeles, CA 90021
STAPLE DAY x NTWRK Online Shopping HERE
SOCIAL: @jeffstaple // @STAPLEpigeon // @ntwrk
About Jeff Staple
Jeff Staple (born Jeffrey Ng) is a creative visionary with work encompassing graphic design, fashion design, footwear design, and brand marketing. He is the founder of the REED ART DEPARTMENT (f.k.a. Staple Design) and has worked on creative projects ranging from startup brands to Fortune 100 companies. Jeff founded STAPLE in 1997, the NY-based pioneering streetwear brand with the now infamous "Pigeon" logo. He also founded experiential lifestyle boutique, REED SPACE in 2002.
About NTWRK
Named one of Fast Company's "Brands That Matter" and "Most Innovative Companies" as well as Ad Age's "Hottest Brands," NTWRK is the premier North American livestream shopping platform where "entertainment meets e-commerce" (Forbes). Built on a digitally-innovative model of daily product drops, livestream shopping festivals, and exclusive partnerships with world-renowned brands and creators, NTWRK has fostered an organic global community of artists and fans since its launch in 2018. Under the motto "Shop, Watch, Connect" NTWRK provides a curated digital shopping experience that resonates with Gen-Z and millennial consumers.
###
CONTACTS:
STAPLE / RAD
Abigail Kim: abigail@reedartdepartment.com
Sarah Cirkiel Gladstone: sarah@reedartdepartment.com
NTWRK / SHORE FIRE MEDIA
Mikaela Duhs: mduhs@shorefire.com