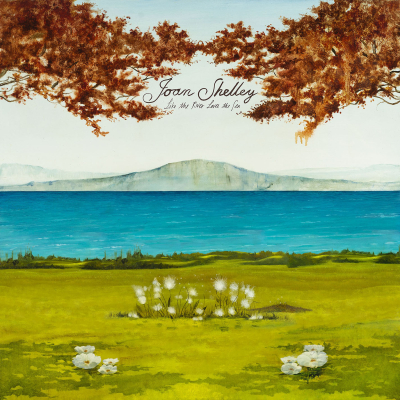 Joan Shelley Announces New Album Like The River Loves The Sea
Additional US Tour Dates Added For the Fall
Watch the Video for New Single "Cycle" HERE
Today, Joan Shelley announces that her new album Like The River Loves The Sea will be released August 30th on No Quarter Records. Accompanying the announcement, Shelley offers a second song from the record "Cycle," after "Coming Down For You" earned accolades from The New York Times, NPR Music, Rolling Stone, Stereogum, UPROXX, and others last month.
Watch the music video for "Cycle" (animation by Douglas Miller) here: https://youtu.be/95WaiDfPwu8
Louisville-native Shelley recorded Like The River Loves The Sea over five days at Greenhaus Studios in Reykjavík, Iceland. The twelve songs, all written by Shelley, feature co-producer James Elkington and longtime guitarist Nathan Salsburg, along with Icelandic string players Þórdís Gerður Jónsdóttir and Sigrún Kristbjörg Jónsdóttir, and contributions from Bonnie "Prince" Billy and Maiden Radio. Shelley says of the collection:
Woven into the melodies and rhythms of these songs are fragments of the many musical traditions that comprise what we now call Kentucky music: Irish, British, and African to name a few. The best music would be a conversation with the divine that has seen all of it, or with the oldest trees that have witnessed the whole human story. These songs are partly that conversation, at times through the lens of lovers. They are also a longing cry born of all the dividing; a call across the slowly spreading ocean. Primarily, Like The River Loves The Sea is built as a haven for overstimulated heads in uncertain times. The title (which comes from a song by Si Kahn) speaks of the inevitable and at times indifferent nature of love. Whether it be a physical place or an idea, everyone needs a place of comfort. One where we can look out again from that place of calm and see how to best act and to be in an uncertain world.
About the recording locale, she told Uncut Magazine earlier this year, "Landscape has always had a strong effect on my imagination and the way I hear music. Similar to how different alcohols have different intoxicating effects on people. I'd heard that Iceland has such an otherworldly landscape…I wanted to see what it would be like to make music there, to make music under its influence."
Joan Shelley will tour the US this fall and has added over two dozen new dates to her previously announced run of West Coast performances - find them all below.
Like The River Loves The Sea Track List
1. Haven
2. Coming Down For You
3. Teal
4. Cycle
5. When What It Is
6. The Fading
7. The Sway
8. Awake
9. Stay All Night
10. Tell Me Something
11. High On The Mountain
12. Any Day Now
Praise for "Coming Down For You"
"A vow of compassionate devotion...linking a personal bond to deeper tradition" - The New York Times
"When she invokes the title in her cool, luminous alto, it's easy to imagine a guardian angel sweeping down...It's gorgeous, timeless, borderless music." - Rolling Stone
"Like a river over well-worn stones" - NPR Music
"A lonesome, bittersweet, annihilatingly beautiful song...It all hangs in the air, lovely and impossible, like steam over a lagoon." - Stereogum
"Shelley's vocal talent is on full display" - UPROXX
Joan Shelley Tour Dates
7/26-7/28 - Calgary, AB - Calgary Folk Festival
9/6-9/8 – Louisville, KY - Pete Fest
9/13 – Madisonville, KY - Glema Mahr Center For The Arts
9/27 - Denver, CO - The Walnut Room
9/28 - Fort Collins, CO - Elizabeth Hotel
9/29 - Colorado Springs, CO - Lulu's
10/3 - Los Angeles, CA - Moroccan Lounge
10/9 - Sisters, OR - Suttle Lodge
10/10 - Portland, OR - Mississippi Studios
10/11 - Seattle, WA - Auditorium
10/12 - Bainbridge Island, WA - Treehouse Café
10/24 - Knoxville, TN - Open Chord *
10/25 - Nashville, TN - City Winery Loft
10/26 - Atlanta, GA - Eddie's Attic *
10/27 - Asheville, NC - Ambrose West
10/29 - Charlotte, NC - Stage Door Theater *
10/30 - Carrboro, NC - Back Room *
11/1 - Roanoke, VA - Spot On Kirk *
11/2 - Lexington, KY - The Burl *
11/6 - Cincinnati, OH - Southgate House *
11/7 - Nelsonville, OH - Stuarts *
11/8 - Thomas, WV - Purple Fiddle *
11/9 - Washington, DC - Jammin Java
11/10 - Charlottesville, VA - The Southern *
11/13 - Philadelphia, PA - Boot & Saddle *
11/14 - Brooklyn, NY - Park Church Co-Op
11/15 - Boston, MA - Cafe 939
11/16 - Woodstock, NY - Colony *
11/17 - Rochester, NY - Bop Shop Records *
11/19 - Toronto, ON - Drake
11/20 - Ann Arbor, MI - The Ark *
12/4 - St. Paul, MN - Turf Club
12/6 - Sheboygan, WI - Paradigm Coffee
12/6 - Stoughton, WI - Stoughton Opera House
12/7 - Milwaukee, WI - Collectivo Coffee
12/8 - Chicago, IL - Old Town School of Folk
* w/ Jake Xerxes Fussell
Newly announced dates in BOLD
Follow Joan Shelley