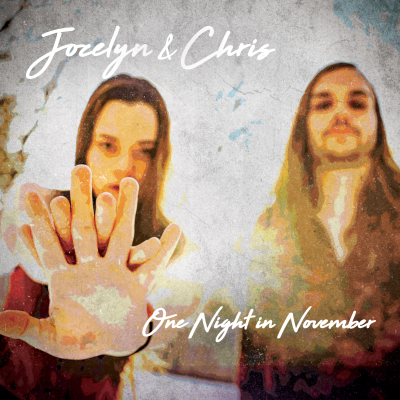 Jocelyn & Chris Showcase Heartfelt Songwriting, Compelling Musicianship On Intimate February Live Album
American Songwriter shared the news + new single "Mercy Me", HERE
Chris Arndt joins Breedlove Guitars family as January Featured Artist & ambassador for new Organic Collection
Today, Jocelyn & Chris Arndt announce the release of 'One Night In November,' a ten-track live album set for February 14th (Bridge Road Entertainment). Recorded completely live in front of an intimate audience at White Lake Studios in Upstate New York, these Harvard-bred rockers and their band delivered "raw, impressive intimacy" (American Songwriter) across reimagined versions of their greatest hits to-date, including their latest Billboard AAA Top 40 singles "Outta My Head" (featured on NBC's Today Show) and "Kill In The Cure" (which remained on Billboard's chart for 12 consecutive weeks). The recording strips back Jocelyn & Chris's usual modern rock trappings to showcase powerful songwriting, honest lyricism, and nuanced musicianship.
'One Night in November' also debuts brand-new co-written by Jocelyn & Chris, "Mercy Me". "Fusing classic rock and blues sounds of the '50s, '60s, and '70s" (American Songwriter), the track is a soul-stirring ballad about being at the complete mercy of the one you love and finding comfort in that unwavering sense of devotion. Listen via American Songwriter, HERE.
This January, Chris Arndt officially joins the Breedlove Guitar family as a featured artist and their inaugural Organic Collection ambassador, helping to introduce this pioneering, affordable, and sustainably-produced line to new audiences. Arndt, who writes primarily on acoustic, has drawn comparison to past giants like Jimi Hendrix, David Gilmour, and Stevie Ray Vaughan. He says his Breedlove allows for new modes of expression, especially in stripped-down settings like the one showcased on 'One Night in November': "I've played a lot of acoustic guitars, and others just don't feel like an extension of myself the way the Breedlove does."
2019 was a monumental year for the Arndts, who made their national TV debut on NBC's TODAY Show in addition to featured coverage in Relix, The Daily Beast, NowThis, Paste, Parade, and countless others. The February release of their 2019 album "The Fun in the Fight" debuted at #1 on the Jambands Top 30 and in the Top 20 on iTunes all-genre chart, landing them tour support dates with X Ambassadors and Jimmy Eat World along with festival plays at SXSW, Mountain Jam, and more.
'ONE NIGHT IN NOVEMBER' TRACK LIST:
1. Mercy Me
2. Kill in the Cure
3. Problematic
4. Hot
5. Nevermind
6. Outta My Head
7. Where's the Rain
8. Weatherman
9. Jagged
10. Cut the Cord
'ONE NIGHT IN NOVEMBER' ALBUM CREDITS:
All music by Jocelyn & Chris Arndt
Produced by David Bourgeois
Musicians:
Jocelyn Arndt - lead vocals, piano
Chris Arndt - guitar, backing vocals
David Bourgeois - Drums, Percussion
Dan Zavadil - bass
Beau Sasser - Hammond organ
Olivia Quillio - backing vocals
Jeff Nania - alto saxophone, flute
Nate Altimari - backing vocals