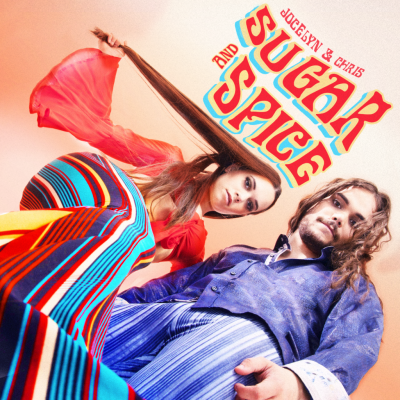 Jocelyn & Chris Will Turn Up Your Summer with Modern Retro-Funk Anthem "Sugar and Spice"
Hailed as "pure American-rock-goodness" by American Songwriter -
read more HERE.
Lyric video premiering Friday via MXDWN
Artists Partner with Coal Creek Smokehouse and Peacemaker Brewing for limited time collaborations around this single
Tomorrow (6.18), Harvard-grad sibling rockers Jocelyn & Chris return with "Sugar and Spice," "a bluesy romp showing off their knack for classic song-craft" (American Songwriter) and their first release since the world health crisis took hold last year. This is a taste of their forthcoming eighth studio album. Channeling the powerhouse-style vocals of iconic female rockers like Janis Joplin and Stevie Nicks blended perfectly with guitarwork calling back to greats like Jimmy Page and Jimi Hendrix, Jocelyn & Chris deliver a psychedelic 70s style on this funk-driven track about realities of a hot and cold relationship.
Accompanying the rocking, retro-funk anthem is the official music video. With a kaleidoscope of colors, the track's retro influences are on full display with Jocelyn's vocals taking center stage supported by Chris's organic, riff-driven guitar. Watch the video via American Songwriter here.
Eight albums, continual touring, and their "millennial spin on classic rock" (NBC TODAY) has earned Jocelyn & Chris three consecutive commercial radio singles in the Billboard AAA Top 40 and two #1 records on the Relix Jambands Top 30 Album Chart. Their 2019 album The Fun in the Fight landed them their national TV debut with The TODAY Show and features with Huffington Post, NowThis, Paste, The Daily Beast, People, Hollywood Reporter, and numerous others.
To celebrate "Sugar and Spice," Jocelyn & Chris have teamed up with a couple of great product partners for a series of exciting collaborations. On Friday, Coal Creek Smokehouse in Rocky Top, TN, will release Sugar and Spice Rock and Roll BBQ Sauce, a limited-run blend of honey sweetness and spicy kick perfect for all-purpose slathering. The sauce will be available through the smokehouse website and at their restaurants. A family of avid homebrewers, Jocelyn & Chris have also teamed up with boutique craft brewery Peacemaker Brewing in Canandaigua, NY, to brew Sugar and Spice Passion Fruit Milkshake IPA. This IPA is a fruity, refreshing limited-edition concoction perfect for summer sipping, available at Peacemaker Brewing's flagship location, Wegmans Supermarkets, and select Jocelyn & Chris performances this summer and fall. This is their second collaboration with Peacemaker; their first was 2019's Kill in the Cure IPA.
Siblings Jocelyn & Chris, who balanced their careers while finishing their degrees at Harvard University, first formed their band in middle school. Along the way the duo, originally from Upstate NY, have released eight albums and collaborated with some of alt-rock's biggest names, including Cory Wong (Vulfpeck), G. Love, Byron Isaacs (Lumineers), and Gov't Mule's Danny Louis.
Upcoming Tour Dates:
June 18 - Sugar & Spice Release Party (virtual)
June 21 - Playlist Live: FATHERS (virtual)
June 24 - Peacemaker Brewing: Couch Concert - Canandaigua, NY
June 28 - Playlist Live: LETTERS (virtual)
July 9 - The Bend - West Best, WI
July 10 - Barnato! - Omaha, NE
July 12 - City Winery - Chicago, IL
July 13 - Couch Concert On Location at The Bur Oak - Madison, WI
July 14 - Marshfield Insurance's 4th Annual Fore Roger Fundraiser - Marshfield, WI
July 15 - Levitt at the Falls - Sioux Falls, SD
July 16 - Fridays on the Plaza - Cheyenne, WY
July 17 - Big Stars Bright Lights Concert Series - Park City, UT
July 18 - Concerts on the Commons - Teton Village, WY
July 21 - Marathon Center for the Performing Arts - Findlay, OH
July 22 - Rumba Cafe - Columbus, OH
July 23 - The Auricle - Canton, OH
July 24 - Purple Fiddle - Thomas, WV
July 25 - The Crafthouse Stage & Grill - Pittsburgh, PA
July 29 - Grain's Rocking the Docks Series - Lewes, DE
Aug. 7 - Caroga Lake Music Festival - Caroga Lake, NY
Aug. 12 - Musikfest - Bethlehem, PA
Aug. 28 - Live Under the Arch - Portsmouth, NH
Sept. 3 - Rams Head on Stage - Annapolis, MD
Sept. 26 - Maine Craft Distilling Sunday Concert Series - Portland, ME
Nov. 12 - Bank of NH Stage - Concord, NH