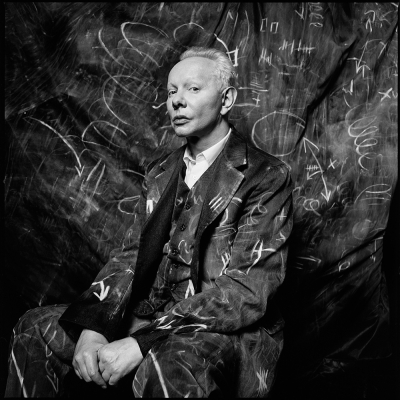 Joe Jackson Tells Tale Of Four Cities On 'Fast Forward,' First Album Of Original Songs In Seven Years, Out October 2
North American Tour kicks Off September 29 And Includes Two Nights At NYC's Town Hall, October 20 + 21; Tickets Go On-Sale July 17
Hear/ Share New Trck "A Little Smile": http://shorefi.re/1L5SQ6O
The ever-restless songwriter Joe Jackson traveled the world to record 'Fast Forward,' his first collection of original songs in seven years, set for October 2 release via Work Song/Caroline. Originally conceived to be released as a series of EPs, the album was produced and arranged by Jackson, and features four sets of four songs recorded in four different cities - New York, New Orleans, Berlin and Amsterdam - each with a different set of first-call supporting musicians. The results rank among the richest and most rewarding music of his storied career.
NEW YORK
Jackson has called New York home for many years. He recorded these tracks with Bill Frisell on guitar, Brian Blade on drums, his longtime bassist Graham Maby, and jazz violin star Regina Carter. Along with three originals including the album's title track, these sessions feature a scorching take on a New York classic, Television's "See No Evil."
AMSTERDAM
Distinguished by the most diverse instrumentation of the four sessions, Jackson is joined on these songs by frequent collaborators Stefan Kruger and Stefan Schmid from the band Zuco 103, the Concertgebouw orchestra, and the project's only guest vocalist, 14-year-old Mitchell Sink (from Broadway's 'Matilda).
BERLIN
Berlin is Jackson's second home, and he recorded here with two expatriate American musicians: acoustic bass master Greg Cohen (Tom Waits, Ornette Coleman, Bob Dylan) and Tindersticks drummer Earl Harvin. These sessions produced the album's second cover, Jackson's modern English take on the 1930s German 'Kabarett' song "Good Bye Jonny."
NEW ORLEANS
Jackson traveled to one of his favorite cities, New Orleans, to record with an all-local cast including three members of the funk band Galactic - drummer Stanton Moore, bassist Robert Mercurio, and guitarist Jeff Raines - and a horn section led by saxophonist Donald Harrison.
Jackson will launch an extensive North American tour timed to 'Fast Forward,' kicking off September 29, and including two nights at NYC's Town Hall. Tickets go on-sale this Friday, July 17, at 10AM EST. See below for a full itinerary and go here for more details.
These career-spanning shows will feature Jackson "as my own opening act," playing a short solo/piano set before bringing out a full band which will include Maby on bass, guitarist Teddy Kumpel (Rickie Lee Jones, Feist), and drummer Doug Yowell (Suzanne Vega, Ari Hest).
Joe Jackson's last release, 2012's 'The Duke,' was an ambitious, horn-free tribute to "fellow music pioneer" (NPR) Duke Ellington, which Rolling Stone hailed as "movingly subtle."
'Fast Forward' tracklist (all songs written by Joe Jackson unless noted)
New York
1. Fast Forward
2. If It Wasn't For You
3. See No Evil (Tom Verlaine)
4. Kings Of The City
Amsterdam
5. A Little Smile
6. Far Away
7. So You Say
8. Poor Thing
Berlin
9. Junkie Diva
10. If I Could See Your Face
11. The Blue Time
12. Good Bye Jonny (Peter Kreuder and Hans Fritz Beckmann)
New Orleans
13. Neon Rain
14. Satellite
15. Keep On Dreaming
16. Ode To Joy
Joe Jackson Tour Dates (Tickets Go On-Sale 7/17)
9/29 - Seattle, WA - Neptune Theatre
10/1 - Portland, OR - Revolution Hall
10/4 - Los Angeles, CA - Palace Theatre
10/8 - Denver, CO - Paramount Theatre
10/10 - Dallas, TX - Majestic Theatre
10/11 - Houston, TX - Cullen Performance Hall
10/12 - Austin, TX - Paramount Theatre
10/14 - New Orleans, LA - Joy Theater
10/15 - Atlanta, GA - Center Stage
10/17 - Glenside, PA - Keswick Theatre
10/20 & 21 - New York, NY - Town Hall
10/22 - Boston, MA - The Wilbur Theatre
10/23 - Washington, DC - Lincoln Theatre
10/25 - Munhall, PA - Carnegie Music Hall of Homestead
10/26 - Albany, NY - Hart Theatre The Egg
10/29 - Northampton, MA - Academy of Music Theatre
10/30 - Toronto, Ontario - Danforth Music Hall
11/2 & 3 - Chicago, IL - Thalia Hall
11/4 - St. Paul, MN - Fitzgerald Theater
Joe Jackson On The Web:
http://joejackson.com
https://www.facebook.com/OfficialJoeJackson
https://twitter.com/JoeJacksonMusic
https://www.youtube.com/user/JoeJacksonVEVO/
http://shorefire.com/client/joe-jackson