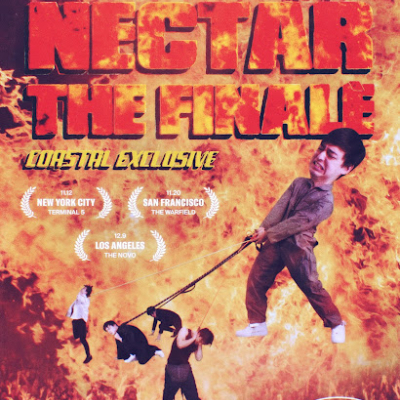 Joji Announces Nectar: The Finale — First North American Tour Dates In Support Of Chart-Topping Album Nectar
SHOWS AT NYC'S TERMINAL 5, SAN FRANCISCO'S THE WARFIELD, AND LOS ANGELES' THE NOVO ANNOUNCED
SIGN-UP AND REGISTRATION FOR JOJI'S ARTIST PRE-SALE STARTS TODAY & GENERAL ON-SALE TICKETS AVAILABLE FRIDAY, OCTOBER 1ST AT 10AM LOCAL TIME
GOLD-CERTIFIED NECTAR RELEASED ONE YEAR AGO TODAY
Friday, September 24th — Today, on the one-year anniversary of the release of his critically acclaimed and gold-certified album Nectar (88rising), Joji announces Nectar: The Finale, a special three-city run of shows at New York City's Terminal 5, San Francisco's The Warfield, and Los Angeles' The Novo this fall. The multi-faceted artist will perform songs from Nectar live for the first time since his self-directed one-night only event The Extravaganza, which turned the concept of a live streamed concert on its ear last year and drew a stadium-sized global audience.
NECTAR: THE FINALE DATES:
Friday, November 12th - New York City, NY - Terminal 5
Saturday, November 20th - San Francisco, CA - The Warfield
Thursday, December 9th - Los Angeles, CA - The Novo
HOW TO GET TICKETS:
**Tunespeak Sign-Up for Artist Pre-Sale begins today (Friday, September 24th) at 9 am PT / 12pm ET: www.jojinectartour.com
**Joji Artist Pre-sale begins on Wednesday, September 29th from 10 am local time - Thursday, September 30th 10pm local time: www.jojinectartour.com
**Future Beat VIP Pre-Sale starts on Wednesday, September 29th at 10am local time. www.jojinectartour.com
**Credit Card/Local/Promoter/Venue Pre-Sales begin on Thursday, September 30th from 10am local time - 10 pm local time. www.jojinectartour.com
**General on-sale begins on Friday, October 1st at 10 am local time. www.jojinectartour.com
Joji's last tour, in support of his full-length debut BALLADS 1 (also 88rising) - the RIAA-certified Platinum album that topped the Billboard R&B and Hip-Hop Charts, and has amassed 3.6B+ streams and counting - sold out within 15 minutes, making Nectar: The Finale one of the most anticipated run of dates this fall.
The announcement of Nectar: The Finale follows Joji's The Extravaganza, which broke the livestream concert mold with absurdist sketches, MMA cage matches, cooking, dunk tanks, an ice sculpture and much more. Tipped as a "hot commodity" (Newsweek), the hour-long special was one of the biggest paid livestream events of 2020. The Extravaganza was viewed in 105 countries around the world and trended on Twitter in 5 countries (#1 US Music, #2 US Overall) with over 50,000 tweets in a 24-hour period.
Nectar, released one year ago this week on 88rising (distributed by 12Tone Music), debuted at #1 on Spotify's inaugural US Weekly Top 50 Albums chart, #1 on Billboard's Independent albums chart and #3 on the Billboard 200, nearly doubling the first-week sales of BALLADS 1. It was the most streamed new album of the week on Spotify globally and has now exceeded 1.6 billion streams in the US alone. Featuring RIAA certified Gold singles, "Sanctuary," "Run," and "Gimme Love," the album also debuted at #1 in Australia and in the top five in New Zealand and Canada.
Joji, the "first music superstar of his kind" (Office), executive produced and arranged the entire 18-track collection that "far exceeds anything else we've heard thus far" (Nylon). Nectar has been praised as "a work of art and euphoria" (Ones To Watch) and Joji's "best to date" (The Needle Drop). With assists from acknowledged icons and new trailblazers alike, including Diplo, Lil Yachty, BENEE, Omar Apollo, and Yves Tumor, Joji's latest musical masterpiece earned his highest-ever debut on the Billboard Hot 100, with "Run," and his national television debut on the Tonight Show with Jimmy Fallon last year.
PRAISE FOR NECTAR:
"heartthrob music" – NPR Music
"A dynamic encapsulation of desire" – Teen Vogue
"His best to date" – The Needle Drop
"shape-shifting bestseller" – Newsweek
"thumping earworms and atmospheric introspection" – Uproxx
"sending fans into overdrive" – Highsnobiety
"A true delight" – E!
"captured our ears and our hearts with his mood-driven R&B" – This Song is Sick
"beautiful...a masterpiece" – HotNewHipHop
ABOUT JOJI:
Joji is one of the most enthralling artists of the digital age. He has a total vision for his work, not just in the writing and producing of his music, but artwork, videos, merch, and live performances as well. It's a fully realized world that his fans can inhabit and explore—and see themselves in. "My music is not biographical," he says, but even still, the deep, heavily shaded emotions in his songs are genuine and they speak to anyone who has ever felt stuck on the outside looking in, who knows what it means to not belong. In 2019, Joji sold-out his North America tour within minutes and performed at some of the most coveted festivals across the world, including Reading & Leeds in the UK and Lollapalooza.
JOJI ON THE WEB:
https://shorefire.com/roster/joji
https://twitter.com/sushitrash
https://www.instagram.com/sushitrash/
https://www.facebook.com/jojikansai/
FOR MORE INFORMATION ON JOJI, PLEASE CONTACT:
Matt Hanks | Shore Fire Media | mhanks@shorefire.com
Mikaela Duhs | Shore Fire Media | mduhs@shorefire.com