Joji's Nectar Debuts At #1 On New Spotify US Weekly Top Albums Chart And #3 On Billboard 200
The Most Streamed New Album Of The Week On Spotify Globally
TOP 5 IN AUSTRALIA, NEW ZEALAND, CANADA AND #6 UK
LISTEN TO NECTAR ON 88RISING:
https://88rising.lnk.to/Nectar
Following months of anticipation, Joji's second studio album Nectar (released September 25 via 88rising and distributed by 12ToneMusic) has debuted at #1 on Spotify's inaugural US Weekly Top 50 Albums chart, which launched today. Additionally, Nectaropens at #3 on the Billboard 200, nearly doubling the first-week sales of his RIAA gold-certified 2018 debut BALLADS 1. Hailed by Newsweek as "a shapeshifting best-seller" Nectar is Spotify's most streamed new album globally this week, and bows in the Top 5 of sales charts in Australia (#1), New Zealand (#2), and Canada (#4), and Top 10 in the United Kingdom (#6) and Norway (#9). Joji is the first 88rising artist to have a #1 album in Australia.
Listen to Nectar: https://88rising.lnk.to/Nectar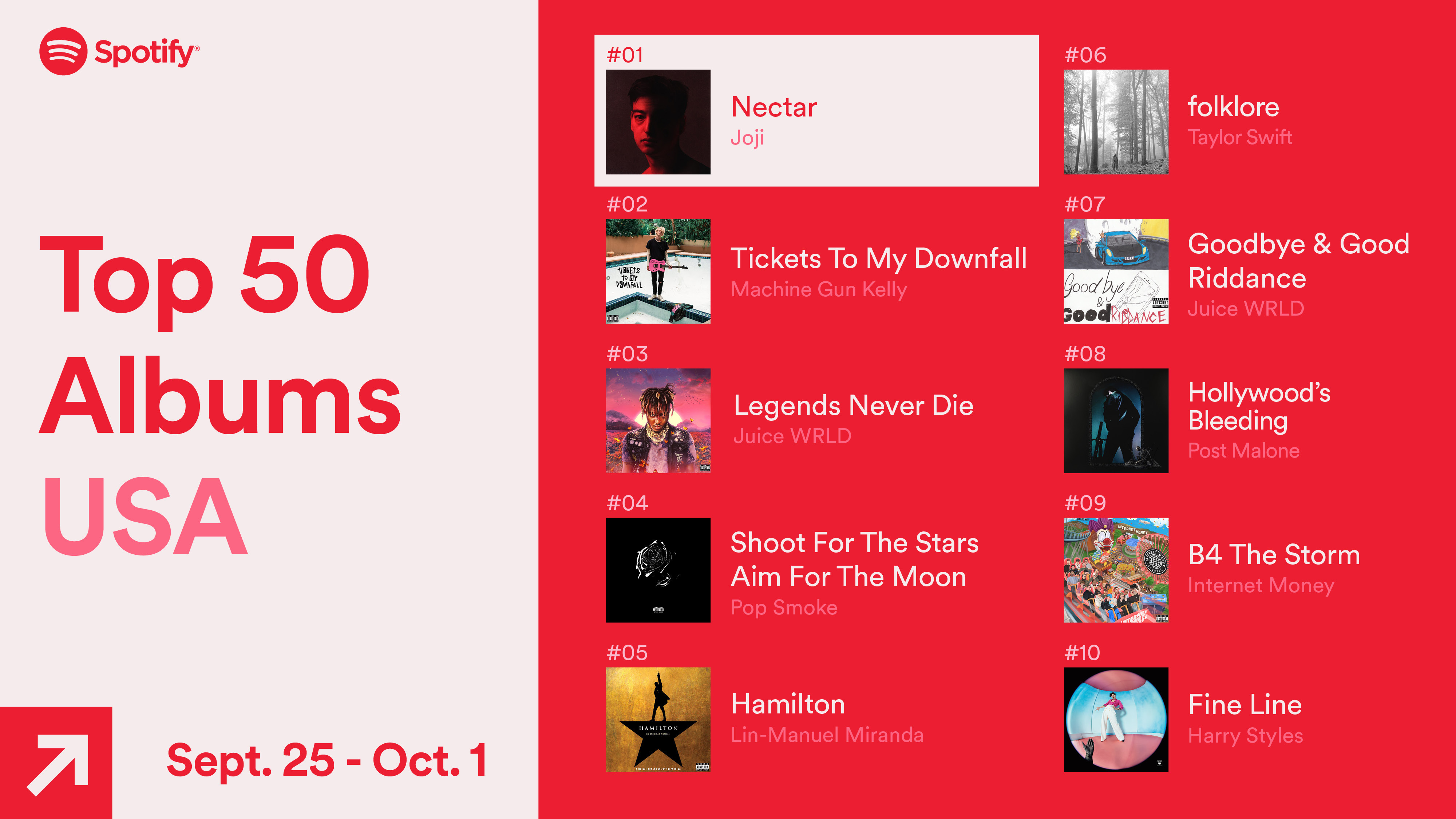 Nectar arrived after a buzzy months-long buildup, which included Joji's debut TV performance on the Tonight Show Starring Jimmy Fallon, a collaborative track and video with Diplo, a new merch line and even his own signature honey Joji's Nectar. Following the album release, Joji released two more mind-bending videos, and announced The Extravaganza – a first of its kind, one-night-only livestream event, set for October 23.
Directed by Joji himself, The Extravaganza will feature first-ever live performances of songs from Nectar and never-before-seen hijinks. One ticket will grant fans access to the October 23 7pm PDT (Americas) premiere as well as two re-showings on October 24 at 7pm WIB (Asia & Australia) and 7pm CEST (Europe & Africa). These will be the only viewings of The Extravaganza.
Purchase 'Joji Presents: The Extravaganza' tickets: http://jojiextravaganza.com
PRAISE FOR JOJI'S NECTAR
"heartthrob music" – NPR Music
"A true delight" – E!
"His best to date" – The Needle Drop
"A dynamic encapsulation of desire" – Teen Vogue
"confronting some of life's harder, more existential questions" – TMRW
"thumping earworms and atmospheric introspection" – Uproxx
"sending fans into overdrive" – Highsnobiety
"beautiful...a masterpiece" – HotNewHipHop
"a work of art and euphoria" – Ones To Watch
BUY/STREAM NECTAR:
https://88rising.lnk.to/Nectar
ABOUT JOJI:
Joji is one of the most enthralling artists of the digital age and among the world's top independent artists with over 5 billion streams to date. The Japan-born singer, producer, and auteur has a total vision for his work, not just in the writing and producing of his music, but across artwork, videos, and live performances as well. It's a fully realized world that his fans can inhabit and explore—and see themselves in. "My music is not biographical," he says, but even still, the deep, heavily shaded emotions in his songs are genuine and they speak to anyone who has ever felt stuck on the outside looking in, who knows what it means to not belong. In 2019, Joji sold-out his North America tour within minutes and performed at some of the most coveted festivals across the world, including Reading & Leeds in the UK and Lollapalooza.
JOJI ON THE WEB:
https://shorefire.com/roster/joji
https://twitter.com/sushitrash
https://www.instagram.com/sushitrash/