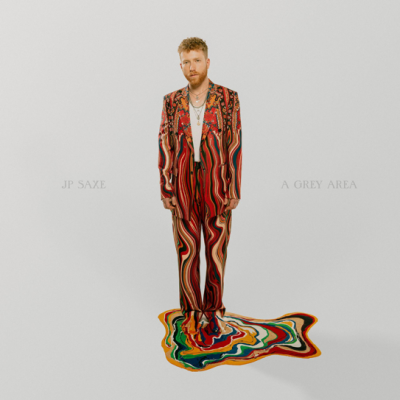 JP Saxe Announces Sophomore Album 'A Grey Area,' Due Out September 22 Via Arista Records
New Single "Caught Up On You" And Official Music Video Out Now
August 11, 2023: Multi-platinum GRAMMY® nominated singer-songwriter and multi-instrumentalist JP Saxe has announced his sophomore album A Grey Area, due out September 22, 2023 on Arista Records/Sony Music Entertainment. The 13-song collection was created alongside GRAMMY® Award winning producer Malay and features collaborations with five-time Latin GRAMMY® winner and two-time GRAMMY® nominated Colombian musician Camilo, folk-pop trio Tiny Habits, Lizzy McAlpine and John Mayer.
Today, coinciding with the album announcement, Saxe also unveiled his next single "Caught Up On You" alongside the official music video. Directed by Matthew Takes and featuring Renata Cerda, the vibrant visual sets the tone for the high energy and clever nuance present throughout the entire forthcoming collection.
"I completely turned off my filter and wrote nine of the weirdest verses I've ever written and picked my favorite four," Saxe says of writing "Caught Up On You." "It was a way to clear the pipes creatively, but I ended up being obsessed with the song. It was genuinely fun. It's still my favorite song on the record. When you're used to talking about heavy and emotional shit and you write a song about kinks and communism, it's a nice little break."
Stream "Caught Up On You" here: https://jpsaxe.lnk.to/CUOY
Watch the official music video here: https://jpsaxe.lnk.to/CUOYvideo
Pre-order 'A Grey Area' (out September 22, 2023) here: https://agreyarea.lnk.to/preorder
Within the past few months, JP Saxed has garnered millions of streams on singles "Everything Ends" ft. Lizzy McAlpine and Tiny Habits, "I Don't Miss You" ft. John Mayer, "When You Think Of Me", "The Good Parts," and "Moderación (Con Camilo)." A Grey Area is set for release next month before Saxe joins John Mayer on his groundbreaking Solo Acoustic Arena Tour's fall leg, kicking off October 3rd at Madison Square Garden, before making stops in Boston, Philly, Nashville, Tampa, Chicago, Austin, LA and more.
For more information and all upcoming tour dates, please visit https://jpsaxe.com/.
About JP Saxe:
JP Saxe writes songs to discover and fathom the depths of his own personality. It's why he doesn't hold back or pull any punches. It's why he speaks so candidly about life, loss, and love. It's why he's quietly emerged as a multi-platinum GRAMMY® nominated phenomenon whose voice can be felt across pop music. After dedicating his life to music, the Toronto-born and Los Angeles-based singer-songwriter and multi-instrumentalist captivated audiences everywhere with "If The World Was Ending" [feat. Julia Michaels]. Nominated for "Song of the Year" at the 2021 GRAMMY® Awards, streamed over one billion times, and certified double-platinum in the U.S. and six times-platinum in Canada, it paved the way for his full-length debut, Dangerous Levels of Introspection [Arista Records]. Powered by "A Little Bit Yours," "Line By Line" [feat. Maren Morris], and "Here's Hopin'" with John Mayer, the record earned acclaim from People, Entertainment Weekly, American Songwriter, UPROXX, and EUPHORIA, who rated it "5-out-of-5 stars." Along the way, Saxe delivered show-stopping performances on The Late Show with Stephen Colbert accompanied by Mayer, The Tonight Show Starring Jimmy Fallon, Live with Kelly & Ryan, The Late Late Show with James Corden, and more. To date, Saxe has amassed over 2.5 billion total streams and received two iHeart Award nominations for Best New Pop Artist and Best Lyrics. He won the award for Breakthrough Artist of the Year at the 2021 JUNO Awards, where he received five nominations in total. In 2022, he was nominated for two JUNO Awards, including Artist of the Year and Album of the Year. In the last year, Saxe has delivered memorable live performances, opening for Alicia Keys and Lewis Capaldi. This winter/spring, Saxe was the opener on John Mayer's critically acclaimed Solo Tour's east coast run and will join him on stage again later this year for the highly anticipated fall leg.
A Grey Area Tracklist
Old Times Sake (Epigraph by Yesika Salgado)

I Don't Miss You (Ft. John Mayer)

Anywhere

Caught Up On You

Everything Ends (Ft. Lizza McAlpine and Tiny Habits)

Someone Else's Home

Fear & Intuition

Who You Thought I'd Be

Moderación (Con Camilo)

All My Shit Is In My Car

The Good Parts

When You Think Of Me

If Love Ends
Follow JP Saxe:
Instagram / TikTok / YouTube / Twitter
Press Contacts:
Allison Elbl - aelbl@shorefire.com
Taylor Perry - tperry@shorefire.com