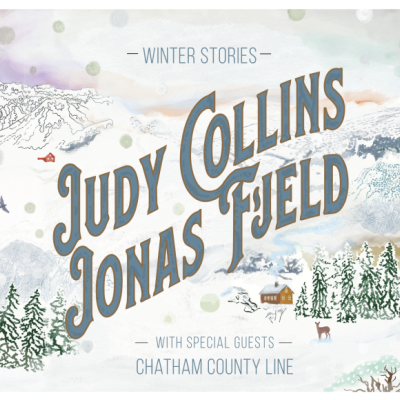 Judy Collins' Winter Stories Out November 29 (Wildflower Records/Cleopatra Records) - Seeking Warmth In Winter With Jonas Fjeld And Chatham County Line 
LISTEN TO THE FIRST SINGLE "THE BLIZZARD" HERE: https://soundcloud.com/artistvision-1/jcjfccl/s-zCOFE
On November 29, iconic singer, songwriter, author and activist Judy Collins will release Winter Stories, a collection of songs that capture the sounds and feeling of the winter season featuring Norwegian folk artist Jonas Fjeld and Americana band Chatham County Line. Continuing an incredibly prolific period, Winter Stories will mark Judy's fourth new album in the past four years. Judy, Jonas and Chatham County Line have also announced an eight-night run of shows at Joe's Pub in NYC from November 18-27.
Listen to "The Blizzard" here: https://soundcloud.com/artistvision-1/jcjfccl/s-zCOFE
Winter Stories is a collection of originals, new collaborations and classics including Collins evergreens "Mountain Girl," a re-recording of Jonas's poignant "Angels In The Snow," and a rendition of Joni Mitchell's "The River." "The Blizzard" was originally written as a 7-minute opus, but later truncated for the album on which it appeared. On Winter Stories, fans can finally hear it recorded in its full majesty. The artists also cherry-picked songs they've longed to record throughout the years, including Jimmy Webb's "The Highwaymen," which Collins has performed live with Stephen Stills, and Stan Rodger's "North West Passage." For the sessions, Jonas contributed the newly-penned "Frozen North," and the stunning title track which features the masterful vocal interlace of Collins and Fjeld. 
Jonas Fjeld is a beloved Norwegian artist, known internationally for his trio Danko/Fjeld/Andersen, featuring The Band's Rick Danko. Chatham County Line has been a staple of the North Carolina music scene for nearly two decades.
Winter Stories came together in February 2019, when Collins, Fjeld, and Chatham County Line headed to Echo Mountain Studios—a former stately church—in Asheville, North Carolina. Prior to this, the three artists had never officially worked together. They had three days of rehearsal and pre-production in which they picked the album's core songs from a list of 20 potential seasonally-themed tunes.
Reflecting on the sessions, Collins says: "I was very honored to work with this all-star group—there was definitely a lot of love and admiration between everyone, and we had such a great time together." She adds, "I knew Jonas and Chatham County Line would be a great fit with me. The language of music overarches everything, including geography. When we came together in the studio, we found we could speak to each other in a way that was compatible and nuanced."
In the past four years, Collins has released three albums and a tremendous amount of accolades. 2016's Silver Skies Blue, a duets record with Ari Hest, was nominated for a GRAMMY Award, and led to a performance at the GRAMMY Premiere Ceremony. In 2017, she released Everybody Knows, her first album with Stephen Stills celebrating an important decades-long friendship that led to a year of touring, a profile on CBS Sunday Morning and more.
TOUR DATES:
9/19/19 - Durham, NC - Carolina Theater
9/20/19 - Charleston, SC - Charleston Music Hall
9/22/19 - Annapolis, MD - Ram's Head
10/6/19 - San Francisco, CA - Hold for Hardly Strickly Bluegrass
10/7/19 - Minneapolis, MN - Guthrie Theater
10/11/19 - Woodlands, TX - Doesy Does
10/12/19 - Las Vegas, NV - Santa Fe Station Casino
10/13/19 - San Juan Capistrano, CA - The Coach House
10/17/19 - Philadelphia, PA - Kimmel Center
10/18/19 - Bellefontaine, OH - The Holland Theatre
10/19/19 - Skokie, IL - North Shore Center for PAC
10/20/19 - Grand Rapids, MI - St. Cecilia Music Center
11/2/19 - Moab, UT - Moab Folk Festival
11/3/19 - Albuquerque, NM - National Hispanic Cultural Center
11/8/19 - Agurua Hills, CA - Canyon Club
11/9/19 - Montclair, CA - The Canyon Montclair
11/10/19 - Pasadena, CA - The Rose
11/16/19 - Scarnton, PA - The Theater at North
* 11/18/19 - New York, NY - JOE'S PUB
* 11/19/19 - New York, NY - JOE'S PUB
* 11/20/19 - New York, NY - JOE'S PUB
* 11/22/19 - New York, NY - JOE'S PUB
* 11/23/19 - New York, NY - JOE'S PUB
* 11/25/19 - New York, NY - JOE'S PUB
* 11/26/19 - New York, NY - JOE'S PUB
* 11/27/19 - New York, NY - JOE'S PUB
11/30/19 - Rockville Center, NY - Madison Theatre
* 12/1/19 - Boston, MA - The Wilbur
* 12/4/19 - Ridgefield, CT - Ridgefield Playhouse
* 12/5/19 - Ridgefield, CT - Ridgefield Playhouse
* 12/6/19- Alexandria VA - The Birchmere
* 12/7/19 - Alexandria VA - The Birchmere
12/15/19 - Vancouver, Canada - Kay Meek Theater
12/17/19 -Portland, OR - Aladdin Theater
12/19/19 - Seattle, WA - Seattle Jazz Alley
12/20/19 - Seattle, WA - Seattle Jazz Alley
12/21/19 - Seattle, WA - Seattle Jazz Alley
12/22/19 - Seattle, WA - Seattle Jazz Alley
* = Winter Stories shows