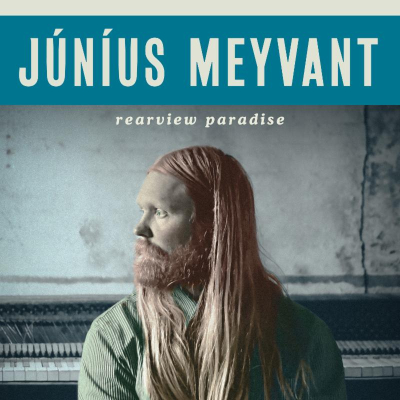 Junius Meyvant Returns With Rearview Paradise EP (Glassnote Records) On August 9, Listen To Stunning New Ballad "Ain't Gonna Let You Drown"
"Soul-Stirring" (NPR) Live Show Comes To The U.S. Next Week
Junius Meyvant has announced Rearview Paradise, a new five-song EP to be released August 9 on Glassnote Records. This fresh collection comes on the heels of Junius' 2019 full-length Across The Borders, called "Junius at his most soulful" by KEXP among praise from Rolling Stone, TIME Magazine and an NPR "2019 Artist To Watch" designation. Coming off a month-long European tour and much-anticipated homecoming to Iceland, Junius brings his gripping six-piece band and "guaranteed rapturous" (Rolling Stone) live show to the United States next week, for dates in New York, Philadelphia and Washington DC.
Listen to "Ain't Gonna Let You Drown" from Rearview Paradise here. PopMatters noted that "listening to the soulful vocals, heartfelt organ lines, mournful horns, and fat rhythm lines, one might think it originated in the American South during the heyday of Stax/Volt," while Northern Transmissions added it was "a treat for fans" to get new music so soon after Across The Borders.
Watch Junius Meyvant and his live band perform "Ain't Gonna Let You Drown" live in Iceland earlier this year: https://www.youtube.com/embed/-EpM0-183GA
Rearview Paradise features four new originals from Junius Meyvant, and a rework of "Carry On With Me" from Across The Borders. One of the songs on the EP, "Cherries Underground," is a Junius Meyvant live staple recorded in-studio for the first time, and three were tracked during the Across The Borders sessions at the renowned John Storyk-designed Hljóðriti Studio on the outskirts of Reykjavik. NPR recently said of his music that "no matter what issues you've got going on in your life, listening to Junius Meyvant is enough to make you feel like everything's gonna be all right."
REARVIEW PARADISE TRACKLIST
Under Violent Snow
Ain't Gonna Let You Drown
Touch Of My Religion
Carry On With Me (Alternative Version)
Cherries Underground
JUNIUS MEYVANT U.S. TOUR DATES
May 13 – Songbyrd DC – Washington, DC
May 14 – Boot & Saddle – Philadelphia, PA
May 17 – Baby's All Right – New York, NY
August 24/25 – THING Festival – Seattle, WA