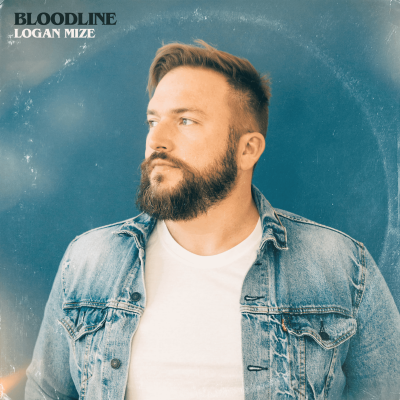 Kansas-Born Troubadour Logan Mize Announces 'Bloodline,' Shares Title Track
Heartland troubadour Logan Mize has been exploring the soul of small-town America throughout his whole career. The Andale, Kansas native possesses an unmatched ability to magnify rural life in a way that feels relevant in many peoples' lives, with 9 songs amassing over 10 million streams, including "Better Off Gone" (RIAA Certified Gold).Today (3.10), he announces a continuation of that exploration, 'Bloodline,' out 5.5 via Big Yellow Dog Music. In anticipation of the record, Mize also releases the reflective title track, which is available now.
"Bloodline is a song I've loved for a couple years and have always wanted to record it," says Mize. "My family and I live in a rural great plains town of about 900 people and my kids go to school with all their cousins. The line where it talks about the wild kid with the grass stained blue jeans is a visual that I'm used to seeing so often with my 11 year old son's backyard football games. The mud up the side of a Chevrolet....we live on a dirt road. We just really live this song and that's why I felt it was such a great lead track for my upcoming project."
'Bloodline' marks the independent country artist's first project since his 2021 concept album 'Welcome To Prairieville.' He exits the fictional town created on his last album and re-enters his real hometown of Andale, delivering heartfelt musings on heartbreak ("Ends In Why"), growing up ("Hope I'm Not The Only One"), family ("Another Right Now"), small-town upbringings and sense of place ("Last Hometown," "Bloodline"). The music provides a photographic insight into Mize's relationship with Kansas in his youth and today, acting as a musical scrapbook of his hometown memories.
Mize enlisted the talents of some of Nashville's top songwriters on 'Bloodline,' including Randy Montana (Luke Bryan, Luke Combs), Josh Hoge (Jason Aldean, Chase Rice), Django Walker (Alabama, Jimmy Buffett), Eric Paslay (Keith Urban, Cody Johnson) and more. On the title track, written by Montana, Hoge and Walker, Mize furthers his exploration of his Kansas roots. The song is a perfect anthem for the one-stoplight town that made Mize who he is, honoring all of the things that give small towns their character.
Last month, Mize announced the Bloodline Tour, a 12-date trek that kicks off on May 4th in Ralston, NE and includes stops in Chicago, Des Moines and Kansas City before wrapping in St. Louis on May 20th. Troy Cartwright will serve as direct support on select dates. See below for the full list of dates.
For more information on Logan Mize and for tickets to the Bloodline Tour, visit loganmize.com.
'Bloodline' Tracklist
*Produced by Daniel Agee
1. "Bloodline"
(Randy Montana, Django Walker, Josh Hoge)
2. "Ends In Why"
(Randy Montana, Eric Paslay, Charlie Muncaster)
3. "Another Right Now"
(Donovan Woods, Jordan Davis, Josh Jenkins)
4. "Last Hometown"
(Donovan Woods, Colton Venner)
5. "Hope I'm Not The Only One"
(Jessie Jo Dillon, Jon Nite, Jordan Schmidt)
Bloodline Tour Dates
Thurs., May 4 | Bushwackers Saloon | Ralston, NE
Fri., May 5 | Temple Live | Fort Smith, AR
Sat., May 6 | My House / 6th Street Block Party | Columbia, MO
Sun., May 7 | Wooly's | Des Moines, IA
Weds., May 10 | Joe's On Weed St | Chicago, IL
Thurs., May 11 | The Truman | Kansas City, MO*
Fri., May 12 | The Hat | Manhattan, KS*
Sat., May 13 | Wild Hogs Saloon | Walford, IA*
Weds., May 17 | Joe's Honky Tonk | Kearney, NE*
Thurs., May 18 | Wave | Wichita, KS*
Fri., May 19 | Fox Theatre | Hays, KS*
Sat., May 20 | The Hawthorn | St. Louis, MO*
*support from Troy Cartwright
###
For more information, please contact:
Olivia Del Valle | odelvalle@shorefire.com
Mark Satlof | msatlof@shorefire.com
Jaclyn D. Carter | jcarter@shorefire.com
Nick Jurich | njurich@shorefire.com