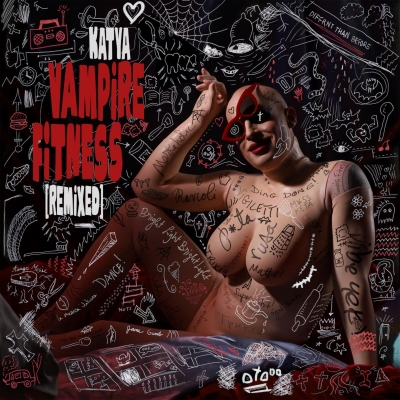 Katya's 'Vampire Fitness' Rises From The Dead… Again
'Vampire Fitness (Remixed)' EP Out Now
Listen HERE
Drag superstar Katya saw her debut EP 'Vampire Fitness' (PEG Records/ADA) soar to #1 on the iTunes Electronic Albums Chart when it was released in late 2020, and today she drops 'Vampire Fitness (Remixed)', a four-track collection of re-vampings that amplifies the already irreverently absurd and captivating essence of the original EP.
'Vampire Fitness (Remixed)' features reimaginings by Bright Light Bright Light, Markaholic, M¥SS KETA, and Vigiletti, each of which deconstructs the off-the-wall electro-pop source material and rebuilds them as respective sonic interpretations very much in the vein of the individual artists while keeping the Katya stamp still front-and-center.
Katya's 'Vampire Fitness' EP dropped last November and was called "an experimental digital distortion" (Entertainment Weekly) that is "delightfully absurd" (BuzzFeed), and "full of as many whiplash-inducing left-turns as Katya's humor and fashion" (Billboard).
The collection inspired three feverishly exhilarating music videos for the Trixie Mattel collab "Ding Dong" (debuted via Entertainment Tonight), the Alaska Thunderfuck collab "Come In Brazil" (debuted via Paper Magazine), and the nightmarish guided meditation track "Be Your Own Dentist" (debuted viaOFFICE Mag, the video was given an immersive 3D treatment to teleport viewers into an alien universe of self-dentistry).
'Vampire Fitness' and 'Vampire Fitness (Remixed)' were both released by PEG Records, a member label of Warner Music Group's Alternative Distribution Alliance. PEG Records is a division of Producer Entertainment Group, an LGBTQ-focused management company representing many of today's biggest drag artists.
The release of 'Vampire Fitness' followed Katya's rise to fame as a television superstar after two beloved runs on RuPaul's Drag Race (season 7 and All Stars 2), a viral comedy sensation thanks to her two wildly successful web shows with Trixie Mattel ("UNHhhh" and the Netflix-produced "I Like to Watch"), a NY Times best-selling author (Trixie and Katya's Guide to Modern Womanhood) and a recent podcast host (The Bald and the Beautiful).