Kool & The Gang Founder George Brown Pens Memoir Too Hot: Kool & The Gang & Me out July 11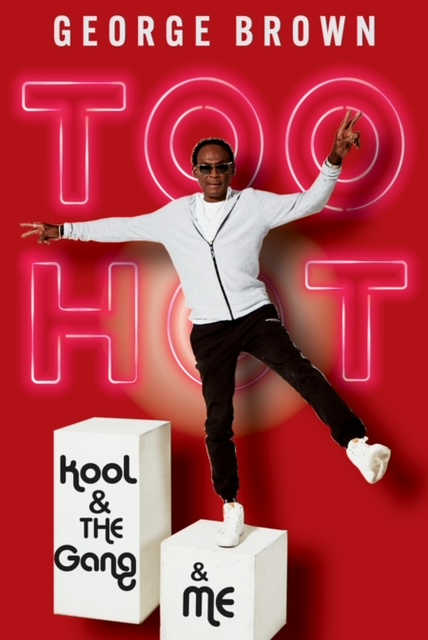 "George Brown is a super talent that I've been trying to be like for many years! My hero!"
- Ray Parker Jr. (musician, singer, songwriter, record producer, wrote & performed Ghostbusters theme song)
"George Brown's book is more of his fantastic music to my ears!" - Cindy Williams (actress & co-star of Laverne & Shirley, author of Shirley, I Jest!)
Founding member of Kool & The Gang, George Brown is set to release his memoir Too Hot: Kool & The Gang & Me on July 11th. As a self-taught drummer and songwriter who has spent six decades making music, touring the world, and navigating fame's wild ride as an African American trailblazer, this memoir describes his life in and out of the band, including a raucous life on the road as Kool & The Gang's popularity grew. He weathered the ups and downs of his musical career and navigated many challenges, including prescription drug addiction, depression, and health issues. This inspiring book comes out the same week as Kool & The Gang's 34th studio album, People Just Wanna Have Fun - celebrating the band's 60th anniversary next year a little early.
Pre-Order Too Hot: Kool & The Gang & Me
Growing up around music, young George was inspired to piece together a makeshift drum set and teach himself to play as he practiced in the dark basement of his rundown New Jersey townhouse. He soon joined forces with his friends to form a group called the Jazziacs which then evolved into Kool & The Gang, a band that began playing clubs and charting hits while its members were still teenagers. By evolving their sound as musical tastes changed, the band was able to stay on the charts for decades, scoring 12 Top 10 hits in Funk, R&B, Pop, and Rock charts, and selling over 70 million albums while navigating the highs and lows of their career. They are currently an in-demand live act touring the world extensively every year.
In his book, George shares how his recent cancer scare and subsequent treatment compelled him to share his story to give readers a glimpse into a band whose reputation was considered relatively tame, but in reality, was exactly the opposite. By sharing his cautionary tale of musical life lessons, George hopes to help others realize their own professional and personal dreams for a happy and fulfilled life. Afterall, life is a symphony, and we must all be our own conductor.
ABOUT GEORGE BROWN
In addition to being a founding member of the iconic musical group Kool & the Gang, George Brown has been one of the primary songwriters of the group, producing hits like "Ladies' Night," "Get Down on It," "Joanna," "Cherish," "Emergency," "Celebration," and of course "Too Hot." The group has won two Grammy Awards, seven American Music Awards, 25 Top Ten R&B hits, nine Top Ten Pop hits, and 31 gold and platinum albums. Kool & The Gang has been inducted into the New Jersey Hall of Fame, received the Soul Train Legend Award, and been granted a star on the Hollywood Walk of Fame. George Brown was inducted into the Songwriter's Hall of Fame and continues to tour around the world with the band.
For more information please contact:
Rebecca Shapiro (rshapiro@shorefire.com)
Shannon Cosgrove (scosgrove@shorefire.com)
Alena Joyiens (ajoyiens@shorefire.com)