Kylie Minogue Marks US Return With Must-See TV Performances
Kylie Minogue's stateside return comes after a globetrotting set of TV performances and interviews in support of the Australian pop star's latest album 'Golden' (BMG). Debuting at No. 1 on the UK and Australian album charts, 'Golden' was called "euphoric" by Rolling Stone and "an unexpected yet glistening ode to the timeless shimmer of the gilded woman at its center" by Entertainment Weekly.
In her first US TV appearance since 2012, she debuted lead single "Dancing" on "Late Night with Seth Meyers". The performance is complete with live band and dancers recreating the line dancing of the song's music video, which took major inspiration from Kylie's two-week writing trip to Nashville.
Minogue also performed a special acoustic rendition of her chart-topping 2001 single "Can Get You Out Of My Head" on "Late Night with Seth Meyers".
This morning, between surprising her super fans in the green room and dancing with Michael Strahan, she performed "Dancing" live on "Good Morning America".
Minogue appeared on the BUILD Series hosted by Kevan Kenney to discuss her new album and her trip to Nashville while answering fan questions from Reddit and the live studio audience.
This year, Minogue has appeared on Ant and Dec's Saturday Night Takeaway, The Voice UK, The Graham Norton Show, and she also performed at Queen Elizabeth's 92nd birthday party.
Kylie headlines the White Party Palm Springs on Sunday, April 29, and is set to headline NYC Pride 2018 on Sunday, June 24. On Monday, April 30, she will perform on "The Late Late Show with James Corden".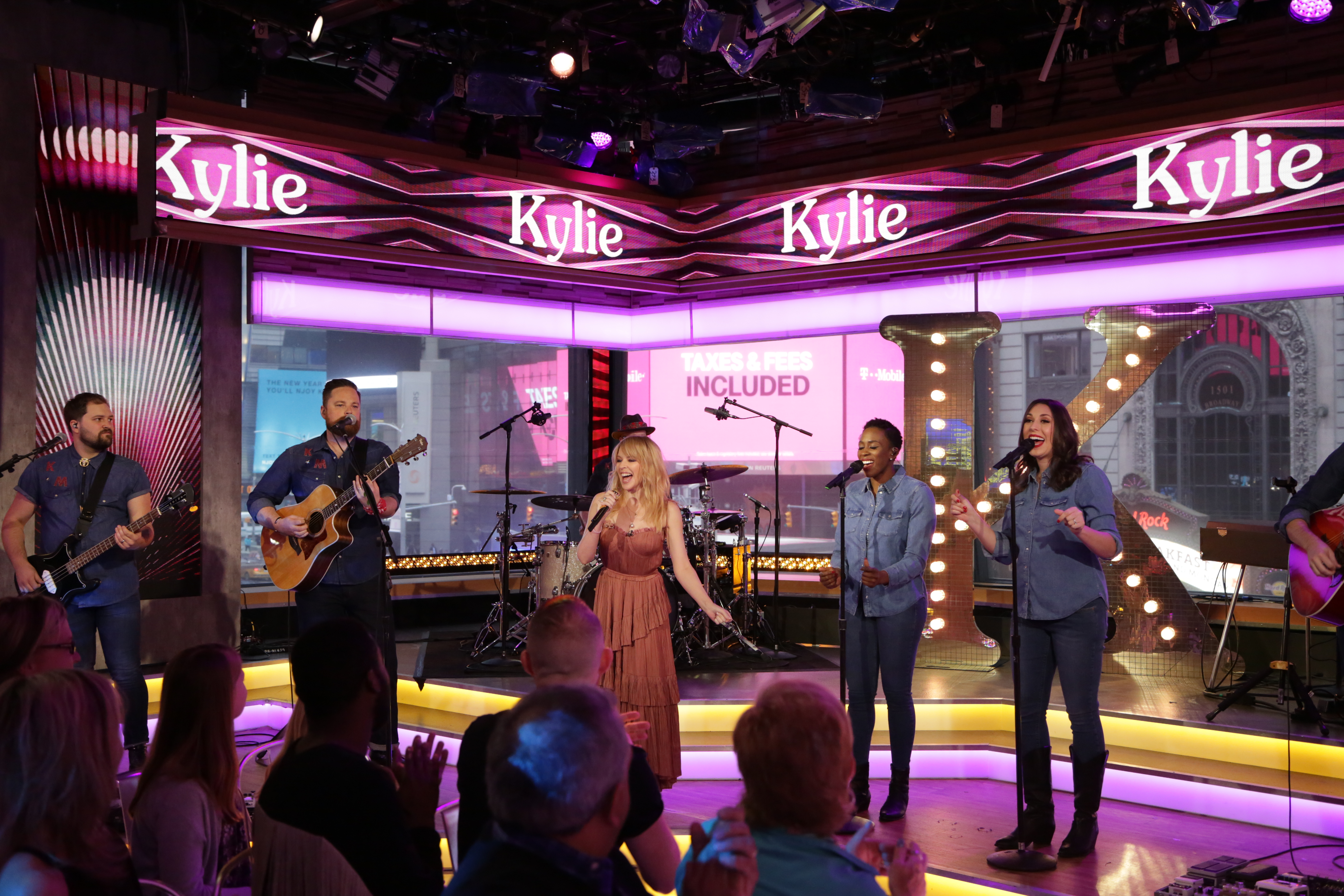 Credit: Alessia Porcari/GMA