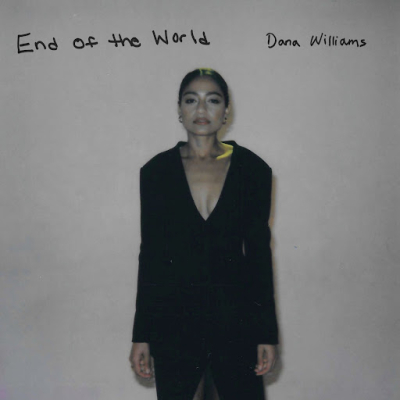 LA-based Alt-R&B Singer Dana Williams Releases New Single "End Of The World"
"carries a strong sense of self" — VIBE
"brings the sad nostalgia along with resolution" — Afropunk
"songwriting is strong" — Complex
"modern-day Ella Fitzgerald" — InStyle
"shares her own R&B flare" — LA Magazine
"you should be listening" — OkayPlayer
Praised for her "deep, soulful vocals that sing lyrics imbued with classic themes of love and loss" (Interview Magazine), LA-based alt R&B singer-songwriter Dana Williams is contemplating the end of the world in her new single, out today. Finding it easy to get lost in the frenzied illusion of productivity, Dana wrote "End of the World" about the search for human meaning. In her own words, "Imagine the world is ending, how/ who would you like to spend your time with? What matters in the end?"
Swooning with her signature jazzy nonchalance, the poignant track looks at loneliness, authenticity, and further commentates on society's obsession with business, while carefully alluding to the imminent threat of global warming.
Listen to "End of the World" - https://ffm.to/eotwdanawilliams
The accompanying Sebastien Nuta (Giu Giu) directed visual sees Dana clad in a sleek, black power suit and many more breathtaking looks – her stylist, Marco Milani, is the Fashion Director for the brand STAUD and does celebrity styling - as she reflects the song's message of slowing down.
"The wardrobe looks began with the image of a woman on top of the world, tackling any obstacle thrown at them in this fast-paced life," Milani shares. "Whether it be a sleek A.W.A.K.E. MODE skirt suit or a shimmering sequin dress inspired by the frenzy of being a performer, the outfits give us a range of different powerful women striving for harmony."
Watch "End of the World" here: https://www.youtube.com/watch?v=eyvVyR2jehk
Read more via FLOOD: https://floodmagazine.com/98366/dana-williams-the-end-of-the-world-premiere/
Dana recently released "Let Me" a flirtatious track about the fear and excitement of a relationship, "Sensitive" which VIBE called "pleasantly vulnerable" and a new collaboration with LA-based non-binary artists Miki Ratsula "sugarcane" that Billboard praised as a "gentle hug from someone who has found the radiance of simple love."
ABOUT DANA WILLIAMS:
Dana Williams has the rare ability to bend time and turn feeling bad into something impossibly lovely. Raised on singers like Ella Fitzgerald and Billie Holiday, the L.A.-based artist brings a jazzy nonchalance to her delivery while drawing big emotion from the subtlest vocal movement. Dana's debut release - The Lonely One - in 2013, featured breakout single "Keep Me Waiting," which earned the distinction of being the only original vocal composition featured in Damien Chazelle's Oscar-winning film Whiplash and she has garnered 100MM global streams to date. Dana has collaborated with artists like Freddie Gibbs, Boogie, and Rejjie Snow and Aminé on "Egyptian Luvr" and in 2020, was named an Idolator Artist To Watch, a Fender Next Artist and was selected by H.E.R. to perform on Girls With Guitars livestream show. Not to mention, Dana performed a special rendition of "Meet Me Tonight in Dreamland" for AVEDA's Holiday Collection Campaign in 2021. The year saw the alt R&B singer-songwriter releasing multiple singles including "You Win," an intimate and bittersweet breakup song, and "Let Me," a flirtatious track about the fear and excitement of a relationship. Additionally, the "breakout star" (American Songwriter) released her Happy Holidaze EP, which included a new hauntingly beautiful cover of "California Dreamin," the iconic The Mamas and the Papas track, alongside Dana's 2020 single "Happy Holidaze" and a beautiful rendition of "Have Yourself a Merry Little Christmas." Her single "Sensitive," about putting your fears and feelings aside to enjoy the present moment, is out now.
FOLLOW DANA WILLIAMS
Official Site * Instagram * YouTube * TikTok * Facebook * Twitter
FOR ADDITIONAL INFO ON DANA WILLIAMS, CONTACT:
Mikaela Duhs / Shore Fire: mduhs@shorefire.com