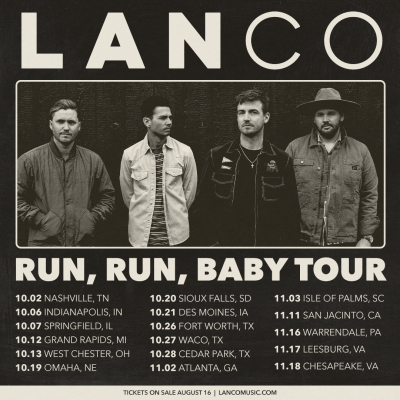 LANCO Announces "Run, Run, Baby Tour"
Headline Trek To Kick off in Nashville on October 2
Riser House Records' ACM Award-winning group LANCO will hit the road this fall on their headline "Run, Run, Baby Tour." With tickets on-sale today here, the trek will kick off with a hometown show in Nashville, TN, on Monday, October 2, and continue crisscrossing the nation through November 18.
This announcement arrives on the heels of the group's latest rowdy release, "Lasso," a neon-lit, two-stepping ode to a lovers' night out, and the band's first release under Riser House Records, "Sound of a Saturday Night," both of which LANCO are sure to perform live on the upcoming trek, along with more new music.
Made up of singer Brandon Lancaster, drummer Tripp Howell, keyboardist/auxiliary Jared Hampton and bassist Chandler Baldwin, LANCO has captivated audiences worldwide with its infectious energy, unparalleled musicianship and heartfelt storytelling, earning CMT, CMA, and iHeartAwards nominations as well as praise from Billboard, Rolling Stone and more. This is just the beginning of what's to come from the dynamic group, as more new music is expected to roll out in the coming months. Fans can stay up-to-date on LANCO by visiting lancomusic.com.
Run, Run, Baby Tour Dates:
Mon., Oct. 2 | Basement East | Nashville, TN
Sat., Oct. 7 | Boondocks | Springfield, IL
Thu., Oct. 12 | Elevation | Grand Rapids, MI
Fri., Oct. 13 | Lori's Road House | West Chester, OH
Thu., Oct. 19 | Barnato | Omaha, NE
Fri., Oct. 20 | The District | Sioux Falls, SD
Sat., Oct. 21 | Wooly's | Des Moines, IA
Thu., Oct. 26 | Tannahill's Tavern & Music Hall | Fort Worth, TX
Fri., Oct. 27 | The Backyard Bar Stage and Grill | Waco, TX
Sat., Oct. 28 | The Haute Spot | Cedar Park, TX
Thu., Nov. 2 | Terminal West | Atlanta, GA
Fri., Nov. 3 | The Windjammer | Isle of Palms, SC
Sat., Nov. 11 | The Soboba Casino | San Jacinto, CA
Thu., Nov. 16 | Jergels Rhythm Grille | Warrendale, PA
Fri., Nov. 17 | Tally Ho Theatre | Leesburg, VA
Sat., Nov. 18 | Eagles' Nest Rockin' Country Bar | Chesapeake, VA
For more information, please contact:
Management:
Bryan Coleman | Union Entertainment Group | bryan@ueginc.com
Press:
Jaclyn D. Carter | Shore Fire Media | jcarter@shorefire.com
Lexi Cothran | Shore Fire Media | lcothran@shorefire.com