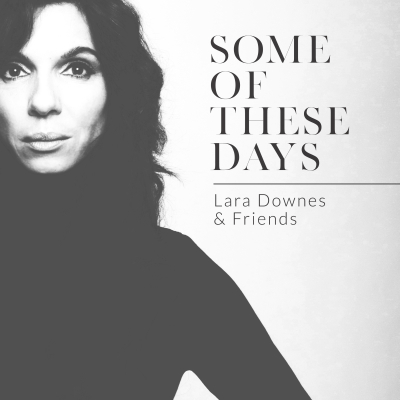 The Songs Her Parents Sang: Pianist Lara Downes Powerfully Revisits Spirituals And Freedom Songs On Some Of These Days (April 3)
Featuring Toshi Reagon, Publiquartet, Chapin Sisters
LISTEN TO "STEAL AWAY" FEATURING TOSHI REAGON HERE:
Spirituals and freedom songs have long been at the heart of our American story — expressions of hope in the fight for equality. On her upcoming release Some Of These Days (April 3), celebrated genre-fluid pianist Lara Downes revisits these ancestral melodies with urgency as anthems for today's shifting climate.
Some Of These Days begins with an archival field recording from 1939, taped in a rural Florida penitentiary, of the traditional spiritual "Sometimes I Feel Like A Motherless Child." Lara interlaces a deeply moving, meditative piano solo with the singers' voices. "I wanted to reach back to these singers and tell them that they are not forgotten. This song goes back with the generations to the slave trade and its brutal separation of mothers and children. The cycles of history connect it to the realities of family separation in our present day with shocking immediacy." Lara says.
"These freedom songs give me something to hold on to. They remind me that this is just a long fight. This music resonates deep in my bones, pulls at so many parts of me — pulls them together. This is my history." 
The album that follows finds Lara revisiting a collection of spirituals and freedom songs - the songs that Lara's parents sang during the Civil Rights Movement. "We Shall Overcome," "Steal Away," "Down By The Riverside" - songs that came from camp meetings and plantation fields and traveled the Underground Railroad. Her parents - Jewish mother (from Ohio), African-American father (from Harlem) - met at a sit-in in San Francisco during the late '60s. These were the freedom songs of their generation.
Listen to "Steal Away" featuring Toshi Reagon: https://www.youtube.com/watch?v=poJR6Tt-z2Y
Lara, at the piano, sets these traditional melodies in a variety of America's diverse musical traditions - classical, jazz, folk, country - and she welcomes guests like Toshi Reagon, the Chapin Sisters, PUBLIQuartet, Musicality Vocal Ensemble, and others into her adventurous musical world. 
Some Of These Days also showcases Lara's world premiere recordings of recently-discovered works by Florence Price and Margaret Bonds, two trailblazing female African-American composers who were prominent in the 1930s-60s. Bonds is best known for her collaborations with Langston Hughes. Price was the first African-American composer in history to have her work performed by a major American symphony orchestra (1933).
Lara has collaborated with everyone from Rhiannon Giddens to Yo-Yo Ma and Judy Collins, her albums have topped the classical and crossover charts, and her work has been lauded by NPR, NY Times, New Yorker, Washington Post, WQXR, Boston Globe and beyond. A fierce arts advocate and activist, while touring in 2020 Lara will be hosting workshops and performances with at-risk youth and local choirs nationwide. Using songs on Some Of These Days as the central theme, Lara will teach young people about the powerful legacy of Spirituals, then perform the songs together as a way to foster a deeper connection to the lessons of the past while illuminating the potential of the future. Also in 2020 Lara will premiere large-scale commissions from Paola Prestini (Hindsight: Let Me See The Sun) and Clarice Assad (World Of Change), in collaboration with the Chicago Symphony and the Louisville Orchestra.
Pre-order the album here: https://naxos.lnk.to/StealAwayEL
Some Of These Days tracklist
Sometimes I Feel Like A Motherless Child - Traditional
Steal Away w/ Toshi Reagon - Trad / Charles Ives
Troubled Water - Margaret Bonds
Hold On w/ Musicality and PUBLIQuartet - Margaret Bonds
I Wish I Knew How It Would Feel To Be Free - Billy Taylor / Nina Simone
Deep River w/ PUBLIQuartet - H.T. Burleigh
Down By The Riverside - Traditional
All Night, All Day w/ Howard Fishman - Traditional
My Lord, What A Mornin' w/ Alphonso Horne - Traditional / H.T. Burleigh
The Bells - Margaret Bonds
We Shall Overcome with The Chapin Sisters - Traditional
Fantasie Negre No. 2 - Florence Price
Nobody Knows the Trouble I've Seen w/ Adam Abeshouse - Clarence Cameron White
Some Of These Days - Florence Price
SELECTED UPCOMING PERFORMANCES:
Feb 7 - Detroit, MI - SphinxConnect
Feb 12-13 - Boston, MA - Isabella Stewart Gardner Museum
Feb 16-17 - Flagstaff, AZ - Northern Arizona University
Feb 22 - Eugene, OR - Hult Center for the Performing Arts
Mar 15 - New York, NY - Subculture
Mar 24-25 - Highland Park, IL - Ravinia Residency
Apr 3 - Los Angeles, CA - California African American Museum
Apr 16 - Los Angeles, CA - Yamaha Artist Concert Series
Apr 18-23 - Tecate, Mexico - Rancho La Puerta
Apr 30 - Chicago, IL - Impromptu, WFMT
May 2 - Los Angeles, CA - Occidental College
May 7 - Davis, CA - Robert and Margrit Mondavi Center for the Performing Arts
May 8-9 - Houston, TX - Apollo Chamber Players
May 12 - New York, NY - Joe's Pub
May 16 - Grass Valley, CA - The Center For The Arts
May 30 - June 1 - St. Louis, MO - NPR From the Top / St Louis Symphony Youth Orchestra
June 5-6 - Georgetown, TX - Georgetown Festival of Arts
June 18 - Chicago, IL - Ravinia Festival
July 9 - Eugene, OR - Oregon Bach Festival
July 17 - Napa, CA - Festival Napa Valley
July 18-19 - Santa Fe, NM - Performance Santa Fe
July 25 - Highland Park, IL - Ravinia Festival / Chicago Symphony Orchestra
August 4-8 - Santa Cruz, CA - Cabrillo Festival of Contemporary Music