Latest Additions to Aimi's Generative Music Platform Include Deadmau5 Label Mates Rinzen & ATTLAS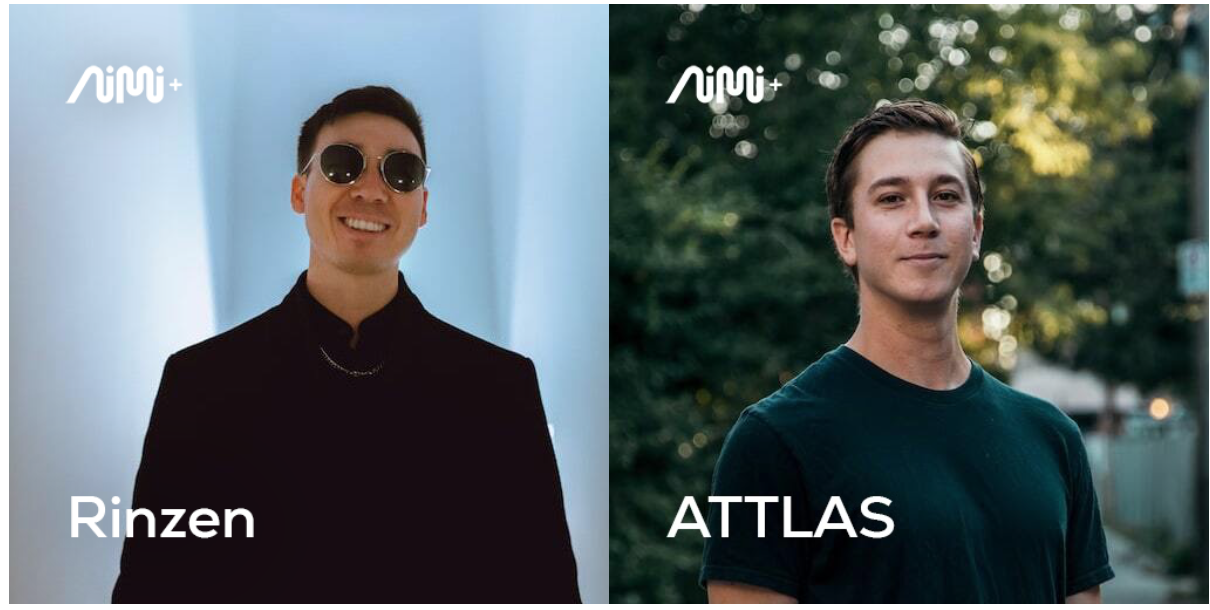 Today, the artist-powered generative music platform, Aimi, has released two new Experiences from mau5trap record label mates Rinzen (A Secret Place) and ATTLAS (Mineral). Through Aimi, the rising producers unveil hours of previously unheard material, transforming their sound into an immersive, endlessly-evolving composition. As Aimi arranges each artist's distinct style into an infinite world of sound, evolving with every listen, the platform offers fans a new and novel way to engage with the imaginations of their favorite artists.
Download the premium version of Aimi's mobile app, Aimi+, to explore the Experiences of Rinzen, ATTLAS and dozens more artists embracing Aimi's new possibilities, from Catz 'n Dogz, Cassy and DJ BORING, to Lost Souls of Saturn, Man Power, Max Cooper, Ninjarachi, Roska, Shanti Celeste, Soul Clap, Steffi, Tensnake and others added every week.
Described by deadmau5 as "Hans Zimmer meets techno," Los Angeles-basedRinzen merges unique sound design with forward-thinking production to create awe-inspiring works, a style that's landed him at esteemed venues across the world, including London's Printworks, Madrid's Fabrik, Ultra Music Festival and Electric Zoo, while earning praise from Mixmag, Billboard and more.
On A Secret Place, Rinzen takes listeners through a cosmic collection of music made for otherworldly daydreams and celestial inspiration. His unique palette of sounds dissected and rearranged by Aimi's AI-based, generative music technology produces a singular, sonic adventure.
Canadian producer ATTLAS (aka Jeff Hartford) has long made music shrouded in mystery, dipping between introspective orchestration and glitchy, dark sounds. Now, Hartford channels his signature cinematic house into an Aimi-exclusive Experience that's melodic, atmospheric and brimming with emotive, lush textures. On the making of Mineral, ATTLAS says:
"Working with Aimi really forced a perspective onto my creative process that I hadn't appreciated before. I was hearing familiar bits of my composition alongside permutations I hadn't considered, which led to music I had my compositional fingerprints on, but towards a listening experience that even to my own ears was new. In turn, it transforms the approach from the creative side as well - no longer building work from start to finish as a single executed concept, minor elements and grander concepts alike arrive to the ears re-focused, re-contextualized."
Featuring more than an album's worth of previously unheard material, each artist's Experience on Aimi+ offers listeners a completely new way to absorb music, in the form of infinitely-long, adaptable compositions. Conceived by the artist and continuously arranged by Aimi's bespoke technology, fans are able to access uninterrupted flows music from a myriad of the world's the most groundbreaking DJs and producers, adjusting in real time based on one's own reactions. Aimi closed a $20 Million Series B funding round in November, further solidifying belief in the platform's immersive alternatives to traditional streaming.
About Aimi
Aimi is a revolutionary breakthrough in generative music that will fundamentally change the way the art form is created, consumed and ultimately monetized. The platform delivers endless, immersive compositions that are crafted by artists, powered by artificial intelligence and molded by the mood of each individual user. For fans of electronic music, Aimi offers a new form of listening - one that is adaptable and ever-evolving.
Follow Aimi