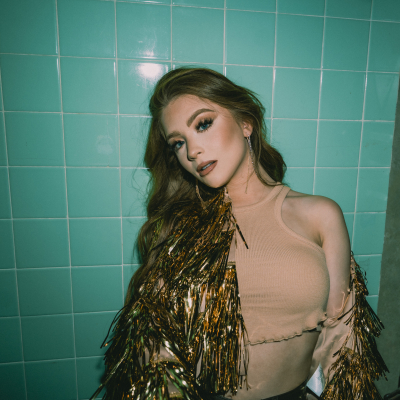 Lauren Weintraub Finds Common Ground In Anthemic, New Track "People Like Me"
Announces Seven-Date Headline 'People Like Me Tour,' Tickets On-Sale Friday (3.3)
Last week, one of Nashville's buzziest newcomers, Lauren Weintraub, announced her forthcoming Grand Ole Opry debut for Friday, March 31, and today (2.28), she's back with her first release of 2023 — sharing the poignant, new track, "People Like Me," out now via Virgin Music. The reflective anthem finds the 24-year-old spitfire in a moment of vulnerable maturity, as she embraces the unique and beautiful quirks that define who she truly is, while her chill-inducing vocals sing along to a raw and relatable story of personal growth that comes with age.
LISTEN TO "PEOPLE LIKE ME" HERE
"I could not be more excited to start this next era of music with 'People Like Me,'" Weintraub explains. "This song really feels like me stepping into my greater purpose and power as an artist. I spent a lot of my early twenties so concerned about what other people thought — dressing a certain way, doing and saying things that weren't necessarily authentic — all out of a fear of being perceived as 'weird' or 'different.' Turning 24-years-old has brought an air of confidence, of really letting me be me. I want to inspire vulnerability in people to level up human connection, and this song spreads a really special message to me – one that others may need to hear."
Recently named among American Songwriter's all-genre shortlist of 2023 "Artists to Watch," the Boston native-turned-Music City resident also unveiled her forthcoming, headline 'People Like Me Tour' today (2.28), which kicks off on April 21, making stops in major cities including Philadelphia, Chicago, Dallas and more through June 24. Tickets to the seven-date spring/summer trek go on-sale this Friday (3.3) at 10AM CST HERE.
LAUREN WEINTRAUB'S 'PEOPLE LIKE ME TOUR' DATES:
Fri., April 21 | Eddie's Attic | Decatur, GA
Fri., June 2 | Songbyrd | Washington, DC
Sat., June 3 | World Cafe Live | Philadelphia, PA
Thu., June 15 | Bub City | Chicago, IL
Fri., June 16 | The Basement | Columbus, OH
Fri., June 23 | House of Blues | Dallas, TX
Sat., June 24 | House of Blues | Houston, TX