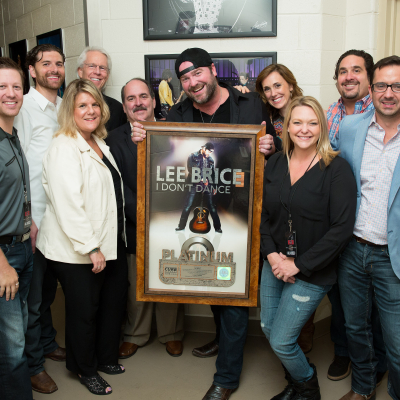 Lee Brice's I Don't Dance Debuts at #1 On Billboard Top Country Albums Chart, #5 on Billboard 200
Title Track Is Fastest RIAA Certified Platinum Country Single of 2014
Lee Brice's I Don't Dance (released Sept. 9, Curb Records) marks his first #1 Billboard Country debut and highest-ever bow on the Billboard 200, opening at #5 this week. With the smash success of the album's title track - which reached #1 at country radio and is the fastest RIAA platinum-certified country single released this year - track equivalent sales for I Don't Dance now surpass 150,000 albums to date.
"An evocative, rough-edged singer" (NY Times) whose music is "impossible to pigeonhole" (CMT), Brice recorded his third studio album in Nashville, writing and producing 13 of the deluxe edition's 16 songs, and playing almost every instrument on many of the tracks as well. "Nobody in Nashville writes better love songs right now than Brice," says USA Today.
Brice celebrated the album's massive release week with performances on the Today Show and Letterman. He also teamed up with Luke Bryan for two sold-out shows in New York: a performance at Madison Square Garden, where Today Show host Hoda Kotb surprised Brice onstage with a career milestone plaque recognizing "I Don't Dance" as the year's fastest platinum-certified country single, and an historic concert at the Barclays Center in Brooklyn, the venue's first-ever country concert.
Lee Brice will spend the rest of the Fall on the road, continuing his run on Luke Bryan's popular 'That's My Kind of Night' Tour.
###
Photo (L-R): Ryan Dokke, Curb Records (VP of Promotion); Taylor Childress, Curb Records (Vice President);
Laurie Jacoby, Madison Square Garden (Sr. Vice President, Concerts & Entertainment); Jim Ed Norman,
Curb Records (Chief Creator Advisor); Bob Shea, Madison Square Garden (Executive Vice President, Bookings);
Lee Brice; Cara Duckworth, RIAA (VP of Communications); Haley McLemore, Red Light / 377 Management;
Enzo DeVincenzo, Red Light/377 Management; Jonathan Lamy, RIAA (EVP of Communications).
Photo credit: Avi Gerver/MSG Photos