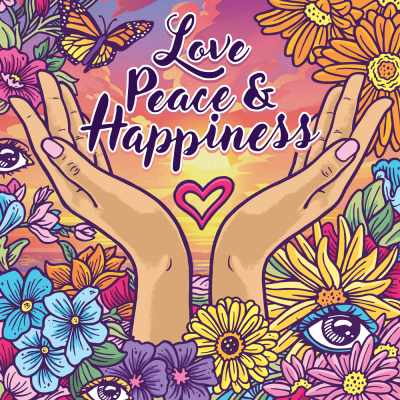 Lester Chambers and Moonalice Revive The Chambers Brothers' Classic "Love, Peace and Happiness"
Listen to "Love, Peace and Happiness":
https://moonalice.ffm.to/lovepeacehappy
Watch "Love, Peace and Happiness" music video:
Today, San Francisco-based psychedelic soul group Moonalice releases "Love, Peace and Happiness." The opening line serves as a mantra for vocalists Lester Chambers and his son Dylan: "All our love, peace, and happiness, we want to give to you yeah." Initially written by The Chambers Brothers as the counterpart to "Time Has Come Today," "Love, Peace and Happiness" has been a Chambers family anthem for over 50 years. The powerful single cracked the Billboard Hot 100 in 1970 and was subsequently covered by Santana and The Isley Brothers on their joint 'Power of Peace' album.
Backed by incredible playing from Pete Sears (bass), Barry Sless (guitar), John Molo (drums), Jason Crosby (keyboard), and Roger McNamee (guitar), Lester and Dylan continue the tradition with a renewed sense of energy, spreading love and hope for the new generation. "Love, Peace and Happiness" is the band's first single following the release of Moonalice's 'Full Moonalice Vol. 1' EP and their performance at BottleRock Napa, where the group was one of the festival's closing acts.
Moonalice recently launched their "Moonalice Minute" series, hosted by legendary rock journalist and veteran Rolling Stone journalist Ben Fong Torres. Fans can watch byte size episodes of the band discussing various aspects of their careers, like John Molo on playing the songs of The Grateful Dead, Jason Crosby on lessons learned from his tours with Jenny Lewis and Jackson Browne, and Lester and Dylan Chambers on how Janis Joplin, Jimi Hendrix, Average White Band, and others were intimidated by the thought of taking the stage immediately after The Chambers Brothers.
Watch the series here: https://youtube.com/playlist?list=PLcAbT8SYOC_P5miaiIYDJfuuVzkgOUHgC
Fans across the country can catch Moonalice throughout Northern California this summer, and across the midwest and east coast this fall, with more tour dates to be announced soon.
Moonalice 2022 Tour Dates
June 11 - Fairfax Festival – Fairfax, CA
June 12 – Hog Farm Hideaway – Laytonville, CA
July 8-9 – Oregon County Fair – Eugene, OR
July 20 – "Music in the Park" at Truckee River Park Amphitheater – Truckee, CA
July 21 – Moraga Commons Park – Moraga, CA
July 23 - Love on Haight, San Francisco, CA
August 2 – Jerry Day w/ SF Giants @ Oracle Park – San Francisco, CA
August 6-7 – Salmonfest – Ninilchik, AK
August 10 - Alice's Champagne Palace, Homer, AK
September 8 - KRSH Backyard Concert, Santa Rosa, CA
September 10 – June Lake Jam Festival – June Lake, CA
September 16 – Red Dog Saloon – Virginia City, NV
October 5 – Martyrs – Chicago, IL
October 7 – Ludlow's Garage – Cincinnati, OH
October 8 – Fur Peach Ranch – Pomeroy, OH
October 9 – Woodlands Tavern – Columbus, OH
More national headline dates coming soon..
ABOUT MOONALICE
Moonalice is an exuberant Bay Area ten-piece known for delivering a unique brand of psychedelic soul and rock-tinged Americana. With an unparalleled list of collaborations with some of the biggest names in music, the family tree of Moonalice has touched every corner of rock and roll history. Vocalist Lester Chambers co-founded the pioneering '60s psychedelic soul group The Chambers Brothers. Bassist Pete Sears was a founding member of Jefferson Starship and played with everyone from Rod Stewart to Jimi Hendrix. Moonalice band members have toured with Bruce Hornsby & the Range, John Fogerty, The Other Ones, Phil Lesh & Friends, Hot Tuna, Jackson Browne, Robert Randolph and the Family Band, Blind Boys of Alabama, Jenny Lewis, and many others. Guitarist Roger McNamee was an advisor to the Grateful Dead and U2, and fights against entrenched power in the tech industry. Moonalice's incredible chemistry shines through in their live performances and the recent release of the Chambers Brothers classic, "Time Has Come Today." Moonalice also features esteemed members Barry Sless (lead guitar and pedal steel), Jason Crosby (keyboards), Grammy winner John Molo (drums), along with the next generation of legends including Lester's son Dylan Chambers, and Erika, Rachel, and Chloe Tietjen of acclaimed Americana band the T Sisters. Moonalice has a renegade spirit and an ethos of love, peace, and happiness that permeates everything they do.