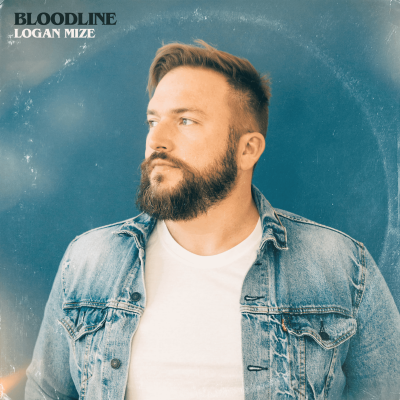 Logan Mize Spotlights The Stories Of Rural America On 'Bloodline,' Out Now
Kansas-born, country music troubadour Logan Mize has dedicated his career to sharing stories that illuminate the experiences of rural American upbringing. He continues his storytelling journey on 'Bloodline,' out today (5.5) via Big Yellow Dog Music. Across five songs, 'Bloodline' explores small-town America, crafting narratives that resonate with people worldwide.
Listen to 'Bloodline,' here: bigyellowdogmusic.ffm.to/bloodline-ep
"This EP is part of a soon-to-be album that is shaping up to be my favorite track listing," says Mize. "When I started writing and looking for songs, I wanted an entire record of roll-down-the-window and feel-good earworm-type songs. Usually by the time we're finishing something up I'll skip a couple when I listen, but that hasn't happened yet on this one. No skips! That's the goal, anyway."
On 'Bloodline,' Mize approaches growing up, sense of place and more with an earnest approachability. The title track delves into the comfort and familiarity that his hometown of Andale, KS provides. On "Ends In Why," he explores the complexities of young heartbreak, while "Another Right Now" celebrates living in the present moment. "Last Hometown" roots itself in the artist's small town, and "Hope I'm Not The Only One" grapples with relatable feelings of uncertainty that come with getting older.
'Bloodline' features songs written by Jordan Davis, Randy Montana (Luke Bryan, Luke Combs), Josh Hoge (Jason Aldean, Chase Rice), Django Walker (Alabama, Jimmy Buffett) and more, and it was produced by fellow Big Yellow Dog Music signee Daniel Agee. The project is a preview of more new music to come from Mize in 2023.
Mize kicked off the Bloodline Tour yesterday (5.4) in Ralston, NE. The tour will stop in Kansas City, Chicago, Des Moines and more before wrapping up in St. Louis on May 20th. For tickets and more information, visit loganmize.com.
'Bloodline' Tracklist
*Produced by Daniel Agee
1. "Bloodline" (Randy Montana, Django Walker, Josh Hoge)
2. "Ends In Why" (Randy Montana, Eric Paslay, Charlie Muncaster)
3. "Another Right Now" (Donovan Woods, Jordan Davis, Josh Jenkins)
4. "Last Hometown" (Donovan Woods, Colton Venner)
5. "Hope I'm Not The Only One" (Jessie Jo Dillon, Jon Nite, Jordan Schmidt)
Bloodline Tour Dates
Fri., May 5 | Temple Live | Fort Smith, AR
Sat., May 6 | My House / 6th Street Block Party | Columbia, MO
Sun., May 7 | Wooly's | Des Moines, IA
Weds., May 10 | Joe's On Weed St | Chicago, IL
Thurs., May 11 | The Truman | Kansas City, MO*
Fri., May 12 | The Hat | Manhattan, KS*
Sat., May 13 | Wild Hogs Saloon | Walford, IA*
Weds., May 17 | Joe's Honky Tonk | Kearney, NE*
Thurs., May 18 | Wave | Wichita, KS*
Fri., May 19 | Fox Theatre | Hays, KS*
Sat., May 20 | The Hawthorn | St. Louis, MO*

*support from Troy Cartwright
###
For more information, please contact:
Nick Jurich | njurich@shorefire.com
Mark Satlof | msatlof@shorefire.com
Jaclyn D. Carter | jcarter@shorefire.com
Olivia Del Valle | odelvalle@shorefire.com