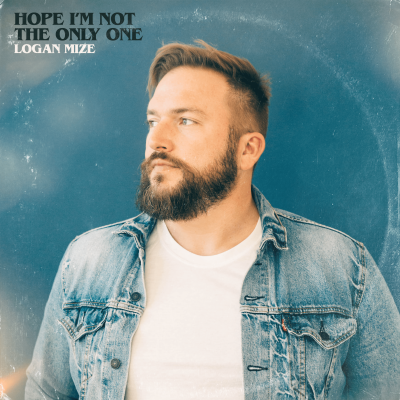 Logan Mize Embraces The Uncertainties Of Growing Up On "Hope I'm Not The Only One"
On his evocative new song "Hope I'm Not the Only One," out now, Logan Mize confronts the all-too-relatable growing pains of life, and the uncertainty that comes with growing up. The song is the second single from Mize's forthcoming project 'Bloodline' (out 5.5 via Big Yellow Dog Music).
LISTEN TO "HOPE I'M NOT THE ONLY ONE" HERE
"Hope I'm Not the Only One" was written by the songwriters behind some of the biggest artists in country music, including Jessie Jo Dillon (Toby Keith, Tim McGraw), Jon Nite (Keith Urban, Dierks Bentley) and Jordan Schmidt (Morgan Wallen, Blake Shelton). It's a driving, country-rock tinged story about the wild-and-free emotions that come with young adulthood like sleepless nights, thoughts of skipping town with no destination and being in love. Mize riffs on these sentiments in this profound love letter to his youth as he braces for the changes of growing up.
"Hope I'm Not The Only One" is a song that I couldn't stop listening to for a couple weeks," says Mize. "I just had the demo on repeat. The lyric really resonated with me personally about a period of my life and I think it will with others as well. It was something fairly different than my producer Dan and I are used to doing but I was up for the challenge and I think it turned out pretty cool."
"Hope I'm Not the Only One" follows "Bloodline" (3.10), the title track and first single from the upcoming record that pays tribute to Mize's one-stoplight hometown in the heart of Kansas. Mize will perform these songs and other fan-favorite tracks on the 12-date Bloodline Tour, which kicks off on May 4th in Ralston, NE and features support from Troy Cartwright on select dates. For tickets to the Bloodline Tour and more information on Logan Mize, visit loganmize.com.
Bloodline Tour Dates
Thurs., May 4 | Bushwackers Saloon | Ralston, NE
Fri., May 5 | Temple Live | Fort Smith, AR
Sat., May 6 | My House / 6th Street Block Party | Columbia, MO
Sun., May 7 | Wooly's | Des Moines, IA
Weds., May 10 | Joe's On Weed St | Chicago, IL
Thurs., May 11 | The Truman | Kansas City, MO*
Fri., May 12 | The Hat | Manhattan, KS*
Sat., May 13 | Wild Hogs Saloon | Walford, IA*
Weds., May 17 | Joe's Honky Tonk | Kearney, NE*
Thurs., May 18 | Wave | Wichita, KS*
Fri., May 19 | Fox Theatre | Hays, KS*
Sat., May 20 | The Hawthorn | St. Louis, MO*
*support from Troy Cartwright
###
For more information, please contact:
Nick Jurich | njurich@shorefire.com
Olivia Del Valle | odelvalle@shorefire.com
Mark Satlof | msatlof@shorefire.com
Jaclyn D. Carter | jcarter@shorefire.com