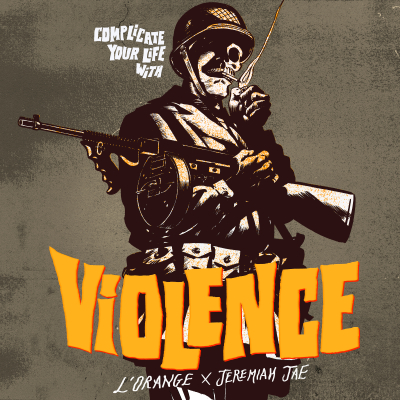 L'Orange And Jeremiah Jae Reunite On Complicate Your Life With Violence (October 4 / Mello Music Group)
WATCH THE VIDEO FOR "DEAD BATTERY" HERE
Nearly four years since their last collaboration, producer-rapper duo L'Orange and Jeremiah Jae have revealed a new album, Complicate Your Life With Violence, out October 4 on Mello Music Group. The new record is a continuation of their 2015 concept album The Night Took Us In Like Family, which followed a 1940's mob boss who let his guard down and was framed for murder.
Today, they've revealed the first look and listen with "Dead Battery."
Watch the video here: https://youtu.be/3rWL6ObYQN4
Premiered by Flood Magazine this morning: https://bit.ly/2yUneQ7
"A swampy, foreboding production that flips a twangy blues guitar riff into a dirty, dark hip-hop cut," Flood says.
The video for "Dead Battery" is set in a tripped-out film noir scene, focused on an interrogated revolutionary, tied up in the hot seat with Who Framed Roger Rabbit-esque illustrations. Laced with a woozy beat, Jae asks the question: "Would you fight for me?"
The record continues similarly, falling in and out of menacing, lo-fi production with Jae leading listeners through a three-part story of recruitment, war, and its subsequent dark effects. It features collaborations with rap champions like Chester Watson, Zeroh, Lojii and billy woods, whose last album was called "one of the most compelling rap projects of the year" by the Fader.
When L'Orange and Jeremiah Jae released 2015's The Night Took Us In Like Family, they were subsequently deemed a "seamless pair" by Pitchfork, drawing comparisons to Earl Sweatshirt and MF Doom. Outside of their collaborative works with each other, Jae has produced for Flying Lotus, and L'Orange has worked on a series of premiere albums, including 2018's Marlowe. L'Orange's music has been featured on Adult Swim, The Tonight Show, Red Bull, advertisements for Moet Champagne, Cinema Sins and more.
Pre-order Complicate Your Life With Violence here: https://smarturl.it/ComplicateYourLife
Complicate Your Life With Violence Track List:
1. Part One: Introducing An Inconspicuous Man
2. Behavior Report
3. Say It All
4. Dead Battery
5. Part Two: Conscription Sentence
6. Summer Camp
7. Cool Hand (feat. Chester Watson)
8. Borrowed Brass (feat. Zeroh & Lojii)
9. Part Three: Hero Complex
10. My Everything Is Bulletproof
11. Clay Pigeons (feat. Billy Woods)
12. Devil's Piano
13. Part Four: Last One Left
14. After Alley Life
15. Ghost Town
16. The Light
17. Part Five: No Peace For The Peaceful