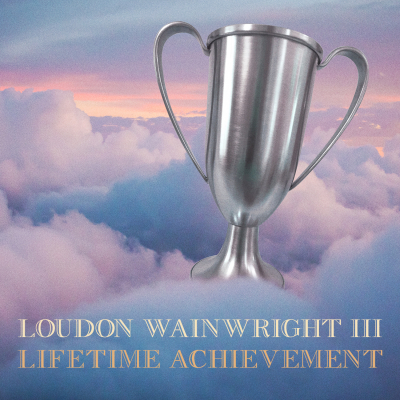 Loudon Wainwright III's 31st Studio Album Lifetime Achievement Out Now (StorySound Records)
International 34-Date Tour Stars August 30 at City Winery NYC
"Folk Music's Great Confessor" - Fresh Air
"He contemplates old age in a telling mix of poignancy, nostalgia, bravado and killer couplets" - Mojo
"It points up his undiminished vitality. Forget about age. You can say that he remains an artist for the ages" - No Depression
"Whether solo or ensemble, his forte, ultimately, is as one of the great storytellers in song" - The Arts Desk
August 22, 2022 - Loudon Wainwright III's new album Lifetime Achievement (StorySound Records) is out now. His first album of original songs since 2014, Lifetime Achievement finds Wainwright in a state of deep reflection at age 75, featuring 15 witty, incisive tracks. The album was announced by Rolling Stone in June and has received rave reviews from Fresh Air, Under The Radar, No Depression and Mojo, which says the set is "imbued with an irresistible wink as he lays his life and neuroses on the line in a well-trodden but still welcome welter of wit and pathos." An in-depth Associated Press interview with Wainwright just posted, he will be profiled in the upcoming Fall 2022 issue of No Depression and will appear on an episode of Office Hours with Tim Heidecker this Thursday August 25, live from Brooklyn's The Bellhouse. Up next, Wainwright will embark on a 34-date international tour August 30 (City Winery NYC, a concert that will also be livestreamed by Mandolin) that includes some of his biggest-ever venues in the UK and Ireland.
Says Wainwright, "I remember when I made my first record for Atlantic in 1969. I was always saying, 'I want it to be a record – not only a recording, but a document that captures a moment.' I was 21 and very serious, and I thought I'd be dead in four years (laughs). So I wanted to make something that would last. A testament. Now, fifty years later, I guess I still want to make a testament. I want to write a group of songs and get them down in the best possible way. And I like to think they might last a while."​
The songs on Lifetime Achievement look back at Wainwright's 50+ year career with his long-celebrated, brutally hilarious and heart wrenching storytelling. "Family Vacation" skewers the ritual. The title track finds him recounting his accomplishments but realizing that: "All these honors don't add up to all that much, it's true, that the biggest surprise, the great surprise, is I managed to win you." "Town & Country" finds Wainwright returning to New York City after an extended stay in the country, framing the "city vs. country" debate in his own inimitable style, rats scurrying under his feet while dining on the streets of Manhattan.
Many tracks on Lifetime Achievement feature Wainwright on guitar with light accompaniment, some sung a capella, while others are seasoned with horns, strings, hand claps, the accordion, lap steel and electric guitar work, featuring many of his frequent collaborators: Chaim Tannenbaum, David Mansfield, Tony Scherr, Rich Pagano, Jon Cowherd, and others including a string arrangement by Rob Moose. It was recorded with two of his longtime producers, Dick Connette and Stewart Lerman.
After thirty albums, a Grammy, many film and TV credits, and songs recorded by such artists as Johnny Cash, Mose Allison, Bonnie Raitt and his son Rufus, Wainwright is perhaps our foremost six-string analyst and tragicomedian. And with Lifetime Achievement his "unmatched wit and wisdom" (NPR) has never been on sharper display. In the past few years, Wainwright has also published a widely celebrated memoir, Liner Notes, as well as Years in the Making - a 2-CD audiobiography of rarities, oddities, and never-before-released recordings made throughout his tremendous 50-year career.

Buy/stream Lifetime Achievement here: https://ffm.to/lifetimeachievement
Track list:
I Been
One Wish
It Takes 2
Fam Vac
Hell
Little Piece of Me
No Man's Land
Back in Your Town
Town & Country
Island
It
Hat
Lifetime Achievement
How Old Is 75
Fun & Free
Tour dates:
Tuesday, August 30 - City Winery, New York, NY
Thursday, September 1 - City Winery, Philadelphia, PA
Wednesday, September 7 - Pocklington Arts Centre, York, UK
Thursday, September 8 - The Trades Club, Hebden Bridge, UK
Friday, September 9 - Sage Gateshead, Gateshead, UK
Sunday, September 11 - Liberty Hall Theatre, Dublin, Ireland
Monday, September 12 - Glasgow Royal Concert Hall, Glasgow, UK
Wednesday, September 14 - St George's Bristol, Bristol, UK
Thursday, September 15 - Birmingham Town Hall, Birmingham, UK
Saturday, September 17 - Royal Northern College of Music, Manchester, UK
Sunday, September 18 - Southbank Center, London, UK
Monday, September 19 - The Stables, Milton Keynes, UK
Wednesday, September 21 - De La Warr Pavilion, Bexhill-On-Sea, UK
Thursday, September 22 - The Sub Rooms, Stroud, UK
Tuesday, October 4 - Alberta Rose Theatre, Portland, OR
Wednesday, October 5 - Triple Door, Seattle, WA
Friday, October 7 - Freight & Salvage, Berkeley, CA
Saturday, October 8 - State Theatre, Auburn, CA
Sunday, October 9 - HopMonk Tavern, Novato, CA
Wednesday, October 26 - Katharine Hepburn Cultural Arts Center, Old Saybrook, CT
Saturday, November 5 - Kelly-Strayhorn Theater, Pittsburgh, PA
Sunday, December 4 - Berklee Performance Center, Boston, MA
Friday, February 3 - The Soraya, Northridge, CA
Saturday, February 4 - The Soraya, Northridge, CA
Sunday, February 5 - McCallum Theatre for the Performing Arts, Palm Desert, CA
Sunday, March 19 - Fostek Hall at Jefferson Center, Roanoke, VA
Friday, March 31 - Eddie's Attic, Decatur, GA
Saturday, April 1 - Tryon Fine Arts Center, Tryon, NC
Wednesday, April 19 - Dakota, Minneapolis, MN
Thursday, April 20 - Stoughton Opera House, Stoughton, WI
Wednesday, May 10 - Natalie's Grandview, Columbus, OH
Thursday, May 11 - Marathon Center for the Performing Arts, Findlay, OH
Friday, May 12 - The Ark, Ann Arbor, MI
Saturday, May 13 - Listening Room, Grand Rapids, MI