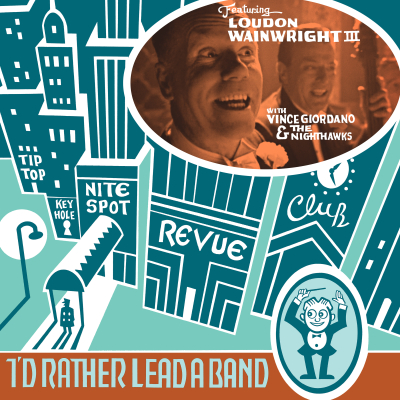 Loudon Wainwright III Partners With Vince Giordano & The Nighthawks And Randall Poster To Celebrate The Great American Songbook
I'd Rather Lead A Band Out October 9 (Thirty Tigers)
Loudon Wainwright III has unveiled his new album, I'd Rather Lead A Band (October 9/Thirty Tigers). A collaboration with Vince Giordano and his band The Nighthawks, and producer and music supervisor Randall Poster, the 14-song collection is a loose, fresh, and "anti-nostalgic" take on classic songs from the 1920s and '30s featuring Wainwright as singer and band leader.
Rolling Stone has more on the announcement in a feature with Loudon that ran this morning: https://www.rollingstone.com/music/music-news/loudon-wainwright-iii-interview-id-rather-lead-a-band-covid-1027768/
And listen to "A Ship Without A Sail" here: https://soundcloud.com/thirtytigers/loudon-wainwright-iii-a-ship-without-a-sail/s-8p8uoqgviXg
DSPs/pre-order link here: https://orcd.co/leadaband
As interpreters of the Great American Songbook, Wainwright and Giordano's big band present a perfectly paced supper club set of songs by Irving Berlin ("I'd Rather Lead a Band" and "The Little Things In Life"), Fats Waller ("Ain't Misbehavin'"), Frank Loesser ("More I Cannot Wish You"), and others with nimble phrasing and an approach that lets the songs lead the way, like a dance partner.
Wainwright feels right at home singing these songs, which he says "reflect on my whole life, really." To choose the songs, Wainwright, Poster and producer Stewart Lerman volleyed dozens of mp3s and YouTube videos back and forth, ultimately whittling them down to 14 picks. The expansive record collection of Loudon's father- the LIFE Magazine columnist Loudon Wainwright-- helped to inform some selections, as did Loudon's own musical beginnings as a jug-band singer. Wainwright, Giordano and The Nighthawks then recorded the album in just 3 days at Electric Lady Studios.
For Wainwright, I'd Rather Lead A Band was also a welcome chance to take a break from playing his guitar and singing in what he calls his "somewhat misanthropic, occasionally goofy persona." "I loved the idea of just being a vocalist," he says. "It was freeing, because I could shed my Loudon Wainwright III-ness. I will no doubt return to my foremost incarnation, but what a pleasure it was to settle back with this marvelous band and sing these songs."
A common thread of this project is the participants' involvement with the 2012 Boardwalk Empire soundtrack, which Poster and Lerman both won a GRAMMY for (Best Compilation Soundtrack). Poster - widely celebrated for his work with Wes Anderson, Martin Scorsese, and all-star albums made in homage to the likes of Buddy Holly and Fleetwood Mac - oversaw the music for the HBO series set in Atlantic City in the 1920s. Giordano, who is widely regarded as an expert on the music of the era, and his band were featured throughout the series; And Wainwright, who first met Poster while appearing in Scorsese's The Aviator, recorded three songs for Boardwalk Empire as well.
For the past fifty years, Wainwright has carved out a distinguished career as one America's most original singer-songwriters, a six-string diarist with material that is by turns, tongue-in-cheek, tender, satiric, heart-wrenching, and always deeply personal. Along the way he has released more than twenty albums, won a GRAMMY, acted in film and TV, and has had his songs recorded by artists including Johnny Cash, Mose Allison, Bonnie Raitt, and his own son, Rufus Wainwright. His one man show - Surviving Twin, based on his father's Life Magazine column in the 1960s - toured internationally and became a Netflix special directed by Christopher Guest and produced by Judd Apatow. He also published a memoir, Liner Notes: On Parents & Children, Exes & Excess, Death & Decay, & a Few of My Other Favorite Things" and in 2018 issued "Years in the Making," a 42-track "audio-biography" of rare, offbeat recordings from his remarkable career.
You can pre-order I'd Rather Lead A Band now:
All Retail: https://orcd.co/leadaband
Spotify: https://orcd.co/leadaband/spotify
iTunes: https://orcd.co/leadaband/itunes
Amazon: https://orcd.co/leadaband/amazonstore
Pandora: https://orcd.co/leadaband/pandora
I'd Rather Lead A Band Tracklist
1. How I Love You (I'm Tellin' the Birds, Tellin' the Bees)
2. Ship Without A Sail
3. Ain't Misbehavin'
4. I'm Going to Give it to Mary with Love
5. The Little Things in Life
6. So the Bluebirds and the Blackbirds Got Together
7. A Perfect Day
8. I Thought About You
9. I'd Rather Lead a Band
10. My Blue Heaven
11. Between the Devil and the Deep Blue Sea
12. Heart and Soul
13. You Rascal You (I'll Be Glad When You're Dead)
14. More I Cannot Wish You
I'd Rather Lead A Band Credits
Produced by Randall Poster & Stewart Lerman
Co-Produced by Meghan Currier
Recorded by Stewart Lerman & Zach Brown at Electric Lady Studios in New York City on August 8, August 9, & September 5, 2019
Mixed by Stewart Lerman
Mastered by Greg Calbi
Vocals: Loudon Wainwright III
Tuba, String Bass, Bass Sax, Arranger: Vince Giordano
Violin & Baritone Sax: Andy Stein, Rob Hecht, David Mansfield
Trumpets: Mike Ponella, Jon-Erik Kellso, Joe Boga
Trombones: Jim Fryer, Alix Tucou
Reeds: Evan Arntzen, Mark Lopeman, Peter Anderson
Piano: Pete Yarin
Guitar/Banjo: Arnt Arntzen
Drums: Paul Wells
Additional Vocalists: David Forman, Chaim Tannenbaum, Johnny Gale
Album Art by SETH
Layout by Fetzer Design
Photography by Erinn Springer