Louis Armstrong House Museum Launches "That's My Home" Digital Initiative
Celebrates 25th Anniversary Of Archives And Research Collections
The Wonderful World of Armstrong's Longtime Home, Now Online
Read More in Today's Washington Post Feature
(Corona, Queens): Today, the Louis Armstrong House Museum (LAHM) launches "That's My Home," a new online exhibition that shares with homebound citizens around the globe a glimpse into Louis's life at his home in Corona, Queens, where he lived the last 40 years of his life. LAHM's Research Collections Director, Ricky Riccardi, has been hard at work with the Museum's staff to create an online portal documenting Armstrong's life at home through archival footage, rare photographs, and priceless audio from Armstrong's own private reel-to-reel tapes. In the coming weeks, the site will add virtual tours of the home (a national landmark), livestream panel discussions, and more.
"For 25 years, Queens College has proudly preserved the Louis Armstrong Research Collections and has opened their doors to anyone with an interest in this monumental artist," says Jeff Rosenstock, Queens College's Assistant Vice President for Governmental Affairs and LAHM's Acting Director. "Today we celebrate the precious time Satchmo spent at home in Corona, Queens, as we spend time at home ourselves. We hope that we can all draw inspiration from Armstrong's love for his neighborhood, his community, and New York, his adopted city."
Check out the virtual exhibition here: https://virtualexhibits.louisarmstronghouse.org/
Read more on the ambitious new initiative via The Washington Post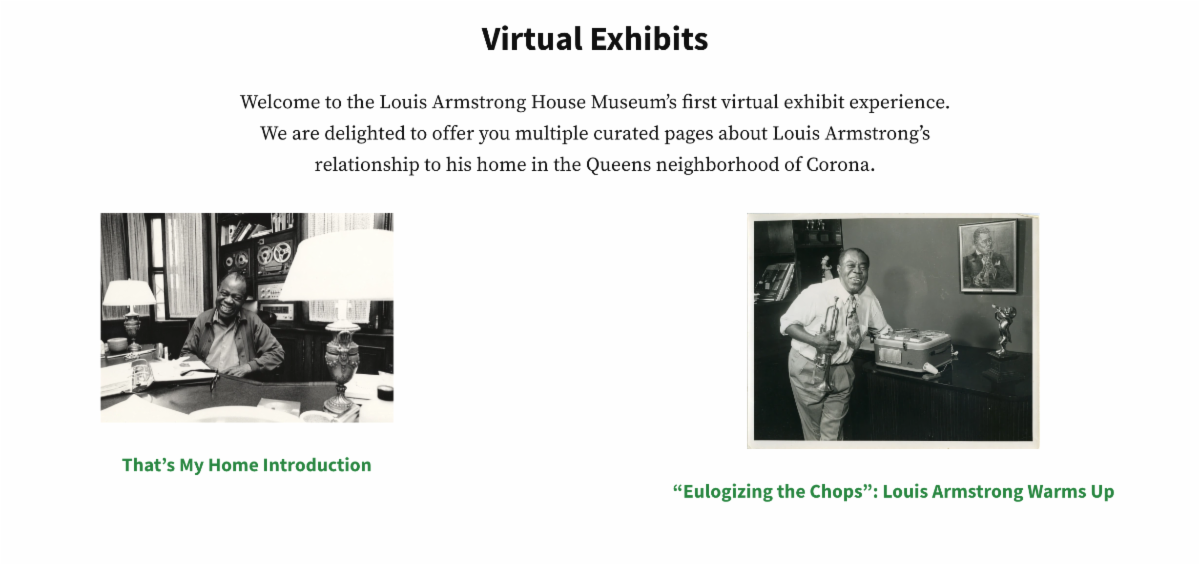 This year indeed marks the 25th anniversary of the LAHM's opening of the iconic jazz musician's archives to the public. The Louis Armstrong House Research Collections constitutes the world's largest archives for a single jazz musician. The core of the collections is the Louis Armstrong Collection made up of the artifacts and materials found in the Armstrong House after the passing of Louis and Lucille and donated by the Louis Armstrong Educational Foundation to Queens College/CUNY in 1987. The Armstrong Collection includes 1,600 recordings, 650 home recorded reel-to-reel tapes in hand-decorated boxes, 86 scrapbooks, 5,000 photographs, 270 sets of band parts, 12 linear feet of papers, letters and manuscripts, five trumpets, 14 mouthpieces, 120 awards and plaques, and much more.
Read more about the Louis Armstrong House Museum's Archives in
The Research Collections have been open to the public since 1994 and were accessible by appointment only at Queens College, where the Archives are housed. As of 2018, the Collections have been entirely digitized and accessible online from anywhere across the globe thanks to a grant from Robert F. Smith's Fund II Foundation. The Digital Collections continues to be updated as new acquisitions are arranged, preserved, cataloged and digitized. The site can be viewed at https://collections.louisarmstronghouse.org/
About The Louis Armstrong House Museum:
The Louis Armstrong House Museum sustains and promotes the cultural, historical and humanitarian legacy of artist and innovator Louis Armstrong by preserving Armstrong's home, providing access to the extensive archives, and developing programs for the public, which educate and inspire community members, curious visitors, artists of all kinds, fans, and future generations of Armstrong's appreciators. What was once Louis and Lucille Armstrong's private home—a New York City and National Historic Landmark—is now a museum open year-round. The expansion of the Corona Armstrong campus with a new cultural center is scheduled to be completed in 2021 and the renovation of the next-door home of Armstrong's lifelong friend Selma Heraldo, will allow the Research Collections to move from Queens College back to Corona. The expanded campus will become a new, international destination celebrating Armstrong's preeminence in African Diaspora history and vitality, offering year-round exhibitions, performances, readings, lectures, and screenings through an array of public programs for all ages.The Museum is a constituent of the Kupferberg Center for the Arts and a cultural center of Queens College, CUNY. The historic site is owned by the New York City Department of Cultural Affairs and administered by Queens College under a long-term license agreement. Visit www.louisarmstronghouse.org for more information.
About Ricky Riccardi:
Ricky Riccardi is the Director of Research Collections for the Louis Armstrong House Museum and author of What a Wonderful World: The Magic of Louis Armstrong's Later Years. His next book, Heart Full of Rhythm: The Big Band Years of Louis Armstrong, is scheduled to be released in July 2020 on Oxford University Press. He runs the online blog, "The Wonderful World of Louis Armstrong" (dippermouth.blogspot.com) and has given lectures on Armstrong at venues around the world, including the Institute of Jazz Studies, the National Jazz Museum in Harlem, the Bristol International Jazz and Blues Festival, the Google Creative Lab, Jazz Congress and the Monterey Jazz Festival. He has twice taught a "Music of Louis Armstrong" graduate course at Queens College, in addition to a "Swing University" course on Armstrong at Jazz at Lincoln Center. He has co-produced numerous Armstrong reissues in recent years, including Satchmo at Symphony Hall 65th Anniversary: The Complete Concert, Ella Fitzgerald and Louis Armstrong Cheek to Cheek: The Complete Duets, Pops is Tops: The Verve Studio Albums and two volumes of Decca Singles for Universal Music, in addition to Columbia and RCA Victor Live Recordings of Louis Armstrong and the All Stars for Mosaic Records. He is also a working jazz pianist and received his Master's in Jazz History and Research from Rutgers University.
About the Louis Armstrong House Museum Staff:
Adriana Filstrup, LAHM's Visitor Services Manager, is a journalist and writer. She graduated with a M.A. in Liberal Studies and an emphasis in Biography, Autobiography, and Memoir from The Graduate Center, CUNY. As Visitor Services Manager, she has curated museum education programs, tours, and events and hosted hundreds of visits a year.
Hyland Harris, Museum Manager, graduated from Berklee College of Music with a degree in Music Production and Engineering, and went on to obtain a Master's Degree in Jazz History and Research from Rutgers University. He has given presentations at the Institute of Jazz Studies and the National Jazz Museum in Harlem and has written liner notes for Jeff Parker's "Bright Light in Winter" (Delmark Records) and Albert Tootie Heath's "Philadelphia Beat" (Sunnyside Records) while he contributes articles to Ethan Iverson's Blog "Do the Math" which have also appeared in the New Yorker.
Sarah Rose is the Archivist at the Louis Armstrong House Museum in Queens, New York. She received a Bachelor's degree in Music History from Bowling Green State University and a Master's in Library Science with a specialization in Archives, Records Management and Preservation from Queens College. As historian and archivist, she has presented work at Satchmo Summerfest, Documenting Jazz, and the Jazz Education Network's annual conference.
Louis Armstrong House on the web:
https://www.louisarmstronghouse.org/
https://www.facebook.com/louisarmstronghousemuseum/
https://twitter.com/ArmstrongHouse
For LAHM press inquires please contact Nina Lee