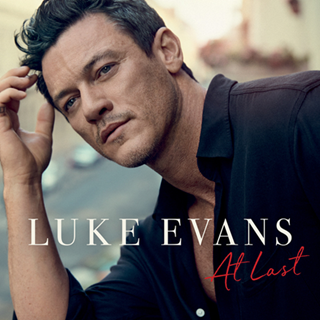 Acclaimed Actor And Vocalist Luke Evans Takes On Etta James, Pat Benatar And More On Debut Album 'At Last,' Out Nov. 22 On BMG
Watch The Official Video For Luke Evans' Rendition Of "Love Is A Battlefield"
Luke Evans, the acclaimed actor known for his performances in Midway, Beauty and the Beast, The Alienist and more, announces the release of his debut album 'At Last,' out Nov. 22 on BMG. 'At Last' brings together an eclectic collection of modern and classic songs personally curated by Evans to highlight and complement his unique delivery and vocal style.
Watch the official video for Luke's huge, orchestral rendition of Pat Benatar's "Love Is A Battlefield" here: https://www.youtube.com/watch?v=pdE-vBKKZC0
The selection of songs that have been boldly reimagined by Evans include such modern classics as U2's "With Or Without You," Maria McKee's 90's power ballad "Show Me Heaven" and Cher's "If I Could Turn Back Time," along with the Etta James jazz standard "At Last" and "First Time Ever I Saw Your Face" by Roberta Flack. On the project's guiding ethos, Luke said "The album is a reimagining of very well-known tracks. So we were looking for tracks that we could strip right back down to the bare essentials and then add new arrangements. Turning an Eighties pop anthem or power ballad into something more acoustic or intimate – but retaining the essence of the original."
For 'At Last,' recorded in early 2019 at the world famous Sarm Studios in London, Luke worked with producer Steve Anderson (Pet Shop Boys, Kylie Minogue, Britney Spears, Take That), The Royal Philharmonic Orchestra, and in-demand string arranger/composer Cliff Masterson (Kylie, Michael McDonald, Emeli Sandé), whose stunning work has been used across the world of film and music for decades.
Growing up in the valleys of Wales with music running through his veins, Evans left school at 16 and immediately headed to Cardiff to study music and theater under the supervision of Louise Ryan, an established singing coach in the Welsh capital. After winning a scholarship to the London Studio Centre theatre school and graduating in 2000, Luke Evans began his illustrious career on the stage, performing in many of London's West End productions such as Rent, Miss Saigon, and Piaf before making his film breakthrough in the Clash of the Titans 2010 remake. Evans continued to take the film world by storm appearing in huge Hollywood blockbusters such as The Fast and The Furious, The Girl On The Train, The Hobbit, 3 Musketeers and many more.
Despite his obvious musical prowess, it wasn't until 2017 that the entire world got to witness Luke's vocal capabilities, in Disney's highly anticipated, live-action adaptation of the animated classic Beauty and the Beast. Luke starred as lothario and villain Gaston alongside Emma Watson's Belle, and his performances from the film have amassed in excess of 100m streams to date. Evans can currently be seen in Roland Emmerich's historical drama, Midway, alongside Woody Harrelson and Patrick Wilson. He's also filmed Dreamland, co-starring alongside Gary Oldman due for release in early 2020 and just completed production on the second season of TNT's Emmy and Golden Globe nominated drama series "The Alienist."
For now, the launch of 'At Last' adds another very impressive string to his bow and Evans proves that all those years of dipping in and out of the medium have created a force to be reckoned with.
'AT LAST' TRACK LIST
1.Love Is a Battlefield
2.First Time Ever I Saw Your Face
3.If I Could Turn Back Time
4.Changing
5.With or Without You
6.I'm Kissing You
7.Show Me Heaven
8.At Last
9.Always Remember Us This Way
10.Say You Love Me
11.Faith's Song
12.Bring Him Home
MORE INFO ON LUKE EVANS