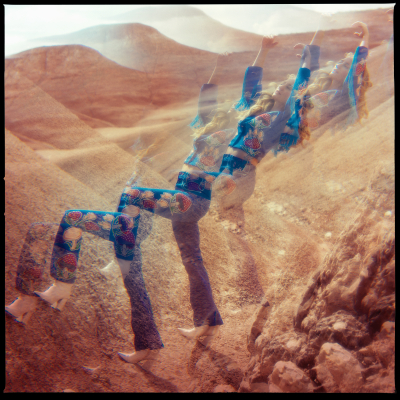 Margo Price Joins Forces With Sierra Ferrell To Reimagine "Change of Heart"
New Rendition of Chart-Topping Single Follows Recent Collaborations With Sharon Van Etten, Lucius & More Featured On Strays
Upcoming Appearances Include SXSW Keynote & Austin City Limits Taping, Plus Headline Tour Dates, Summer Festivals & Chris Stapleton Shows
Margo Price by Bobbi Rich & Sierra Ferrell by Alysse Gafkjen
Today, Margo Price joins forces with Sierra Ferrell to release a brand new rendition of her Strays standout "Change of Heart," which recently reigned #1 for 14 consecutive weeks on the Americana chart. The single marks the first-ever collaboration between two of Nashville's most shapeshifting singers and songwriters, who together transform the track from a turbulent eruption of psych rock into a stripped-back but swift arrangement of spellbinding vocals, a gently stomping acoustic guitar, and haunting lines of fiddle. In the album's original recording and mind-bending music video, "a wiry blues guitar riff and jabs of organ hint at the Doors as Price delivers a breaking-away song that toys with paradoxes" (The New York Times), but here the focus is further given to the lyrics' reflection on reckoning with one's past and eradicating the fear of judgment.
Listen to "Change of Heart" (feat. Sierra Ferrell) via Loma Vista Recordings, available on DSPs as a three-track EP alongside Strays highlights "Radio" (feat. Sharon Van Etten) & "Anytime You Call" (feat Lucius)
On working with Sierra Ferrell, and celebrating friends, fellow artists and collaborators during Women's History Month, Margo Price says, "I'm real excited to share this stripped down take on 'Change of Heart' featuring Sierra Ferrell. Sierra is one of my favorite new voices in music and I loved getting to work with her on this acoustic version of the song. I love to lift up other women in the genre when I see somebody putting out great art. In an industry that tries to drive us apart, it's freeing to break down those barriers and say, 'there is room for everyone.' Thanks also to the cowriter of the song, my husband, Jeremy Ivey on acoustic guitar and the talented Billy Contreras on the fiddle."
Following the release of Strays – a freedom-filled, mushroom-fueled, Jonathan Wilson-produced opus that's been called her "strongest, most cohesive record yet" (Rolling Stone) – Margo Price has showcased songs like "Change of Heart" and "Radio" on The Late Late Show with James Corden, CBS Mornings and a national headline tour that just brought her triumphant return to the Ryman Auditorium. This week, Price heads to Texas to discuss Strays and her memoir Maybe We'll Make It during a keynote conversation at SXSW on March 17th, in addition to performing at Luck Reunion, and taping an episode for Season 49 of Austin City Limits on March 19th.
This spring and summer, Margo Price's 'Til The Wheels Fall Off Tour rolls on with new headline shows just added today, plus amphitheater and arena dates with Chris Stapleton, festivals and more to be added soon. Find the full list below and tickets here.
Margo Price Tour Dates
3/24 - Boise, ID - Treefort Music Fest
4/26 - El Paso, TX - Don Haskins Center*
4/27 - Albuquerque, NM - Isleta Amphitheater*
4/29 - Los Angeles, CA - Long Story Short: Willie Nelson 90
4/30 - Los Angeles, CA - Long Story Short: Willie Nelson 90
6/22 - Pendleton, OR - Jackalope Jamboree
6/24 - Lander, WY - Lander Concert Series
6/25 - Livingston, MT - Pine Creek Lodge
6/28 - Omaha, NE - The Waiting Room
6/29 - Rogers, AR - Outlaw Music Festival
7/1 - Denver, CO - Dusty Boots
7/13 - Charleston, SC - Credit One Stadium*
7/14 - Virginia Beach, VA - Veterans United Home Loans Amphitheater*
7/15 - Baltimore, MD - CFG Bank Arena*
8/5 - Boston, MA - Leader Bank Pavilion!
8/6 - Portland, ME - Thompson's Point!
8/7 - Portsmouth, NH - The Music Hall Historic Theater
8/9 - Buffalo, NY - Town Ballroom
8/10 - Philadelphia, PA - The Met Philadelphia!
8/19 - Bethel, NY - Catbird Music Festival
8/25 - London, UK - Lafayette
8/25-8/27 - Leicestershire, UK - The Long Road
9/8-9/10 - Bristol, TN - Bristol Rhythm & Roots Reunion
9/24 - Franklin, TN - Pilgrimage Music & Cultural Festival
10/1 - Bridgeport, CT - Sound on Sound
10/5 - Charlottesville, VA - John Paul Jones Arena*
10/6 - University Park, PA - Bryce Jordan Center*
*w/ Chris Stapleton
!w/ Tyler Childers
Newly Added Dates in BOLD
Praise For Strays
"Unstoppable, Unsinkable, Uninhibited…Strays struts through big-hearted indie country, honky-tonk stomp and '70s guitar-explosion psychedelia"
The New York Times
"Perhaps the most comprehensive iteration of her continually evolving palette…as a songwriter, Price has never quite sounded more in command of detail and scene setting"
Rolling Stone
"Strays bursts with easy confidence and kind, stoic pearls of wisdom"
Pitchfork
"A potent, genre-spanning opus"
NPR Music
"Volcanic vocal performances and sharp character studies"
Vulture
"Brilliantly rattles through country, psych and Patti Smith-style poetic rock'n'roll...powerful lyrical gut-punches"
The Guardian, ★★★★
"A winding, deeply felt, at times rollicking trip"
ELLE
"Billows with pop sensibility, rock guitar, and country lyricism"
Vanity Fair
"A Career-Best"
Variety
"Excellent...her strongest and most collaborative album yet"
The Daily Beast
"Sonically brave and lyrically obstinate, a rare delight that stands out from its counterparts"
NME, ★★★★
"Price remains one of the best chroniclers of our fraught political moment"
PAPER
"There's proof of Price's growth - as an artist and observer - on every track"
Jezebel
"A thrilling step forward in a career that's already made Price one of the most intriguing
voices in music"
BUST
"It's her weirdest and wildest record yet, but also her wisest"
UNCUT
"This is an album to cherish"
CLASH
Follow Margo Price
For more information, contact Matt Hanks, Greg Jakubik or Annie Mickum at
Shore Fire Media, (718) 522-7171