Margo Price Tunes Out Haters & Feels Herself in Vibrant New Music Video for "Radio" (Feat. Sharon Van Etten)
Special Collection of Mom Grass x Margo Price CBG Joints & Flower Launches Before Headline Tour, Dozens of Coast-to-Coast Shows Kick Off Tonight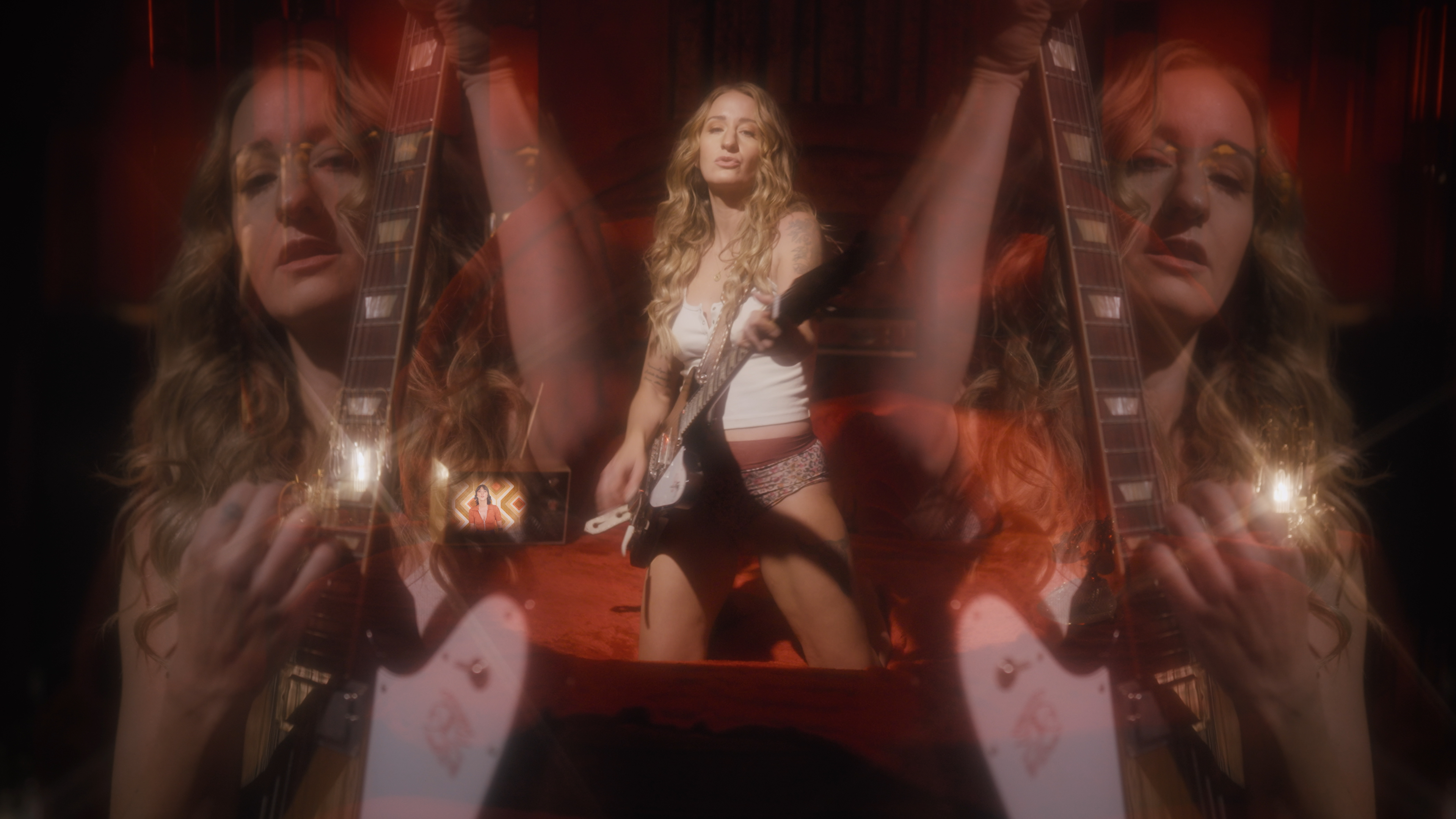 "Radio" Still by Bella Mazzola
Today, in addition to hitting the stage for her first nationwide, headline tour in nearly five years, Margo Price follows up this month's mighty release of Strays with a brand new music video for album highlight "Radio" (Feat. Sharon Van Etten). The standout collaboration "begins with little more than a minimalist drum pattern before bursting into a sweeping, Springsteenish road anthem" (Pitchfork), and from a hot pink house in Nashville, the video captures Price in the midst of technicolored catharsis as she drowns out the noise of critics and commenters who keep pushing her around, trying to change her face and sound. Accompanied by the harmonies that co-writer Sharon Van Etten sends through the waves of 1970s-era TV screens, she finds herself perfectly confident and content being all alone, moving from red velvet bedspreads to an opulent array of mirrors, filling each room with nude dance solos and clouds of weed smoke.
Watch Margo Price and Sharon Van Etten in "Radio," Directed by Bella Mazzola:
https://i.margoprice.net/RadioVid
"To me, this song is about turning down the noise and opinions of my haters and people who try to tear me down. It's about having confidence in yourself and your vision. It's also a pun about being naked that I lifted from Marilyn Monroe.
There's a real freedom about being completely truthful about who I am, flaws and all and that's what I was trying to capture in this song.
The melody came to me when I was walking in the woods. I hummed the tune into my phone and when I got home, I picked up the guitar and made a demo. I sent it to Sharon and asked for her feedback, which she graciously gave. She helped me write some of the words and then went into the studio adding multiple layers of harmonies. Her voice is so strong, so haunting, when she sent me back the demo of her singing it, I got chills all over. I knew right then that this song had to go on the album."
-Margo Price
Hailed as "a potent, genre-spanning opus" (NPR Music), "a winding, deeply felt, at times rollicking trip" (ELLE) and "the most comprehensive iteration of her continually evolving palette" (Rolling Stone), Strays sees Margo Price "strut through big-hearted indie country, honky-tonk stomp and '70s guitar-explosion psychedelia" (The New York Times). The album debuted #1 on Luminate's Current Country and Americana/Folk sales charts in the US, as well as #1 on both the UK's Country and Americana charts, and #1 on the Americana Albums radio chart, while "Change of Heart" continues a 12-week reign atop the Americana Singles chart.
As Margo Price's "strongest and most collaborative album yet" (The Daily Beast), Straysalso features production by Jonathan Wilson and appearances from Lucius, Mike Campbell and "Radio" guest Sharon Van Etten, who she has formed both a musical and motherly connection with since meeting at Newport Folk Fest several years ago. Margo "was one of the first moms I talked to, that I look up to," Sharon Van Etten told The New York Times. "'Radio' is how we feel as moms trying to find our own space. But it can be anyone trying to have a moment, and that feeling of when you're listening to a song, that's all you can hear."
On top of releasing Strays, publishing her memoir Maybe We'll Make It and launching her own Sonos Radio podcast Runaway Horses in recent months, Margo Price also just teamed with American cannabis brand Dad Grass to unveil a special collection of Margo Price x Mom Grass CBG joints and flower, handmade tie-dye tee shirts and embroidered dad hats, all of which invoke the free-spirited, psychedelic nature of this latest LP. Learn more about the partnership and products here, and discover more of the resilient stories and magic mushroom trips that inspired Strays in Price's conversations with CBS Mornings and NPR's Morning Edition.
Backed by her longtime live band, Margo Price has returned to the road for the continuation of 'Til The Wheels Fall Off. Beginning in Asheville tonight, the extensive run will bring her to a sold-out Scoot Inn in Austin later this week, before heading to LA's Fonda Theatre, NYC's Webster Hall, Nashville's Ryman Auditorium and more than two dozen other dates listed below and on-sale here: margoprice.net/#tour
Margo Price Tour Dates
1/30 - Asheville, NC - Orange Peel %
1/31 - Atlanta, GA - Variety Playhouse %
2/2 - Houston, TX - White Oak Music Hall &
2/3 - Austin, TX - Scoot Inn &
2/4 - Dallas, TX - Granada Theater &
2/6 - Phoenix, AZ - Crescent Ballroom $
2/7 - San Diego, CA - The Observatory North Park $
2/9 - Los Angeles, CA - Fonda Theatre $
2/10 - San Francisco, CA - The Fillmore $
2/11 - Arcata, CA - Van Duzer Theatre $
2/13 - Portland, OR - Crystal Ballroom $
2/14 - Vancouver, BC - Commodore Ballroom $
2/15 - Seattle, WA - The Showbox $
2/17 - Bozeman, MT - The Elm $
2/19 - Minneapolis, MN - First Avenue $
2/20 - Madison, WI - Majestic Theatre $
2/21 - Chicago, IL - Vic Theatre $
2/22 - Indianapolis, IN - The Vogue $
2/24 - Toronto, ON - The Phoenix Concert Theatre #
2/25 - Detroit, MI - Majestic Theatre #
2/27 - Burlington, VT - Higher Ground Ballroom #
2/28 - Boston, MA - Paradise Rock Club #
3/2 - Washington, DC - 9:30 Club #
3/3 - Philadelphia, PA - Theatre of Living Arts #
3/4 - New York, NY - Webster Hall #
3/9 - Nashville, TN - Ryman Auditorium !
3/22 - Boise, ID - Treefort Music Festival
4/29-4/30 - Los Angeles, CA - Long Story Short: Willie Nelson 90
6/22 - Pendleton, OR - Jackalope Jamboree
8/5 - Boston, MA - Leader Bank Pavilion*
8/6 - Portland, ME - Thompson's Point*
8/10 - Philadelphia, PA - The Met*
9/8-10 - Bristol, TN/VA - Bristol Rhythm & Roots Reunion
% w/ The Deslondes
& w/ Daniel Donato's Cosmic Country
$ w/ Lola Kirke
# w/ Tre Burt
! w/ Jessi Colter
* w/ Tyler Childers
For more information, contact Matt Hanks, Greg Jakubik or Annie Mickum at Shore Fire Media, (718) 522-7171