Margo Price Reveals New Release Date for That's How Rumors Get Started: July 10, 2020
Watch the Music Video for New Single "Letting Me Down," Filmed From Home & Abandoned Hospital
Tune In This Weekend for Interview and Full-Band Performance on CBS This Morning: Saturday
"Everybody's lonely, oh babe, just look around": the belting opening chorus line of Margo Price's new single "Letting Me Down" wasn't meant to be a premonition when she recorded it - with Sturgill Simpson co-producing and contributing backing vocals - at Hollywood's legendary EastWest Studios. But since postponing the release of the song and her album That's How Rumors Get Started (Loma Vista Recordings), those lyrics have taken on a new truth (read more in the recent essay Margo wrote for Vogue).
Now, rescheduled and resolute, Margo has announced a new July 10 release date for That's How Rumors Get Started. On the album's delay and the emotional decisions she's faced these past three months, Margo says:
Take me back to the day I started trying to paint my masterpiece so I could warn myself of what was ahead. Time has rearranged, it has slowed down, it has manipulated things like it always does...the words to some of these songs have changed meaning, they now carry heavier weight.
I've seen the streets set ablaze, the sky set on fire. I've been manic, heartbroken for the world, heartbroken for the country, heartbroken from being heartbroken again and again.
This album is a postcard of a landscape of a moment in time. It's not political but maybe it will provide an escape or relief to someone who needs it. Sending love to everyone out there and hope I see you down the highway.
Today, Margo shares "Letting Me Down" with a music video directed by Kimberly Stuckwisch, who drove an RV from Los Angeles to Nashville to film in Margo's home and an abandoned hospital where she performs a stunning dance sequence choreographed by her sister Kylie. Kimberly says:
We bought a cheap '80s travel trailer with a bathroom, kitchen, and a propane powered refrigerator, so we wouldn't have to go inside anywhere for food or bathrooms. We were able to abide by the 6-feet social distance CDC recommendation as we set up a remote head for the camera that we operated from a closet outside of the room. We wore masks the entire time and Margo supplied us with multiple bottles of hand sanitizer and spiked seltzers. We parked our RV in her driveway and worked solely out of there and the room we were filming in. We wanted to speak to what was going on at that moment, to a world that was/is shut down, to the fear we all feel, and to the hope of breaking free.
Watch "Letting Me Down" here: https://found.ee/MP_LMDVideo
Written by Margo and Jeremy Ivey to a pair of former high school friends, "Letting Me Down" is about two teenage runaways trying to escape a workaday life. The song follows "Twinkle Twinkle," a "bold foot-stomper" (TIME) that found Margo sounding "looser and tarter than ever" (New York Times) as she tore down the illusions of fame; and "Stone Me," the first track released from the new album, which Margo debuted with a performance on Full Frontal with Samantha Bee.
This Saturday, June 13, Margo will perform "Letting Me Down" along with two other songs, and sit for an interview with Anthony Mason on CBS This Morning: Saturday. Tune in to see these special performances, which Margo and her bandmates captured from their Nashville porches, doorsteps, and stoops.
Despite the change of plans for That's How Rumors Get Started, Margo Price has remained prolific during her time in self-isolation. Last month, she surprise-released Perfectly Imperfect at The Ryman, a live album benefitting the MusiCares COVID-19 Relief Fund. Recorded during her sold-out, three-night residency at the Nashville auditorium, NPR Music called it "a triumphant time capsule, marking Price's arrival as a Nashville giant and one of Americana's brightest contemporary acts." She also launched a New York Times-recommended radio show called Runaway Horses, and gave at-home performances for Pitchfork, Rolling Stone, Luck Reunion and others.
That's How Rumors Get Started was produced by Sturgill Simpson, and co-produced by Margo Price and David Ferguson. The ten new, original songs were primarily recorded at EastWest Studios (Pet Sounds, "9 to 5"), during the week Margo received her Best New Artist GRAMMY nomination, in the middle of her pregnancy with daughter Ramona. The historic band heard on each of the tracks includes guitarist Matt Sweeney (Adele, Iggy Pop), bassist Pino Palladino (D'Angelo, John Mayer), drummer James Gadson (Aretha Franklin, Marvin Gaye), and keyboardist Benmont Tench (Tom Petty & The Heartbreakers). Background vocals were added by Simpson on "Letting Me Down," and the Nashville Friends Gospel Choir on "What Happened To Our Love?" and "Hey Child." The album is Margo Price's debut for Loma Vista Recordings.
Pre-Order That's How Rumors Get Started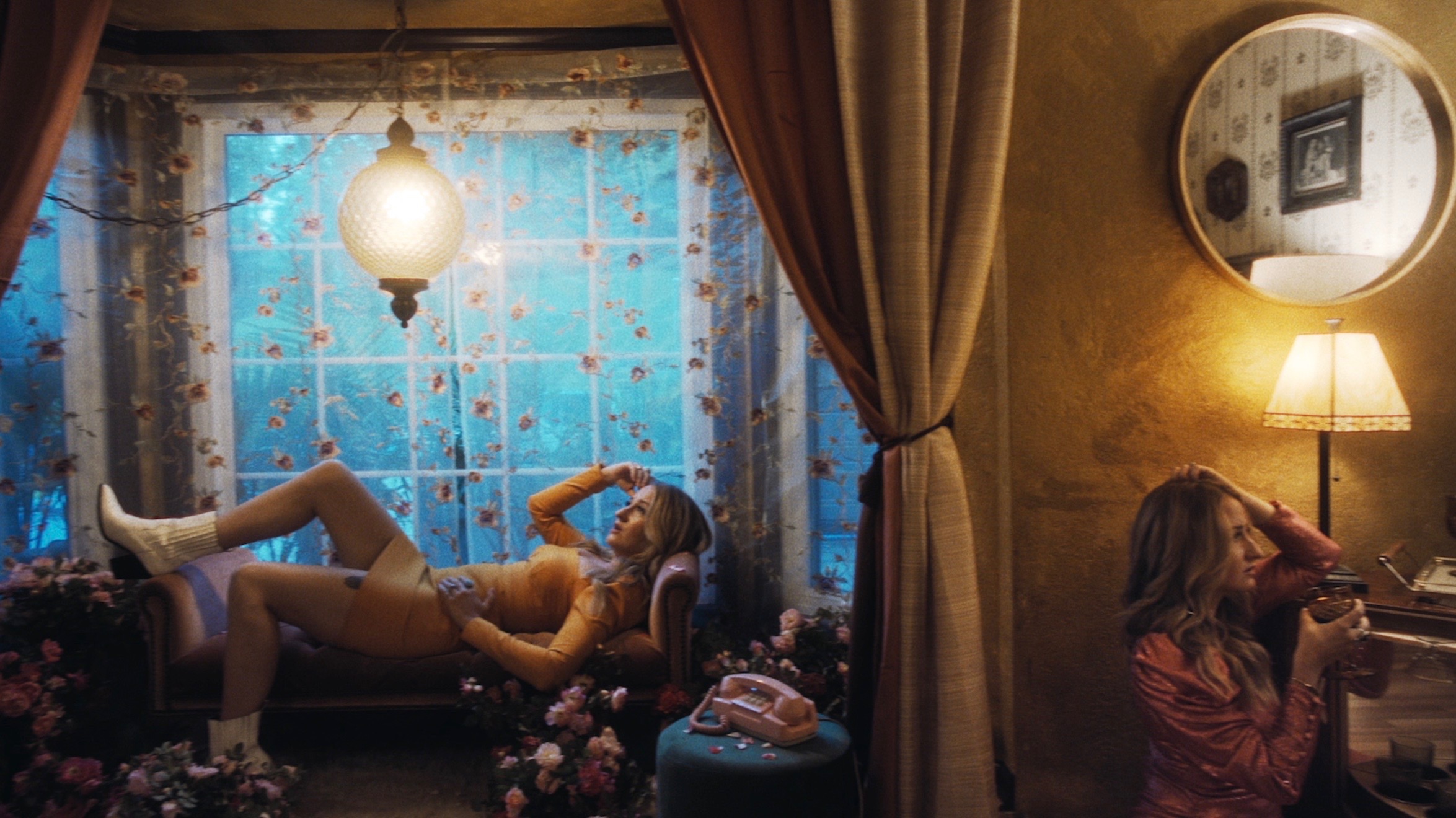 "Letting Me Down" Video Still
That's How Rumors Get Started Track List
That's How Rumors Get Started
Letting Me Down
Twinkle Twinkle
Stone Me
Hey Child
Heartless Mind
What Happened To Our Love?
Gone To Stay
Prisoner Of The Highway
I'd Die For You
Follow Margo Price