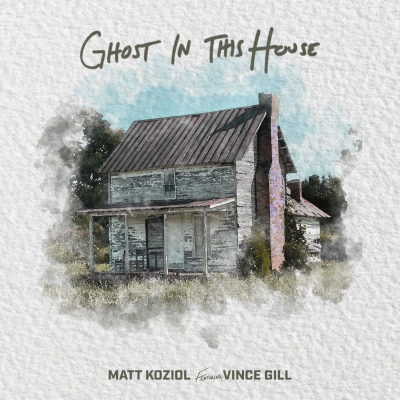 Matt Koziol and Vince Gill Distinctly Levitate The Once Grammy-Nominated "Best Performance" with "Ghosts In This House"
Available today (11.17) via RED Creative Records: mk.ffm.to/gith
A once GRAMMY-nominated track that was later covered by Alison Krauss is in the forefront again – this time by way of 22x GRAMMY-winner Vince Gill and Roots-rock newcomer Matt Koziol. In this case, three isn't a crowd when it comes to album-recorded versions of this track; it's merely a much-needed 20+ year revival of one of Shenandoah's most emotive recordings.
It will bring any melophile to chills. No further explanation is needed.
Listen to Koziol's "Ghost In This House (feat. Vince Gill)": mk.ffm.to/gith
Written by American Hall of Fame songwriter Hugh Prestwood, "Ghost In This House" is steeped in rich Country heritage. In the late 80s / early 90's, Shenandoah debuted the single that went on to receive a GRAMMY nomination and chart Top 5 on Billboard's Hot Country Songs Chart. While Alison Krauss's rendition of the song on her album 'Forget About It' (1999) is perhaps the most famous as of late, others have covered the track one-off, including The Chicks (formerly Dixie Chicks), Kelsea Ballerini and more.
This release follows Koziol's blistering "Which Way To Heaven" (10.20) and precedes a full project due in 2024.
For more information, visit mattkoziol.com.