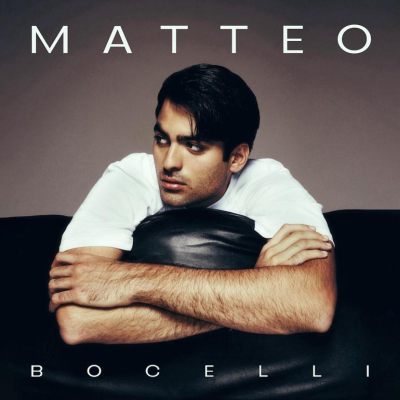 Matteo, The Debut Album From Matteo Bocelli, Is Out Today On Capitol Records
Bocelli Launches Album With Appearances On "CBS Mornings," "Live With Kelly & Mark" And "Fox & Friends" Ahead Of 10-Country Headline Tour
Official Video For "I'm Here" Out Today
View HERE
Album Artwork - Hi-Res Download
September 22, 2023 - Five years after his first single release – "Fall on Me" with Andrea Bocelli – and two years after his first "Solo" single, singer/songwriter Matteo Bocelli unveils his debut album, Matteo. The 12-track album, released today by Capitol Records, showcases a mix of songs in English and Italian, with writing and production contributions from Ed & Matthew Sheeran, PARISI (Ed Sheeran, Fred Again), Jesse Shatkin (Miley Cyrus, Sia, Kelly Clarkson) and Stuart Crichton (Kesha, Backstreet Boys, Louis Tomlinson), among others. Download / stream Matteo HERE.
At just 25 years old, he has already performed on some of the world's biggest stages and tasted musical stardom—sharing his sensitive songs and dynamic vocal performances with listeners around the globe. As the son and sometimes collaborator of renowned tenor Andrea Bocelli, he's been instilled with a lifelong musical education and an endlessly curious nature, which are on full display on Matteo, a bold step into his own spotlight. See below for track listing.
Matteo is launching the album with a trio of U.S. television appearances and a world tour. He visited "CBS Mornings," "Live with Kelly & Mark" and "Fox & Friends" in the days leading up to the album's release. "A Night With Matteo," his first-ever headline tour, will kick off on September 30 in Berlin, Germany and take him to 10 countries, including the U.S. Tickets are available at https://matteobocelli.it/. See below for itinerary.
Today, Bocelli shared the official video for "I'm Here," a gorgeous piano ballad from the album that underscores the importance of forging relationships with other people—even when doing so might be painful. View the video HERE.
"'I'm here' is a very powerful thing to say," notes Bocelli. "I think it's beautiful when someone tells you, 'I'm here whenever you need me'—whether you want to share something happy with me, or you feel down and need time to express your emotions. Life is beautiful when you're able to help someone."
With his first solo album, Matteo hopes to say, "I'm here," using his formidable voice to offer listeners comfort—and more than a few opportunities to let themselves go in his classically minded version of 21st-century pop. On "For You," the album's moving first single, he affirms his lifelong devotion to a childhood friend. "Chasing Stars," penned by Ed and Matthew Sheeran and produced by PARISI, tells the story of a father who encourages his son to "be who you are." "Fasi" captures the emotional upheaval that comes with the ever-changing phases of life.
"Even if we may live life with different points of view, what's important is that we keep sharing," says Bocelli, who began piano lessons at a young age. He made his debut live performance at age 18 at Rome's Colosseum and, in 2018, he and his father released "Fall on Me," a stirring duet about the relationship between parent and child that has amassed over 300 million combined global streams to date. Now, with momentum building, Matteo is destined to leave his own mark on the music world.
Track Listing – Matteo
1. For You
2. Beautiful Disaster
3. Fasi
4. I'm Here
5. Luccica
6. Me Or You
7. Chasing Stars
8. Resti di un'Estate
9. Piove (Solo L'amore)
10. Better Now
11. Quella Sbagliata
12. Honesty
Matteo Bocelli – 2023 World Tour
9/30 Berlin, Germany - Passionskirche
10/1 Hamburg, Germany - small Laeiszhalle
10/3 London, UK - Palladium
10/6 Amsterdam, Netherlands - Royal Theater Carré
10/7 Antwerp, Belgium - Queen Elisabeth Hall
10/9 Bochum, Germany - Christuskirche
10/11 Krakow, Poland - ICE Kraków Congress Centre
10/14 Warsaw, Poland - Torwar
10/15 Wroclaw, Poland - Narodowe Forum Muzyki
10/17 Vienna, Austria - Simm City
10/18 Munich, Germany - Technikum
10/23 Switzerland, Zurich - Volkshaus
10/24 Milan, Italy - Teatro San Babila
10/25 Rome, Italy - Teatro Ghione
11/22 Ft. Lauderdale, FL - Lillian S. Wells Hall at the Parker
11/25 Las Vegas, NV - The Smith Center
11/26 Wickenburg, AZ - Del E. Webb Center for the Performing Arts
11/28 Mesa, AZ - Mesa Arts Center
11/29 San Diego, CA - Balboa Theatre
12/1 Thousand Oaks, CA - Bank of America Performing Arts Center
12/4 Palm Desert, CA - McCallum Theatre
12/5 Santa Rosa, CA - Luther Burbank Center
12/8 St. Charles, IL - Arcada Theater
12/12 Boston, MA - Chevalier Theatre
12/13 Huntington, NY - The Paramount
12/15 Mashantucket, CT - Foxwoods
12/16 Atlantic City, NJ - Sound Waves at Hard Rock Hotel & Casino
12/21 Dubai, UAE - Dubai Opera
For additional information on Matteo Bocelli, please contact: