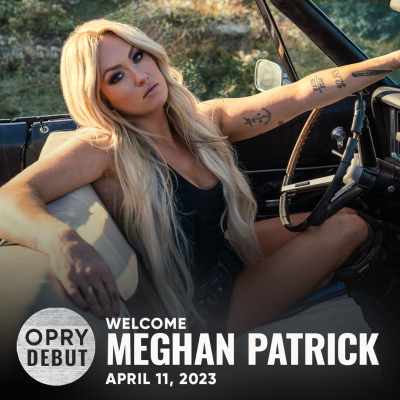 Meghan Patrick To Make Grand Ole Opry Debut On Tuesday, April 11
Fresh off the release of her transformative new single "She's No Good For Me" (1.20 via Riser House Records), 18x CMA Ontario-winner and back-to-back CCMA Female Artist of the Year, Meghan Patrick, will make her Grand Ole Opry debut on Tuesday, April 11.
Opry member and country music legend Terri Clark surprised the Nashville riser with the exciting news in a tearful, touching moment over FaceTime. **Watch it HERE.
"To be invited to play the Opry is a long awaited dream come true," says Patrick. "To get this incredible news from a friend and mentor, Terri Clark, made an already pinnacle moment even better."
The news of her forthcoming debut arrived on the set of the official video for her next single "Ours," an anthemic breakup track which arrives on Friday, March 10 via Riser House records and is available for pre-save HERE. It follows in the footsteps of "She's No Good For Me," a track which "finds the singer shedding her old rough-around-the-edges self and emerging as a stronger person" (E! News).
Fans can purchase tickets to Patrick's debut HERE and stay up-to-date on what's to come from the backwoods, country bombshell by visiting meghanpatrickmusic.com.
For more information, please contact:
Jaclyn D. Carter | Shore Fire Media | jcarter@shorefire.com
Lexi Cothran | Shore Fire Media | lcothran@shorefire.com
Nick Jurich | Shore Fire Media | njurich@shorefire.com