Michaela Anne "Emerges Triumphant in the Face of Adversity" (The Recording Academy) on new album Oh To Be That Free, out today on Yep Roc
"Immaculately crafted…[with] a tenderness few singer-songwriters can muster."
- Holler
Experience the "Soul-Stirring" (Wide Open Country) new collection here: https://ffm.to/ohtobethatfree
Michaela Anne released her new album Oh To Be That Free today, a soaring collection of deeply prescient songs that continue to grow profound roots for the Nashville singer-songwriter. Although they were written before the experiences that changed everything for Michaela, these songs became her life support as she confronted a painfully bittersweet new chapter. She became a mother while caring for her own mother, who had suffered a debilitating stroke and was hospitalized for months. Michaela watched her daughter and mother live unsettling yet surreal parallels as they both slowly learned how to navigate this new world. As Michaela continues to search for the beauty in every imperfection, and across her entire new album, she finds healing when she learns to let go and embrace what's in front of her. The Americana songbird's last album Desert Dove (her 2019 Yep Roc debut) was met with critical acclaim across the board. But according to Holler in their recent glowing 8.5-star review of Oh To Be That Free, Michaela was "just getting warmed up." They write, "Some singer-songwriters hide their emotions behind the characters in their songs. Michaela Anne is not one of them."
Written and recorded with a small circle of close friends, including musician and co-producer Aaron Shafer-Haiss, Oh To Be That Free is "imbued with so much warmth and depth" (The Boot) with the help of Michaela's tight-knit musical community. The album collaborators include her college friend Burniss Earl Travis on bass (Common, Robert Glasper), the soaring harmonies of Madi Diaz, Lauren Balthrop, and Jeff Malinowski and Amal Bouhabib (who years earlier sang as she walked down the aisle), the lush string arrangements by Kristin Weber, and several other inspiring musicians that were all brought together by Michaela. The eleven-song collection channels the cosmic country of Emmylou Harris while also hinting at Brandi Carlile with its indie-folk storytelling, Kacey Musgraves with its sprawling swells of strings, and Shania Twain with its catchy pop melodies. But above all it's profoundly vulnerable as Michaela "delicately delves into tender, vulnerable themes like motherhood, self-sabotage, and gratitude" (AllMusic). Michaela's "gorgeously stirring" (BrooklynVegan) vocal delivery is tender and empathetic as she reckons with the flaws and faults that keep us up at night and insists we're worthy of love not in spite of our shortcomings, but because of them.
Michaela Anne will be returning to Bonnaroo to play the WHO Stage on Friday, June 17. Backed by a 7-piece band, she'll perform multiple tracks from the new record. Also next week, Michaela is kicking off a Southern US tour with Parker Millsap, stopping in KY, TN, and AL. Later this summer, she's hitting the road with Watchhouse, playing venues like Irving Plaza in NYC and 9:30 Club in DC. Full list of upcoming performances below!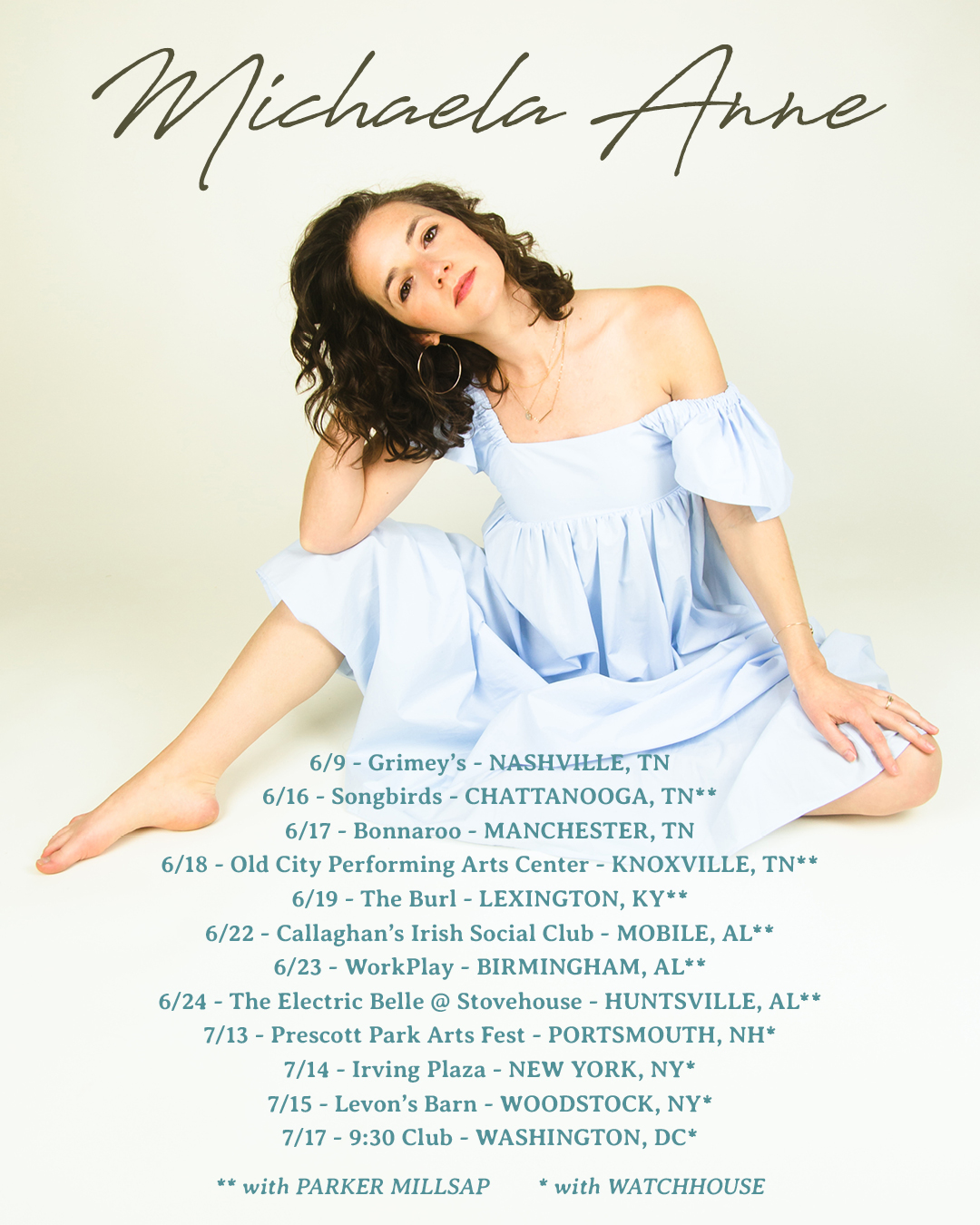 Additional praise for Oh To Be That Free:
"A triumphant celebration of imperfection."
- The Americana Music Association
"In her crystal-clear coo, backed up by lush arrangements, Anne sings songs that toe the line between dreamy nostalgia for the way things used to be and a deeply felt sense of being present."
- No Depression
"Rooted in the emotional organics, [Michaela] trades daydreamy folk-pop for a gritty-but-pretty sense of on-the-ground realism, turning page after page in a diary of inner turmoil."
- Nashville Lifestyles
"A gorgeous collection of songs... with a timeless feel that sits nicely next to Michaela's heroes like Patsy Cline and Tammy Wynette, as well as a freshness that goes good with the new Angel Olsen album."
- BrooklynVegan
"Lovely, catchy, and reminds us of that feeling between home and being lost."
- American Songwriter
"Songs that examine the things that make us human."
- Reckon South