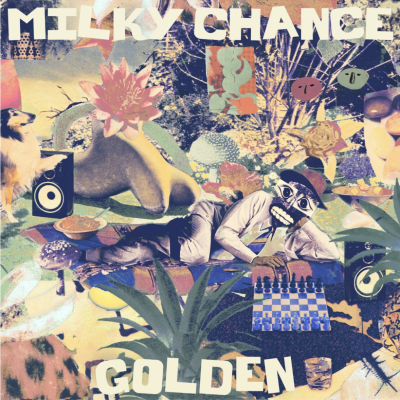 Milky Chance Releases New Single "Golden"
New Album Living In A Haze Out June 9th
Most Extensive North American Tour To Date Kicks Off May 28
Today, Milky Chance, the chart-topping German duo made up of Clemens Rehbein and Phillipp Dausch, release their newest single "Golden," the latest preview from their highly anticipated album, Living In A Haze, out June 9th. "Golden" embodies Milky Chance's signature sound with a fusion of idiosyncratic beats and Clemens' distinctive voice. The introspective and thoughtful lyrics in "Golden" explore themes of love and self-discovery, delivered with a new and refreshing flair.
Regarding the single, the pair explains, "We remember the day we wrote this song because it was an especially golden day in Berlin - it made us positively nostalgic and set the tone for the whole session. 'Golden' is an homage to our youth, the golden time in life when a lot of things happen for the first time. It's great to think back and to realize how naive and free we were, in the best way."
The video for "Golden" is awash in the neon of an amusement park, with Rehbein meditating on nostalgia and an absent friend. Watch and listen to "Golden" here.
"Golden" follows the successful release of the album's lead single "Living In A Haze."Already rising up the US Alternative radio and Shazam Global Alternative charts, "Living In A Haze" seamlessly juxtaposes an upbeat instrumental with more contemplative lyrics. It's an economical haymaker of a track, its structure unfolding with an enigmatic but intuitive logic as it goes from an elegiac triplet guitar figure to a tight, post-Strokes rhythmic feel.
On the accompanying b-side and delicately unfolding album closer, "Frequency of Love"sees Milky Chance singing with raw emotion and shows a softer side to the duo. Weaving in and out of darkness, the song is packed with alluring sub-bass textures and vocoder choirs –– it's a particularly affecting moment from Milky Chance.
Listen and watch the new music video for "Frequency of Love" here.
Operating from an eclectic moodboard of influences — reggae-pop alchemists like Bob Marley, The Police, and Sublime; global pop icons including Burna Boy, Stromae, and Rosalía; the emotive deep house of Fred again…; and the moody, neon-streaked Euphoria soundtrack — Milky Chance pack every song on Living In A Haze with delectable noises and the freight train hooks that have become their signature. Living In A Haze ultimately works because it applies the band's endless musical curiosity to the propulsive logic of the best club music. "In order to really connect with an audience, particularly in a live setting, music needs a sense of physicality and movement," says Rehbein.
As unassuming as they appear, Milky Chance have become a global phenomenon, with over 12 million monthly Spotify listeners, an enviable touring resume (including festivals like Coachella, Reading & Leeds, and Lollapalooza), an upcoming schedule of 2023 dates that represent their biggest headline shows of their career, and an audience stretching from the US and Mexico to the EU, Australia, and beyond.
This summer, the duo will embark on their biggest-ever North American tour, weaving their way across 48 different US and Canadian cities with Young The Giant and 66 cities in total. These will include performances in iconic venues like New York City's Pier 17 and Colorado's Red Rocks Amphitheater. Learn more about the tour here and see below for the full routing schedule.
Living In A Haze Tracklist
Living In A Haze

Golden

Purple Tiger

Colorado

Favorite Song

Synchronize

Better Off

Flicker In The Dark

Like A Clown

Feeling For You

History Of Yesterday

Frequency Of Love
5/28 Quebec City, QC
5/29 Ottawa, ON
5/30 Montreal, QC *
5/31 Toronto, ON *
6/2 Asbury Park, NJ *
6/3 New York City, NY *
6/4 New York City, NY *
6/6 Portland, ME
6/7 Bridgeport, CT *
6/9 Boston, MA *
6/10 Columbia, MD *
6/11 Philadelphia, PA *
6/12 Harrisburg, PA
6/13 Lewiston, NY *
6/15 Grand Rapids, MI
6/16 Detroit, MI *
6/17 Columbus, OH *
6/18 Pittsburgh, PA *
6/20 Cincinnati, OH *
6/21 Cleveland, OH *
6/23 Chicago, IL *
6/24 St. Louis, MO *
6/25 Indianapolis, IN *
6/26 Madison, WI
6/27 Minneapolis, MN *
6/28 Des Moines, IA
6/30 Oklahoma City, OK *
7/1 Kansas City, MO *
7/13 Atlanta, GA *
7/14 Nashville, TN *
7/15 Charlotte, NC *
7/16 Raleigh, NC *
7/18 Richmond, VA *
7/19 Charleston, SC
7/20 St. Augustine, FL *
7/21 Tampa, FL *
7/22 Miami, FL *
7/25 Birmingham, AL *
7/26 New Orleans, LA
7/27 Houston, TX *
7/28 Austin, TX *
7/29 Irving, TX *
7/31 El Paso, TX
8/1 Albuquerque, NM *
8/3 Salt Lake City, UT *
8/4 Flagstaff, AZ *
8/5 Phoenix, AZ *
8/7 Bozeman, MT
8/8 Spokane, WA *
8/10 Vancouver, BC *
8/11 Seattle, WA *
8/12 Troutdale, OR *
8/14 Boise, ID *
8/15 Bend, OR *
8/16 Reno, NV
8/17 San Francisco, CA *
8/18 Santa Barbara, CA *
8/19 Irvine, CA *
8/20 San Diego, CA *
8/24 Calgary, AB
8/25 Edmonton, AB
8/26 Saskatoon, SK
8/28 Billings, MT
8/30 Morrison, CO *
8/31 Dillon, CO *
9/1 Aspen CO
*With Young The Giant