Morrissey Debuts on Broadway to Critical Acclaim
The alt-rock icon has also announced the "Ultimate M Box," a special limited-edition merch bundle to accompany the release of California Son, out on May 24th (Étienne/ BMG).
Reviews are in, and critics have lauded Morrissey's Broadway debut. The Britpop icon has brought the jangly melancholia that has made him a household name to The Great White Way in exactly the way one might expect: with a biting wit, deep cuts from across his monumental career from the Smiths to his solo work, and an iconic baritone that hasn't aged a day. The seven-day run, which has boasted a varied set list each night, will end on May 11th.
Morrissey's monumental collection of 60/70s protest covers, California Son, is out May 24th through Étienne/ BMG. In celebration of the release, a special limited-edition California Son "Ultimate M Box" bundle will be released. The deluxe merch set includes a California Son album vinyl, a "Wedding Bell Blues" 7' vinyl, a limited-release Crosley Record Player, a celebratory pin, and a special-edition Morrissey shirt.
After last year's "heartfelt" (Rolling Stone) cover of the Pretenders' hit "Back on the Chain Gang" gave fans a taste of what was to come, California Son will see Morrisseytake on luminaries of the 60s and 70s like Joni Mitchell, Dionne Warwick, and Bob Dylan while also delving into more obscure musicians of the time, such as early gay icon Jobriath and political activist Phil Ochs. The collection also boasts collaborations with alt-rock royalty including Billie Joe Armstrong of Green Day), Ed Droste of Grizzly Bear, Sameer Gadhia of Young the Giant, and LP.
PRE-ORDER THE "ULTIMATE M BOX" BUNDLE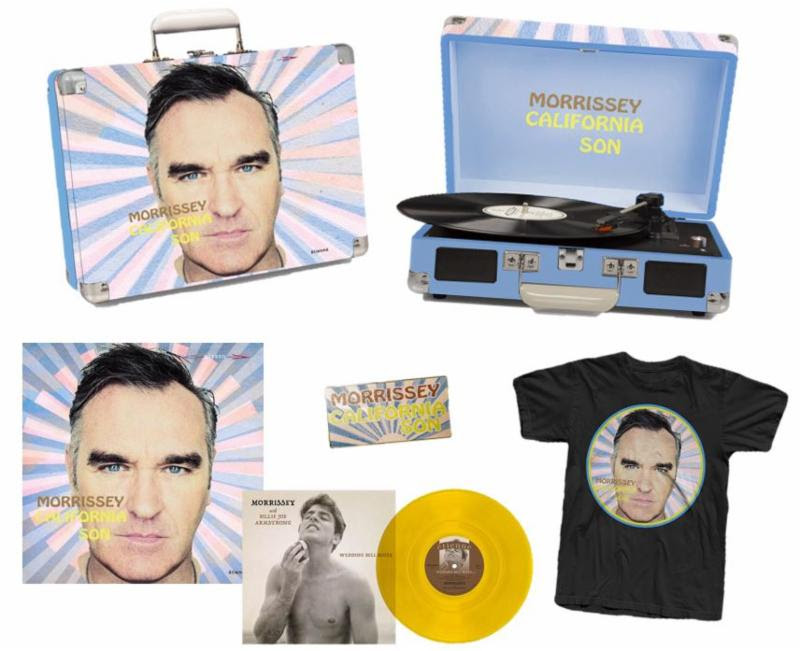 PRAISE FOR MORRISSEY ON BROADWAY
"All of the mood swings are centered by his voice: a long-breathed croon that breaks, at precise moments, into a cascading melisma...on Broadway, Morrissey had been as intimate as his songs themselves, but he stayed true to his persona."
—Jon Pareles for The New York Times
"...[When] Morrissey does stage a concert, he milks all of his inherent self-deprecation for what it's worth, and that's exactly what his fans want..."For all his melodramatic choreography, it was Morrissey's singing that was the star of the night."
—Kory Grow for Rolling Stone
"The alt-rock icon was comfortable, crackling and alive when he hit the stage Tuesday."
—Joe Lynch for Billboard
"...his voice has barely aged at all; it's like a Dorian Gray of the larynx."
—Jen Aswad for Variety
"With Morrissey's laconic, lyrical baritone ringing through the theater, it was as if he was fulfilling a choirboy's childhood dream to sing on Broadway..."
—Chuck Arnold for New York Post
For more information, please contact Rebecca Shapiro, Josh Page, or Eduardo Rios Pulgar at Shore Fire Media, 718.522.7171.