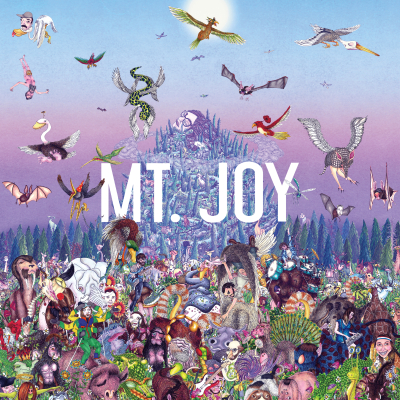 Mt. Joy Announce New Album Rearrange Us, Out June 5 On Dualtone Records
Will Perform Lead Single "Strangers" On Late Night with Seth Meyers On February 27
Listen To New Songs "Strangers" and "Let Loose"
Band Is Currently On Road With Lumineers, Headlining Tour TBA
Today, Mt. Joy announce Rearrange Us, their second album for Dualtone Records (an Entertainment One Company) and their first working with producer Tucker Martine (My Morning Jacket, The Decemberists, Modest Mouse) at Flora Recording & Playback in Portland, OR.
Mt. Joy will perform lead single "Strangers" on Late Night with Seth Meyers on February 27. Listen to new songs "Strangers" and "Let Loose" here: http://MtJoy.lnk.to/RearrangeUsAlbum
Pre-order Rearrange Us: https://www.dualtonestore.com/collections/mt-joy
Mt. Joy are currently touring arenas with The Lumineers through March 14th, with spring headlining dates to be announced shortly. They are already slated for a busy festival season, with planned appearances at Bonnaroo, Hangout Music Festival, and more. Full tour dates below and here: http://www.mtjoyband.com/tour/
"Leading up to us hitting the studio, Sam and I were sharing an apartment together and we just got into this great creative rhythm," says Matt Quinn about the songwriting process before hitting the studio. "Bouncing ideas off of each other, salvaging little acoustic snippets. Jackie and the rest of the band would come over and help build a real architecture around these ideas — putting together parts that now feel instrumental to these compositions. It felt like a real collective, heartening effort."
An album about finding ways to work past one's emotional and mental struggles with intentionality, Rearrange Us showcases the young band's growing ambition and sonic experimentation. "My Vibe, Your Vibe" blends psychedelic affirmations with a rootsy stomp and a swirl of synthesizers, while "Come With Me" goes from a decayed choral elegy to a breezy, Allen Toussaint-indebted barn-burner — a battle cry for pushing yourself to have a good time amid new company. And "Have Faith," a southern gospel-influenced duet with singer Liz Vice, exemplifies the band's newfound range and Matt Quinn's emergent songwriting prowess. The resulting album is a triumph of spirit and self-knowledge: Matt Quinn's songwriting is at once more painterly and less precise, like perfectly rendered vignettes from a largely disjointed memory of a dream.
"Tucker Martine's such a wizard with sound, and he's got an incredible ear for song structure," says Matt Quinn. "We knew we were getting somewhere when we'd finish a take and he'd say 'I felt things.' It was a good barometer that we were on track and creating something that felt meaningful."
At first a vehicle for singer / songwriter Matt Quinn's bedroom recordings, Mt. Joy's swift rise is the stuff of childhood daydreams. The unexpected streaming success of debut single "Astrovan" thrust the band — Quinn, guitarist Sam Cooper, bassist Michael Byrnes, drummer Sotiris Eliopoulos, and keyboardist Jackie Miclau — into the itinerant musician's lifestyle: performances at big name festivals like Bonnaroo and Lollapalooza, press notices in Rolling Stone (who deemed them "your new folk-rock heroes"), and dates touring with the likes of The Shins, Whitney, The Head and The Heart, and Neko Case.
They signed with Dualtone Records, and their self-titled debut album Mt. Joy was "a major breakthrough" (Billboard), earning the band over 2 million monthly Spotify listeners. Single "Silver Lining" hit #1 on the AAA Radio Charts, with "Jenny Jenkins" following it up by reaching #5. New fans — earned ear-by-ear with every tour stop, festival set, early morning radio session, and moment of internet discovery — were singing along at sold out club dates.
Keep an eye out for more news from Mt. Joy soon.
Rearrange Us Track List:
Bug Eyes
Rearrange Us
Have Faith
My Vibe Your Vibe
Let Loose
Every Holiday
Come With Me
Death
Acrobats
Witness
Us
Become
Strangers
Tour Dates:
Feb 19 — Nashville, TN @ Bridgestone Arena*
Feb 21 — Rosemont, IL @ Allstate Arena*
Feb 22 — Rosemont, IL @ Allstate Arena*
Feb 25 — Pittsburgh, PA @ PPG Paints Arena*
Feb 26 — Buffalo, NY @ KeyBank Center*
Feb 28 — Washington DC @ Capital One Arena*
Feb 29 — Uncasville, CT @ Mohegan Sun Arena*
Mar 3 — Toronto, ON @ Scotiabank Arena*
Mar 4 — Toronto, ON @ Scotiabank Arena*
Mar 6 — Montreal, QC @ Bell Centre*
Mar 7 — Ottawa, CA @ Canadian Tire Centre*
Mar 10 — Louisville, KY @ KFC Yum! Center*
Mar 11 — Milwaukee, WI @ Fiserv Forum*
Mar 13 — St. Paul, MN @ Xcel Energy Center*
Mar 14 — Omaha, NE @ Century Link Center Omaha*
Mar 15 — Oklahoma City, OK @ Tower Theatre*
May 2 — San Luis Obispo, CA @ Shabang Festival
May 15-17 — Gulf Shores, AL @ Hangout Music Festival
May 19 — Tampa, FL @ The Ritz Ybor
May 21 — Fort Lauderdale, FL @ Revolution Live
May 22 — Lake Buena Vista, FL @ House of Blues Orlando
Jun 11 — Isle Of Palms, SC @ Windjammer
Jun 12 — Wilmington, NC @ Greenfield Lake Amphitheatre
Jun 13 — Manchester, TN @ Bonnaroo
Jul 10-12 — Marshfield, MA @ Levitate Festival
Jul 11 — Greenfield, MA @ Green River Festival
Jul 13 — Morrison, CO @ Red Rocks Amphitheatre^
Jul 14 — Morrison, CO @ Red Rocks Amphitheatre^
Aug 2 — Saint Charles, IA @ Hinterland Music Festival
* = with The Lumineers
^ = with Rainbow Kitten Surprise