Mt. Joy Share New Single "Death," Announce Mt. Joy & Friends Livestream To Raise Money For MusiCares and Philabundance
Guests Include The Lumineers, Rainbow Kitten Surprise, Liz Vice, Houndmouth + More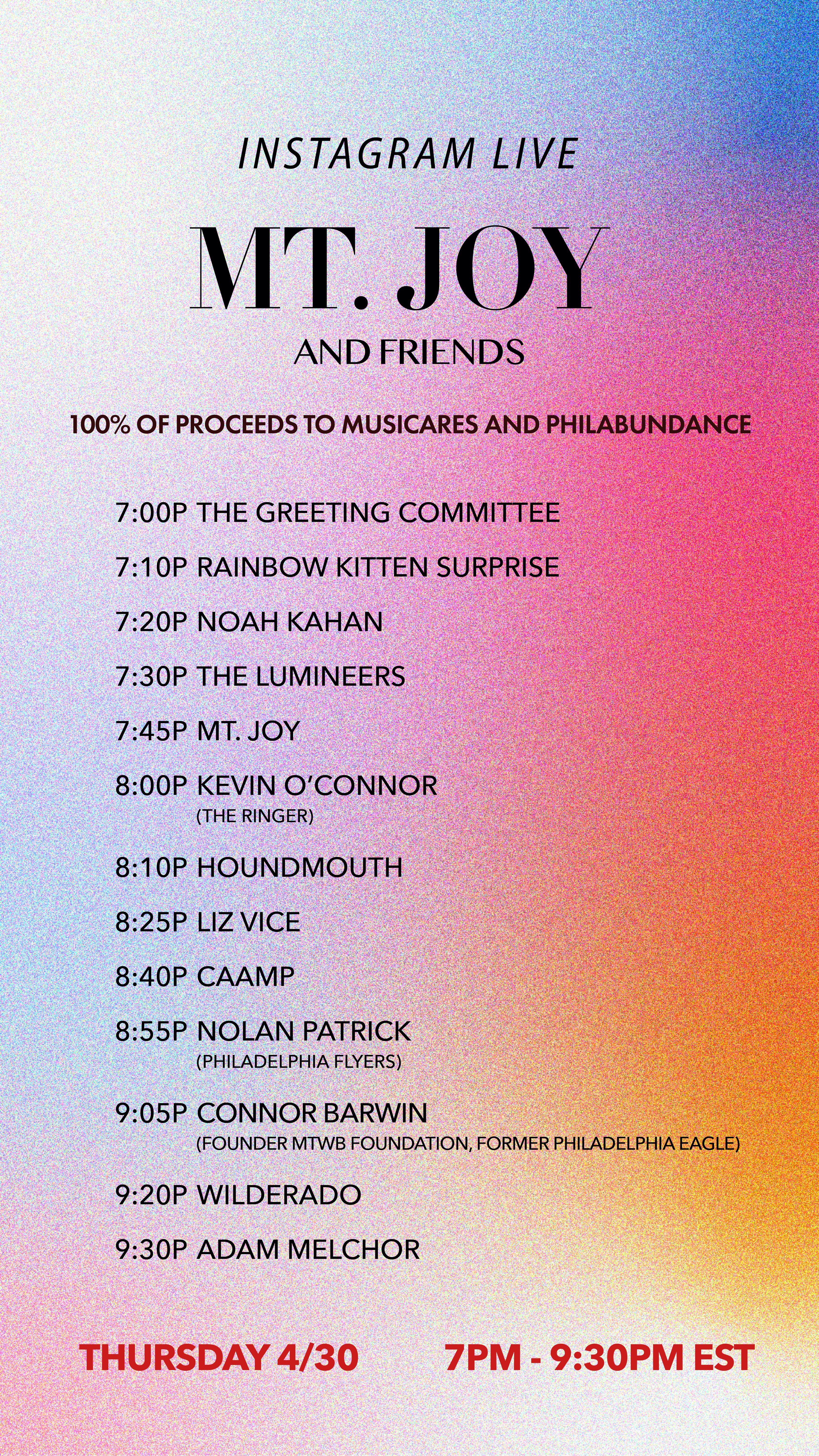 Listen To "Death" Here: http://MtJoy.lnk.to/RearrangeUsAlbum
Follows Last Week's Performance On Full Frontal With Samantha Bee While Performing in Her Shed
New Album Rearrange Us Out June 5 on Dualtone Records
Today, Mt. Joy share "Death" from their forthcoming album Rearrange Us, out June 5th on Dualtone Records. The track finds singer/songwriter Matt Quinn finding solace among the living as his bandmates create a bar-band rattle that transforms into the most fraught "ooh la la las" you'll hear all week. Listen to "Death" here:http://MtJoy.lnk.to/RearrangeUsAlbum
Says Matt Quinn (vocals, guitar) of the new track:
"I'm not suicidal, but I think we're constantly being reminded of our mortality and at times I'm at least aware of the peace that comes with death. I was hoping this song would remind people and myself that there are so many family members/friends here on earth that want to help us find our peace, and there really is so much beauty here, especially when you let people help you."
Additionally, tonight Mt. Joy present their Mt. Joy & Friends Instagram livestream to raise money for MusiCares and Philabundance. Guests include The Lumineers, Rainbow Kitten Surprise, Liz Vice, Houndmouth, Phildelphia Flyer Nolan Patrick, former Philadelphia Eagles player Connor Barwin, and many more. Stream is available on Mt. Joy's Instagram: https://www.instagram.com/mtjoyband/?hl=en
Mt. Joy have also shared that they now have a band phone number. Text +1 (215) 515-6145 and they will hit you back. People who reach out will be added to a list of friends they send exclusive new music, unreleased demos, covers, and lots more.
Last week, the band appeared on Full Frontal with Samantha Bee to perform their hit single "Strangers" – which has gained over 5M streams and is rising quickly on the Triple A Radio charts. Take a trip into the woods with Samantha Bee and discover Mt. Joy performing in her shed: https://youtu.be/lqFZLk6dnOU
The album will be made available on vinyl, CD, and with virtual concert "meet & greet" experiences. Pre-orders can be found here:https://www.dualtonestore.com/collections/mt-joy
Rearrange Us Track List:
Bug Eyes
Rearrange Us
Have Faith
My Vibe Your Vibe
Let Loose
Every Holiday
Come With Me
Death
Acrobats
Witness
Us
Become
Strangers